Timeless, elegant and classic at Arlington Hall! On November 12th, Sarah and Kyle were united in marriage at All Saints Chapel in Dallas, Texas. 
Sarah and Kyle met in college while both attending Texas Christian University. "Kyle and I met in the spring of 2018 when he was a senior and I was a sophomore. As soon as we met, we were inseparable and constantly texting! Soon after, we started dating even though he had moved back to Dallas and I stayed in Fort Worth to finish school." 
Kyle proposed to Sarah in the summer of 2021. He told her they were going to a Horse Racing watch party to try and keep her unexpecting of the events to come. "I had a feeling he was going to propose because he kept switching up the location of the party. Originally, it was supposed to be at Arlington Hall which I thought sounded weird and then the day of as we were walking to the car he told me it is now at a house in Highland Park. From there, he drove us to Flippen Park in Highland Park and proposed in the gazebo. He had a stunning picnic set up by My Pop Up Picnic that we enjoyed after and then we went to a party at his parent's house in Preston Hollow with both of our families and closest friends! It was absolutely a fairytale proposal!" 
For their reception, the Noonan's celebrated with their loved ones under a breathtaking tent on the lawn of Arlington Hall. "We loved how it had the perfect mix of traditional and modern! It is such a beautiful venue on its own, and the personal touches we added throughout the venue and the tent made it perfect for our wedding reception." Jordan Payne executed Sarah's vision for an upscale wedding with simple and modern touches. "Jordan Payne understood exactly what we wanted for our wedding and I am still blown away at how beautiful every detail was throughout the entire day!" Personal touches of custom napkins, cups and stir sticks with art of their dog, Butter showed off the newlyweds personalities. Grand flower arrangements of white hydrangeas looked like clouds floating above the tables. From the ceiling, majestic gold chandeliers held hydrangeas and presented a warm soft glow amidst the tent. The dance floor, as well as the cake, were embellished with Sarah and Kyle's monogram in gold. Kyle's groom's cake was inspired by his favorite animal, a penguin. "He immediately knew he wanted his groom's cake to be one, but he also wanted to incorporate TCU since we both love the Horned Frogs!" One of Sarah's favorite moments from the reception as when she and Kyle got on stage to announce that TCU had beaten Texas! These passionate Horned Frog got a TCU win on their wedding night! The rest of the evening was spent celebrating on the dance floor with their band, The Party Crashers. "They were spectacular and people are still talking about them!"l
The evening ended with a private last dance and a grand exit amidst sparklers before the Noonans departed in a one of kind getaway. "When we were booking our honeymoon to St. Kitts and Nevis, there originally was not a flight from DFW that would connect in time for the Miami to St. Kitts flight. Since we didn't want to wait until Monday to make it to St. Kitts, my dad generously offered to let us use his plane to get us there in time! As soon as he offered the plane, I thought it would be cool to get pictures with it. I knew my dad would also love this! So after we left the reception, John followed us to the airport and the pictures he captured are exactly what I imagined – especially the black and white shots! Our parents also came to the airport with us to send us off, so this is a fun memory we have with them."
Congratulations to the recently wed Mr. and Mrs. Noonan!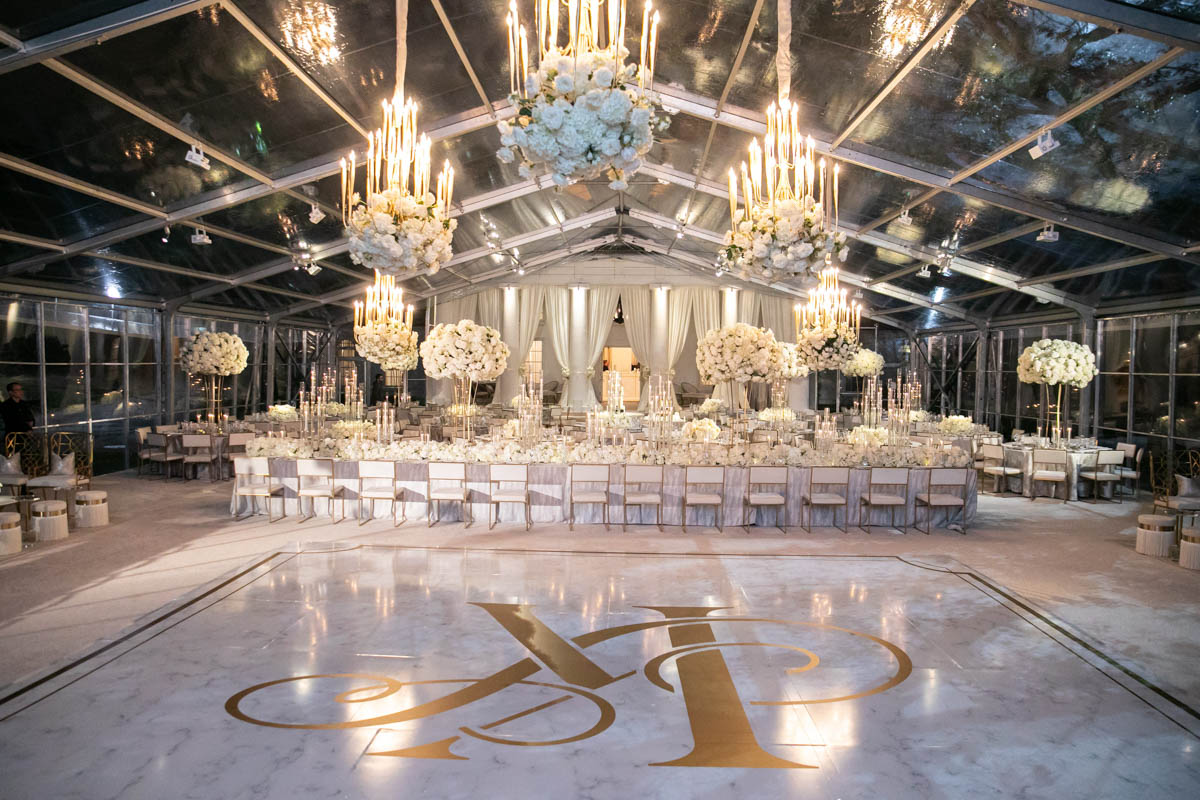 Credits
Wedding Planner

Jordan Payne

Ceremony Venue

All Saints Chapel

Reception Venue

Arlington Hall

Hair + Makeup

Maitee Miles

Floral Designer

David Kimmel

Cake

Creme de la Creme Cake Co.

Reception Entertainment

Party Crashers

Stationer

Southern Fried Paper

Linens

Nuage Designs
Reader Interactions