On September 23rd, 2023, Kelsey Bass and Grant Lapke were united in marriage atop Vail Mountain with the beautiful mountains of Colorado serving as their ceremony backdrop. Their journey to their wedding day began during their college years at Oklahoma State. "We met during our sophomore year of college on spring break through mutual friends. I was playing soccer so I was pretty busy but after back and forth and being friends we eventually started dating our senior year." Kelsey shared. 
After dating for seven years, Grant popped the question during an evening outing in Fort Worth. "He told me we were meeting friends for dinner but that he wanted to get a drink before at Hotel Drover. Turns out there was no dinner with friends, and he took me out on the courtyard where he proposed. I was anticipating that the proposal was coming so he did it on a Thursday to throw me off- I was definitely surprised!" 
Wedding planning was underway shortly after, with one of the first priorities being the location. The Lapkes knew they wanted a destination wedding, so it was just a matter of deciding mountains or beach. "Vail is the place where Grant and I took our first trip together and we both absolutely love being in the mountains, so we decided on Vail. As far as the specific venue, my dad actually found it for us, go figure. We were most excited about being able to get married on the actual mountain." In preparation for her wedding, Kelsey worked with Milk Glass Productions to make her Colorado wedding vision a reality.
September 23rd quickly arrived and the Lapkes were welcoming friends and family to Vail, Colorado. To begin her wedding day, Kelsey got ready at the Ritz Carlton in Vail Village with the company of her bridesmaids and family. Once ready, Kelsey took a gondola ride to the bottom of lift seven, where Grant was waiting for her. 
Guests found their seats overlooking the beautiful scenic backdrop as they anticipated Kelsey's arrival. Kelsey and Grant exchanged heartfelt vows and were officially pronounced Mr. & Mrs. Lapke! With arms raised in the air, they recessed down the aisle, ready to celebrate!
Cocktail hour commenced at the mountain's base before guests were welcomed into the reception tent in the heart of Vail Village. Inside, vibrant flowers filled the space. Kelsey's vision for her wedding day was bright, happy and full of fun (with emphasis on the fun). She was particularly excited about the flowers for her reception. "I wanted a lot of color- playing off the mountain wildflowers. We used a design of wild flowers on our save the date, invitations, and on the bar, so they ended up being a consistent theme throughout. It was special to see it all come to life with the real flowers on the wedding day." she shared. 
The party was soon underway with Kelsey and Grant making their grand entrance as loved ones cheered on. They took to the dancefloor immediately, with their family and friends following behind shortly after. A highlight of the night for Kelsey was the energy on the dance floor. "It was packed all night long which made me so happy because that was something that was really important to me- people having fun!" At one point in the evening, Grant took the stage for a guitar performance. While it wasn't planned, Kelsey anticipated it and jokingly said " If he gets an opportunity with a guitar he can't help himself." 
Well, all good things must come to an end, and the evening wrapped up with Kelsey and Grant's grand exit. Rose petals filled the air as the Lapkes made their way to their vintage getaway car. 
Congratulations to Kelsey & Grant!! We are so lucky to have been a part of your wedding.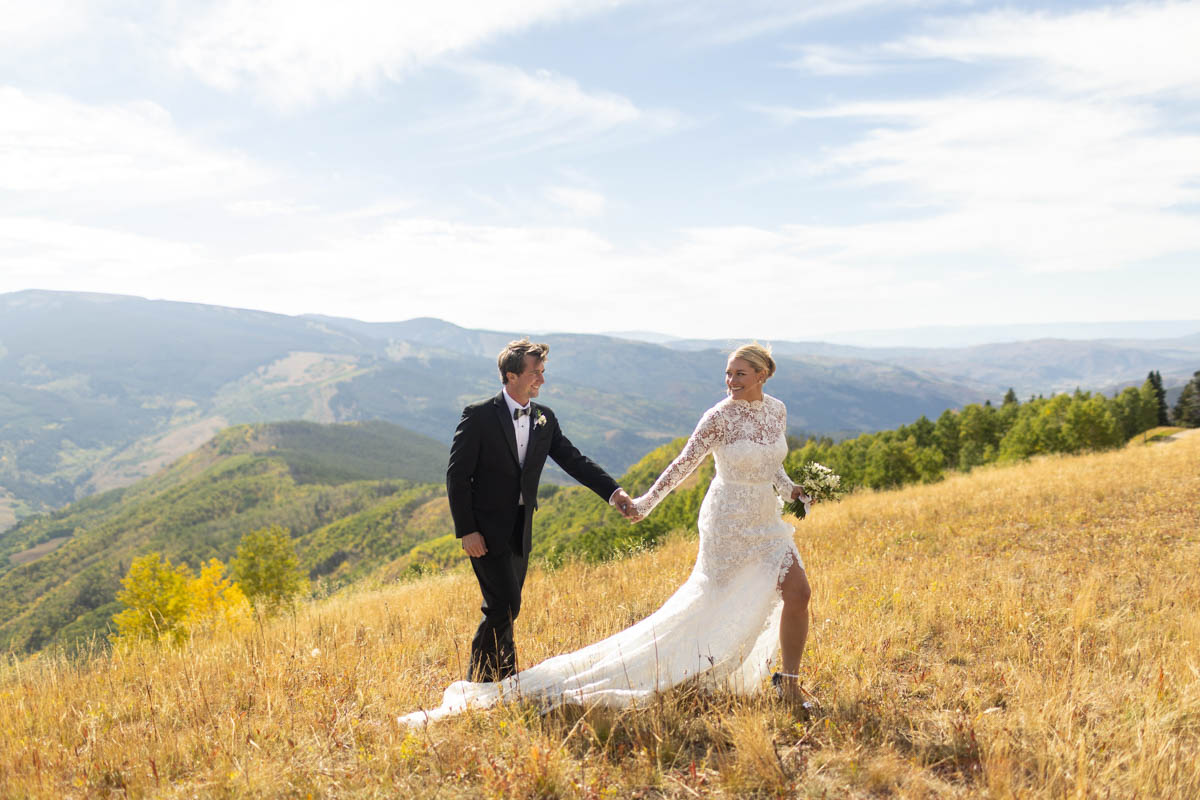 Credits
Planner

Milk Glass Productions

Ceremony Venue

Vail Wedding Deck

Reception Venue

Arrabelle at Vail Square
Reader Interactions