Meredith and Mason's wedding reception was held at the beautiful Corinthian in Houston, Texas. "We chose the Corinthian because we wanted a space that felt new to 'the wedding circuit'. We felt the columns added continuity from the look of our home to the reception. We wanted to try something new!" Todd Events transformed the Grand Hall into an indoor garden party with sweeping wisteria tree blooms and greenery covering almost every surface. When asked about her wedding inspiration, Meredith stated, "The dress inspired the wedding vision. The sweeping romance of the ribbons on the dress kind of inspired the sweeping long wisteria trees blooms. It's such a tall building so Todd and I definitely got to play with height." Crystal chandeliers overhead added to the romantic and luxurious ambiance of the evening. Purple was the recurring theme throughout the weekend. "As a child, everything I had was purple. My parents would say "I love you purple much" so I knew I wanted the color purple."
Mr. and Mrs. Barker arrived at the reception in a vintage Rolls Royce. They made their grand entrance from the top of the staircase before joining their guests on the dance floor. Meredith and Mason danced to Everlasting Love. Meredith then danced with her daughter to You Can't Always Get What You Want by the Rolling Stones— a sentimental ode to cherished childhood memories of the jams her dad would play during carpool when dropping Meredith off at school. A special surprise entertainment followed by Brooks and Dunn took the stage to perform a few of their hits for the new Mr. and Mrs. Barker.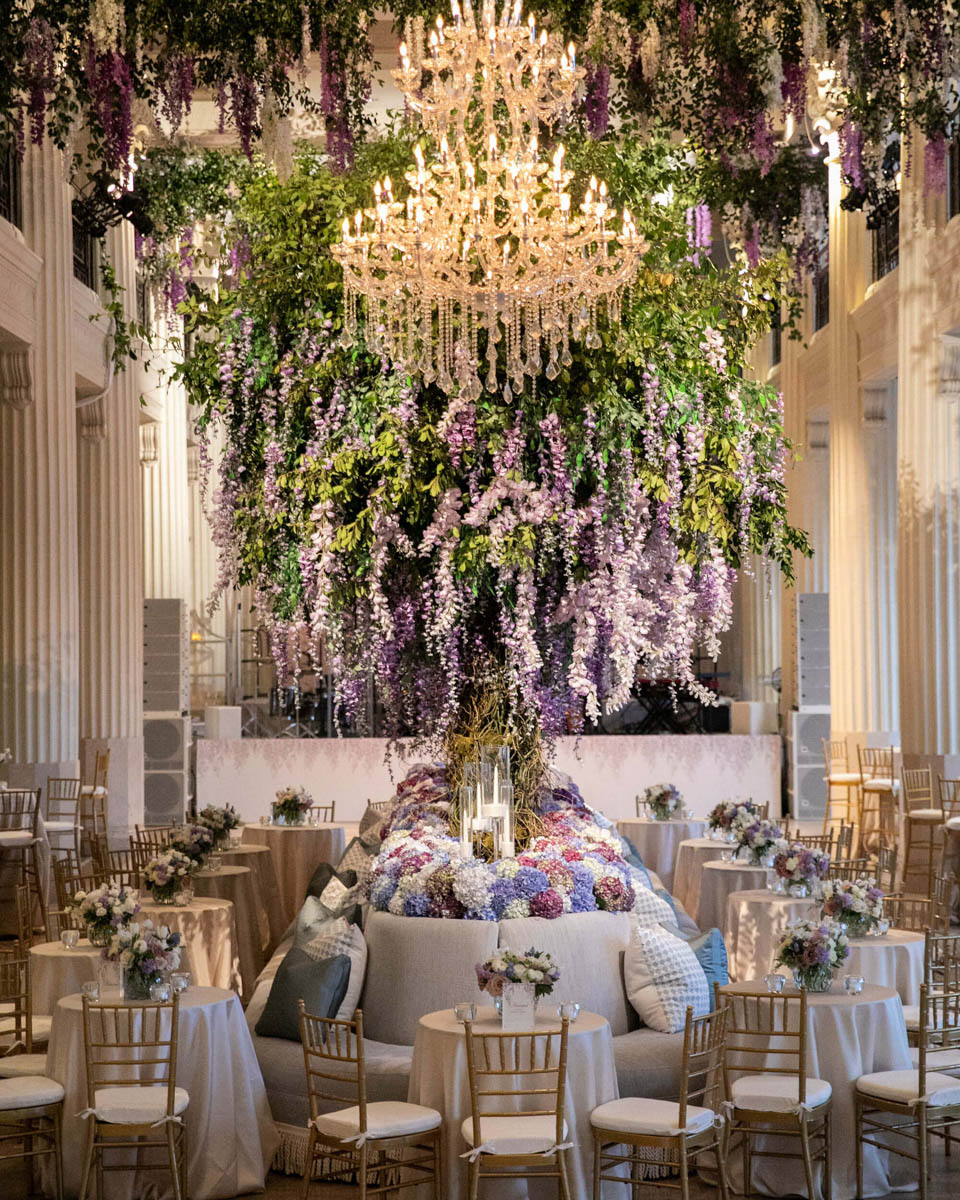 A quick intermission in dancing for cake! The cake was a beautiful six tier masterpiece with elegant white piping. Fresh purple flowers sat around the base of the cake. After cake cutting, Meredith snuck away to change into her second look of the night, a white beaded jumpsuit by Naeem Khan. 
The rest of the evening was spent having the time of their lives on the dance floor. As the reception came to a close, sparklers illuminated the Grand Hall as a trumpet and saxophone played. 
For the late nighters, an after party was held in the old historic bank vaults at the Corinthian. Drinks, dancing (and crowd surfing) took place in celebration of Mr. and Mrs. Barker. 
At the end of the night, Meredith and Mason took off in their getaway car. Cheers to the wedding of a lifetime and a lifetime of happiness, Mr. and Mrs. Barker!
Credits
Wedding Planner

Todd Events

Bridal Gown Designer

Naeem Khan

Reception Entertainment

Elan Artists
Reader Interactions