Cassidy and Gibson first crossed paths in 2012 at her brother's birthday party. They were just 15 and 16 years old, but a message after their initial meeting led to a decade of dating before they got engaged. Both Cassidy and Gibson grew up in Fort Worth and spent their high school and college years together. In August 2022, Gibson proposed to Cassidy in Aspen, Colorado, the same place where they would later tie the knot.
"Gibson proposed when we were on vacation with my family in Aspen. It was actually on my dad's birthday, so I wasn't expecting it! I thought we were just going to a nice family dinner to celebrate, but on our walk to dinner through Wagner Park, he got down on one knee. After he proposed, he surprised me with his family and our two best friends! I had no idea they were in Aspen!" Cassidy shared.
After getting engaged, Cassidy enlisted the help of Caroline Events to bring her Colorado wedding vision to life. Aspen is Cassidy's happy place, so planning her wedding there with Caroline was enjoyable and stress-free. The Duwes wanted an intimate destination wedding that was warm, elegant, and captured the magic of the mountaintop. The Little Nell couldn't have been a more perfect venue.
On September 9th, 2023, Cassidy spent the early afternoon getting ready with her bridesmaids at the base of Aspen Mountain. Cassidy loved how comfortable and homey the entire getting ready experience was. She cherished her time with her friends before taking a gondola ride up the mountain to her wedding ceremony venue. In the final moments before the ceremony, Cassidy stepped into her gown with the help of her mom. Cassidy's dad and brother joined for a first look before it was time to walk down the aisle.
The ceremony was set overlooking the breathtaking Rocky Mountains. An exquisite arch of greenery adorned with white hydrangeas and blush pink roses framed the altar. Colorful Colorado wildflowers led the way to the ceremony space, and floral arrangements lined the aisle as Cassidy walked down, arm-in-arm with her dad. As the sun set behind the peaks, Cassidy and Gibson exchanged vows, officially becoming the Duwes!
Following the ceremony, cocktail hour commenced on the sun deck of Aspen Mountain. Guests found their seats with escort cards hung on the Aspen trees. Inside the Club, garlands of greenery adorned the ceiling, and flowers filled the room. Everywhere you looked, there were white flowers, from the arrangements on each long table to the cascading hydrangeas off the ledges and the grand entrance to the reception, decorated with bunches of white roses. Every detail was carefully thought out for the Duwe's outdoor-inspired celebration.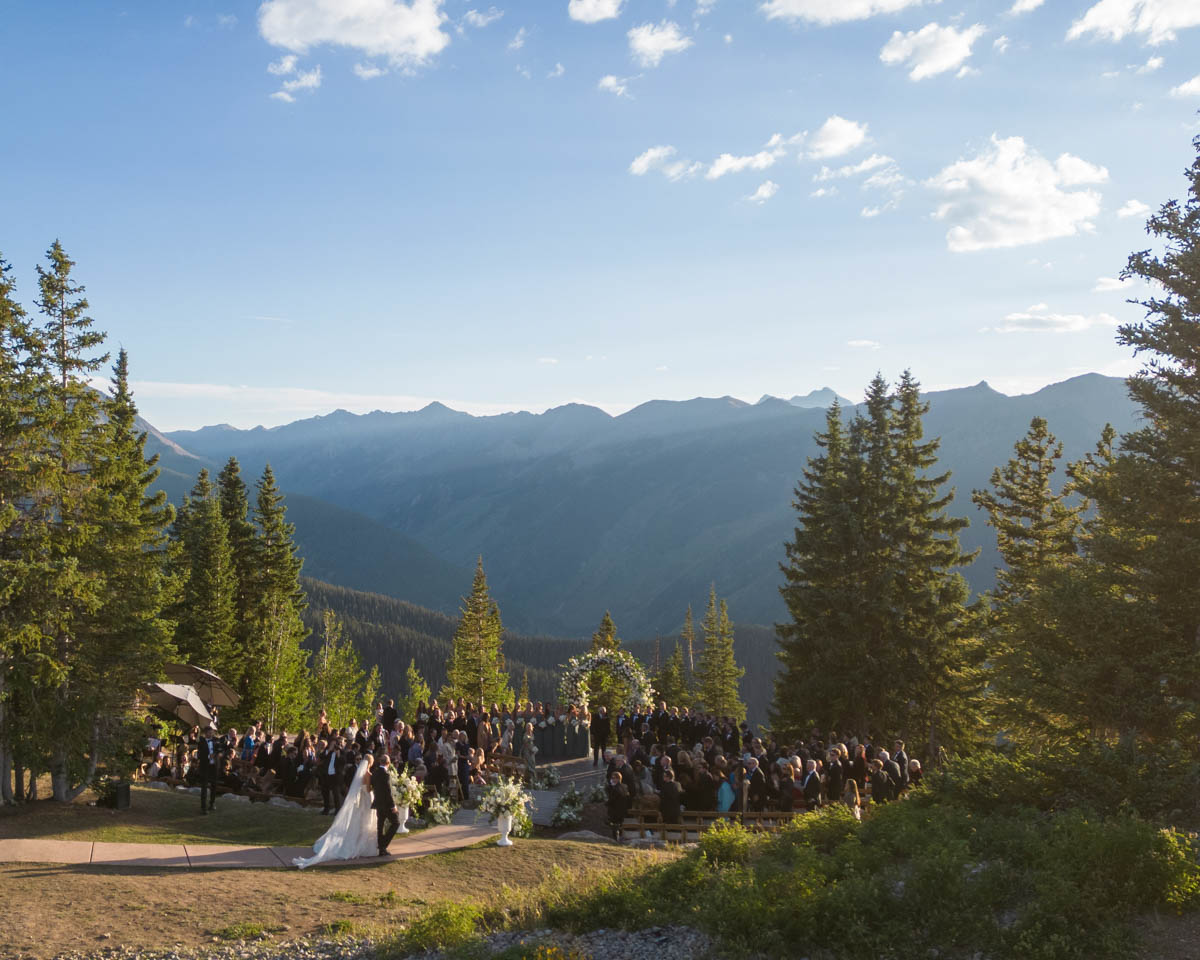 Mr. and Mrs. Duwe brought an infectious energy as they entered their reception hand-in-hand. Guests cheered as the Duwes and Bates took to the dance floor for a welcome toast to their family and friends. Following the toasts, dinner was served, and the party began. Cassidy and Gibson shared their first dance as newlyweds to "You Are the Best Thing" by Ray LaMontagne. The dance floor opened up, and partygoers joined Mr. and Mrs. Duwe to celebrate. A highlight of the reception for Cassidy was the time spent dancing with all her favorite people. "It was truly the most fun party I've ever been to. It felt like every guest was having the time of their lives. There was a conga line, Gibson and I were lifted up on people's shoulders, and we even danced on stage!" Cassidy shared.
At one point during the celebration, the Duwes snuck away to take pictures in their gondola-inspired photo booth. Later in the evening, cocktail waitresses adorned in greenery and white roses served espresso martinis to partygoers on the dance floor. Green cowboy hats were given to guests to sport on the dance floor as the party raged on before the evening came to a close. Cassidy and Gibson made their grand exit through a tunnel of sparklers as they headed down Aspen Mountain in their getaway gondola.
To close out the night, Cassidy and Gibson took a romantic walk through the village of Aspen instead of taking their car back to Hotel Jerome. "It was so fun to walk down the streets of Aspen in my wedding gown and relive the night together. We saw so many people cheering and hollering 'Congratulations!' at us…"
We wish Mr. and Mrs. Duwe all the best! Congratulations to both of these amazing families. We feel so lucky to have been a part of your wedding day!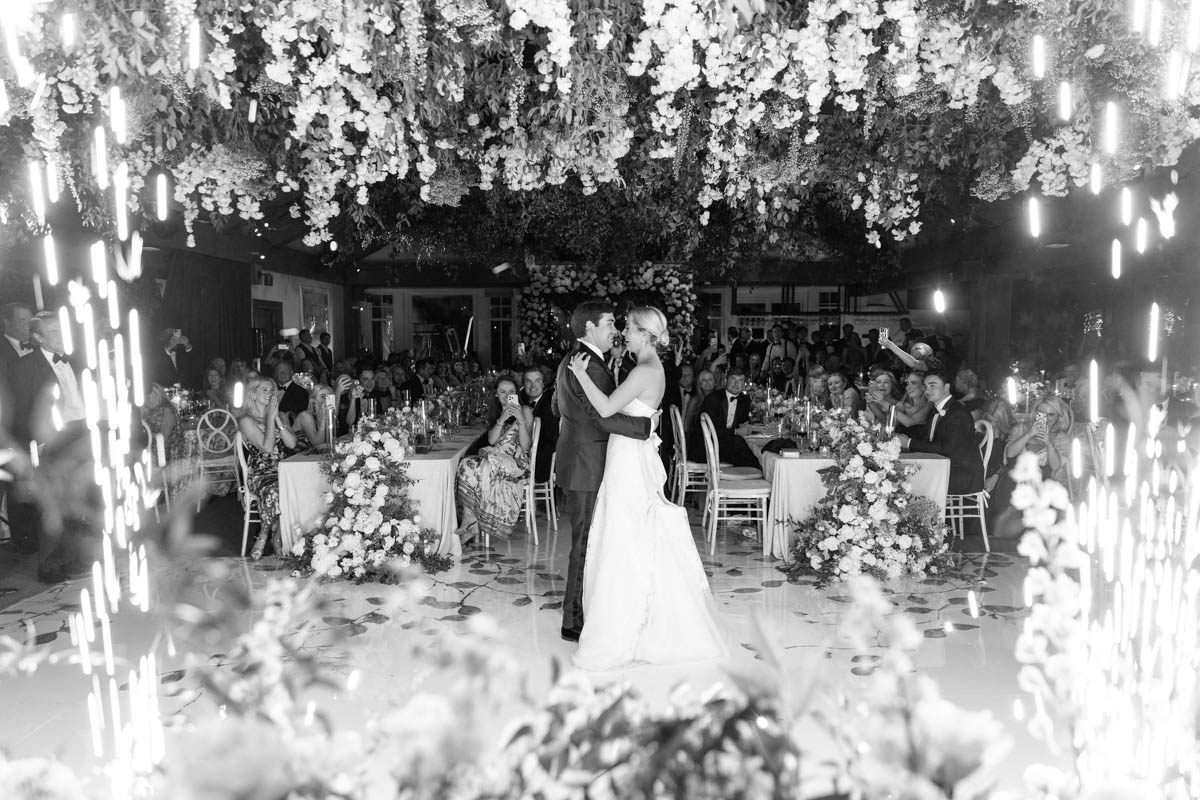 Credits
Planner

Caroline Events

Ceremony Venue

The Little Nell's Wedding Deck

Reception Venue

The Little Nell's Aspen Mountain Club and Sun Deck

Bridal Gown Designer

Vera Wang

Bridal Gown Retailler

Stanley Korshak

Hair & Makeup

Jennifer Sisk, Ashley McNabb

Floral Designer

GRO Designs

Cake

d'Elissious

Reception Entertainment

Taylor Pace Orchestra

Stationer

Carly Creative Co.

Calligrapher

Laurie Harper

Linens

Nuage

Rentals

GRO Designs
Reader Interactions