Leslie and Philip met through a mutual friend after college. "One of my best friends from Fort Worth went to UVA with Philip and introduced us! She came to visit Dallas and we all went to a concert together where I first met Philip; we started dating a few years later." At the end of 2021, Leslie and Philip took a trip just the two of them right before Christmas. They took a stroll through Mayfair and he got down on one knee to which Leslie said "yes!"
The Todds were married in an outdoor ceremony on the lawn in front of the Joule hotel. Leslie stated "It was such a natural choice – it really tied into our garden theme and proximity to the National made it easy for our guests." She walked down the aisle with her father to "In My Life" by the Beates, which is one of their favorite songs. After being pronounced Mr. and Mrs. Todd, Leslie and Philip led their guests to the reception in a second line parade down Elm Street. They hoisted umbrellas in the air as guests swung handkerchiefs in tow. "My dad had the idea for the second line band and it was SO fun. It was definitely one of my favorite parts of the day, and it looked like the guests loved it too." 
The Thompson hotel proved to be the perfect venue for Mr. and Mrs. Todd because of their ties to its history and remodel. "The Thompson Hotel was one of Philip's biggest projects and one he worked on the majority of while we were dating. One of the most special details about the venue was that in addition to Philip (with his dad and brother) redeveloping the building, my grandfather was one of the original engineers on the building in the early 1960s." 
Inside the ballroom, trees stood high on the tables and greenery and white flowers hung from the chandelier above the dancefloor. Haylie Paige Events perfectly executed Leslie's vision for her wedding day. "My planner Haylie coined the term "elevated garden party" and it fit perfectly. We incorporated this in everything from the save the dates and invitations, to the ceremony and reception florals." Leslie wanted something unique, not overly traditional and something she hadn't seen done before. From emerald to sage, lovely shades of green decorated the reception space. 
With the conclusion of toasts, the party transformed into a disco dance floor. Leslie's second look shaped her idea for the disco party theme of the reception. It was a silver sparkly midi dress trimmed with pink feathers. Disco necklaces and afros were distributed to guests and the party was in full swing. "Seeing our guests, the band, and several of my bridesmaids on the dance floor with huge afros made the party so fun and memorable."
The evening's celebration concluded with a private last dance and an escape in a getaway Bronco. Cheers to you, Mr. and Mrs. Todd!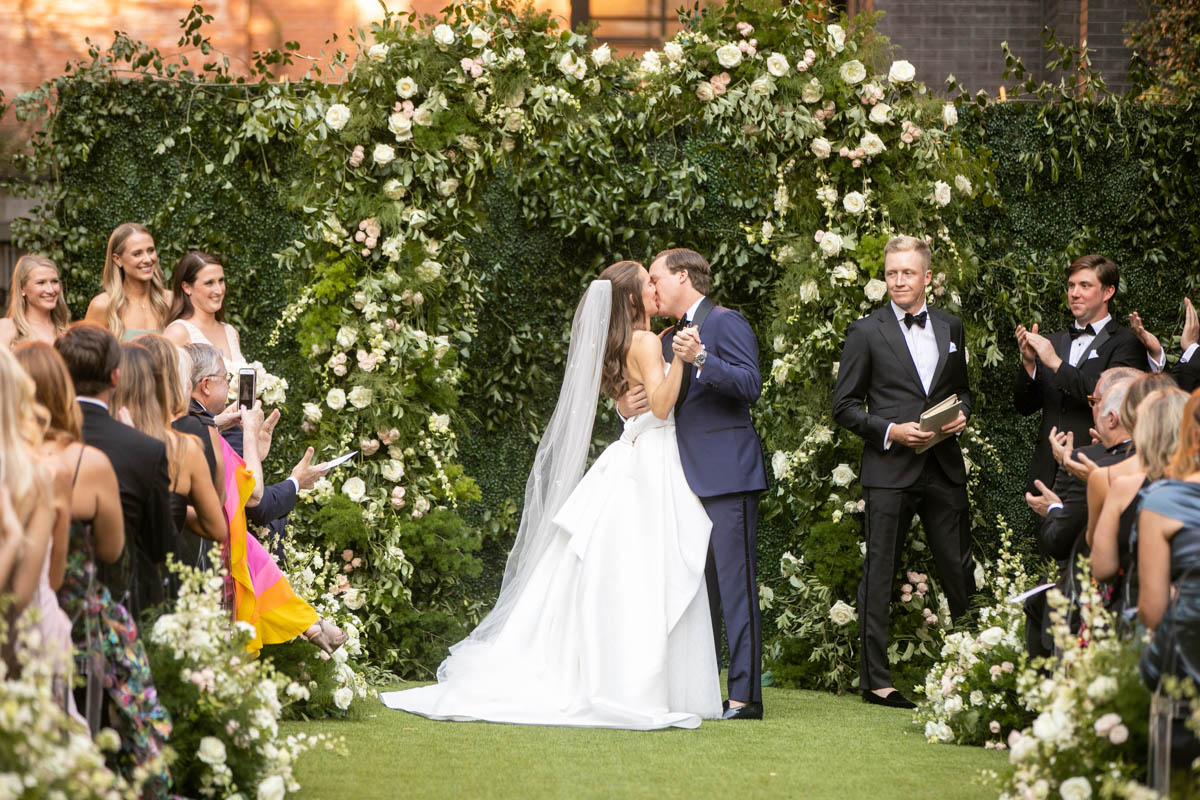 Credits
Wedding Planner

Haylie Paige Events

Ceremony Venue

The Eyeball at the Joule

Reception Venue

The Thompson Hotel

Bridal Gown Designer

Peter Langner

Hair + Makeup

Maitee Miles

Floral Designer

Branching Out

Cake

Dallas Affairs

Groom's Formalwear

Hadleigh's

Reception Entertainment

IDT Band
Reader Interactions