On December 1st, 2017 Hannah Gibson met Michael Gresham at a Dead and Co. concert they were attending with mutual friends. While her original intent was to go see John Mayer (understandably so), she left the evening having met Michael, her future husband. The Monday after the concert, Hannah received a text from Michael asking her to go out for dinner and drinks. They went out that Friday night and ended up shutting down the restaurant after a four hour meal. After dinner, Hannah brought Michael to meet her best friends for a nightcap and he "passed the test" . The girls that met Michael that night ended up being bridesmaids in their wedding. I guess that's the magic of John Mayer! 
Almost five and a half years after their first date, Hannah and Michael got married in San Antonio, Texas, Hannah's hometown. Every single detail of Hannah and Michael's wedding seemed so sentimental and intentional. She incorporated the same diamond-patterned dance floor that she used on her invitation, which was inspired by an heirloom chair that belonged to her great-great-grandmother and now sits in her parent's living room. Hannah chose to have a sidebar that exclusively served aperol spritz & espresso martinis as an ode to the trip her and Michael took to Italy for a friend's wedding. My two favorite drinks! Hannah is my kind of girl.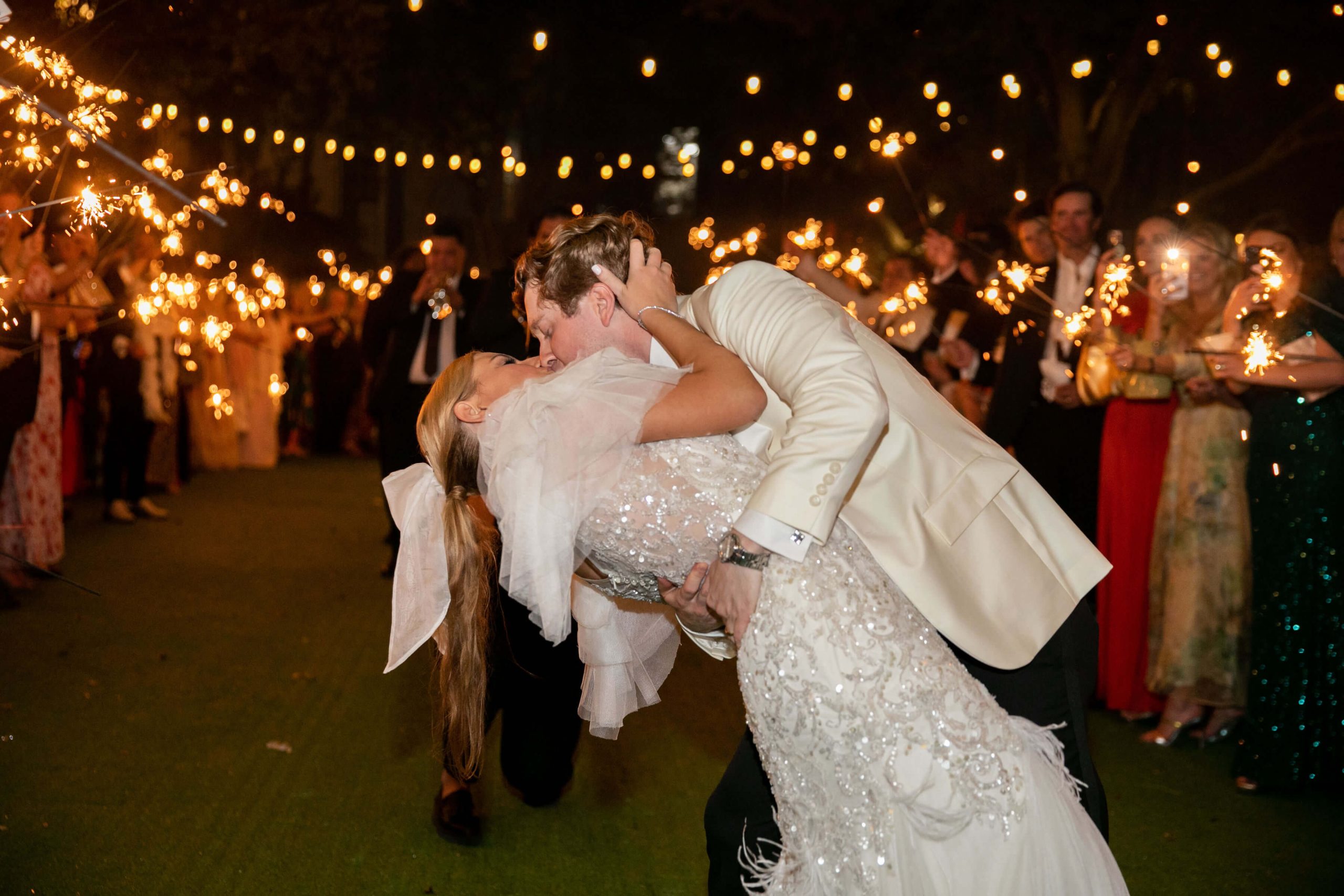 To tie in something old to her wedding day, Hannah wore her grandmother's Opal ring that she had recreated into a pearl choker necklace. Her something new was her Carolina Herrera dress with custom sleeves created by Julian Gold Bridal. When talking about her experience customizing Hannah said, "Julian Gold went above and beyond and it was a blast working with them". Hannah's something borrowed was her veil that has been worn by many women on Michael's side of the family. For her rehearsal dinner, Hannah borrowed the headband that her mother wore for her wedding day in 1984. Lastly, her "something blue" were her shoes! She described them as "Ice-cool elegant, floral brocade pointy-toed mules, finished with a sheer bow". 
For Hannah, having family friends as the vendors of her wedding made the day extra meaningful. The exquisite pink roses, greenery and lavender decorating the reception space were done by Danny with Trinity Flowers. Their cake, created by Cathy Young, stood six tiers high and intricate piping details accompanied by fondant flowers on every other tier. At the base of the cake was a large floral arrangement covering all 360 degrees, it looked as though the cake was sprouting out of the flowers. The top tier had a large G, symbolizing Hannah's maiden name as well as her new last name, Gresham. Hannah's vision for an English-garden party, meets South Texas mystique in a springtime celebration was brought together by a collaboration of creative talent. Hannah's dear friend and mentor, Cynthia Cazort Collins designed the bridesmaids dresses. Lastly, vignettes were created by the lovely Katherine Jezek Design, one of Hannah's best friends and bridesmaids. Having close friends helping out behind-the-scenes made Hannah's wedding day especially hers. Each detail worked in harmony with one another, making for a STUNNING celebration at the Argyle. The most amazing evening under the San Antonio Stars with the Gresham's.
Cheers to you, Hannah and Michael!
Credits
Wedding Planner

Carrie Catalani Events & Designs

Floral Designer

Trinity Flowers

Bridal Gown Designer

Carolina Herrera + Julian Gold Bridal

Ceremony + Reception Venue

Christ Episcopal Church + The Argyle San Antonio

Stationer

Katherine Jezek Design

Bridesmaids Dress Designer

Cynthia Cazort Collins

Reception Entertainment

Drywater
Reader Interactions