We had the pleasure of celebrating one of our own, Stephanie, as she married her husband, Pete, in a beautiful late July ceremony at the Meyerson Symphony Center. For Stephanie, it was important to highlight family in all aspects of her wedding day. This began with getting ready in the early afternoon. Stephanie shared with me, "​​I got ready at my mom's house with my entire family, including my kids and my siblings and both parents. And then we went to the Warwick to get dressed." For her wedding, Stephanie was set on wearing a colorful gown. She found her perfect dress, by Leanne Marshall, who hand paints and watercolors all of her gowns. "I loved that it was very bridal-y and had elements of white in it without being white based." The texture and movement of the dress felt organic and true to what Stephanie pictured for her wedding dress. She was immediately drawn to it when she made a personal connection from one of her favorite dates with her husband. "We were camping along the Great Lakes up by where he lived in Canada, and we had this one amazing picnic along the lake as the sun was setting, and the sky just turned these really soft pastel hues. The color of the sky was reflected in the water, and it just looked like the sky went on forever. It was calm and just warm and beautiful, and it was one of my favorite memories with him, and my dress reminded me of that night."
Stephanie's dress served as the inspiration for the decor for her wedding at the Meyerson. She worked with Haylie Paige Events to execute her vision of color. "I chose all of our flowers and everything based on my dress. I really wanted it to be soft, and I loved the soft organic elements in contrast and paired with the sleek, modern elements of the Meyerson. My favorite decor element was the amber ghost chairs that were the perfect color." As a nod to the groom's last name and a point of contrast with the bright decor, the Whites asked that their guests all wore white. "It just made it really ethereal and just soft and flowy. Pete and I were the only ones that had any color in our outfits."
A focal point of the decor was the spectacular floral structure created by the Branching Out Events team. Going into her meeting with Branching Out, Stephanie was open to their ideas and largely let them choose the flower types. "They do a great job of taking a half-baked idea and really bringing it to life. I knew from working with them at other events, and they made really beautiful suggestions that tied my vision together in a way that I wouldn't have known how to do." As for the direction Stephanie wanted to take her flowers in, she knew she wanted the altar floral to look more like an editorial shoot with the floral piece jumping out, as opposed to it being a background.  Smaller individual arrangements led down the aisle to the main centerpiece right at the altar. The main floral structure was composed of a variety of vibrant hues of peach, yellow and blue were woven into the greenery. 
Stephanie and Pete's wedding day was composed of two parts, with dinner occurring before the ceremony. The first part of their wedding day was focused on where they had been, with both sides of their family coming together to toast and share stories in an intimate gathering before other guests arrived for the ceremony. "There were just 14 of us, and we had a really small private dinner that allowed us to focus on our origin story, where we've come from, and then transition into the ceremony of where we were going with the creation of our new family." 
The ceremony was held shortly after dinner, beginning with Pete walking down the aisle with his son. Next was the flower girl, Stephanie's daughter, who led the way for Stephanie's entrance arm in arm with her son William. "He kept squeezing my hand as we walked down the aisle. It was my favorite, such a sweet moment." Stephanie and Pete's ceremony gave a special nod to family with Pete's brother officiating it. "After Pete and I exchanged our vows and our rings, we invited all three of our kids up and we read them vows and gave them each a ring that we had picked out to represent that we were choosing our family. It wasn't just about the union of Pete and I, but it was also about respecting and honoring us as a whole family of five." There wasn't a dry eye in the room at this point!
Following the ceremony, it was time to celebrate Mr. & Mrs. White! At the start of the reception, everyone gathered around for family dances. A highlight of Stephanie's night was watching Pete dance with her daughter Lorelei. "Watching that daddy-daughter dance, knowing that it would be duplicated again at her wedding was such a special moment." The rest of the evening was spent with all of the guests out on the dance floor having the time of their lives. We couldn't be happier for the Whites! It was a beautiful celebration of love and family at the Meyerson.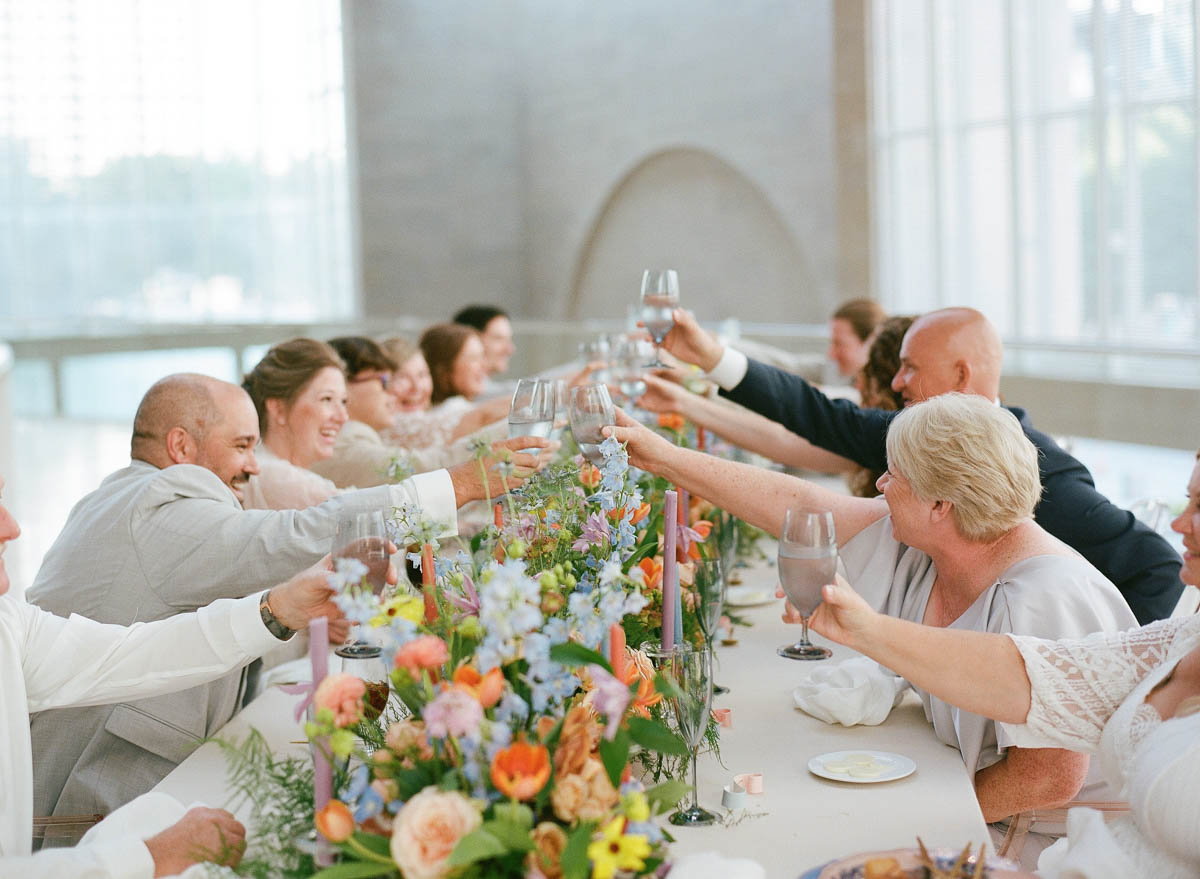 Credits
Planner

Haylie Paige Events

Floral Designer

Branching Out Events

Reception Entertainment

Jordan Kahn

Cake

Fancy Cakes by Lauren
Reader Interactions