Lacey and Drew's love story began freshman year of college at Baylor. Lacey was going to formal with her friend Hannah, who would end up being her roommate for a year and one of her bridesmaids. "She paired me with her now husband, and she went with Drew, which was funny." Lacey remembers seeing Drew before formal and thinking "Oh he's really cute", but their paths wouldn't cross again until their junior year. "We officially met 2 years later at a party. We started going on dates after that and the rest is history!" 
In December of 2022, Drew proposed to Lacey in her hometown of Newport Beach, California when they went home for Christmas. "He took me to Castaways Lookout Point, which is walking distance from my house. About two years earlier, that was the exact spot where he told me he loved me, so that's a special spot for us."
Wedding planning began soon after as Lacey and Drew prepared to walk down the aisle in August of 2023. Lacey began her search for wedding venues knowing she wanted to be married in California or Texas. Once they decided on the state, the Singers stumbled across the French Farmhouse in Collinsville, Texas. Upon touring, they fell in love with the space and were specifically drawn to the chapel. With a venue pinned down, Lacey turned her focus to the decor. She worked with her planner at Honey & Co. to achieve a classic, elegant feel with modern twists at the French Farmhouse. As for the most important design element, Lacey answered "flowers" with no hesitation. "I gave the floral team creative freedom, although we did talk a lot about what I envisioned. I just wanted a lot of flowers. Hydrangeas, orchids and fluffy roses for the bridesmaids bouquets."  
In the early afternoon of August 26th, Lacey began getting ready for her wedding day at the French Farmhouse. When the nerves started kicking in during hair and makeup, Lacey's sister grabbed her hand providing comfort and excitement for the ceremony soon to come! Once she was fully ready, Lacey stepped into her dress with the help of her mom, sharing a private moment before her dad joined them for a first look. After a sweet and emotional moment with her dad, the entire Ryan family gathered in the bridal suite and then it was off to the chapel! 
Inside the chapel, Drew awaited Lacey's arrival for their first look. Pure joy and excitement covered Drew's face as he turned around to see his bride. In that moment, Lacey felt an overwhelming sense of calm to see her soon-to-be husband as they were minutes away from becoming Mr. and Mrs. Singer! The final few moments before walking down the aisle were spent in the presence of one another sharing excitement for this next chapter they would soon walk into.
Guests took their seats and anxiously awaited Lacey's arrival. The ceremony was a special moment in the day for the Singers for many reasons, one of which was that the officiant was Lacey's dad's best friend. "He was my dad's best man and a secondary father figure to me, so it felt very meaningful." The Singers and the Ryans gathered at the altar and said a prayer over Lacey and Drew before they were pronounced husband and wife. Hand in hand, Mr. & Mrs. Singer recessed down the aisle, and then it was time to celebrate!
Loved ones found their seats as toasts were under way. Beginning with Lacey's dad, who shared heartfelt memories from her childhood and meeting Drew for the first time. Lacey's favorite moments from the reception were the speeches given by family members and watching the parent dances. "I loved seeing my sisters up there and my dad did such a great job." she shared with me. As the dance floor opened up, a new energy filled the room. There is a tradition in Lacey's friend group when someone is married that the bride and groom are lifted into the air to crowd surf. "I knew it was coming, and when he got lifted, I'm like, "Okay, here I go." That was really fun and I surprisingly liked it. I don't enjoy heights, but it was a good time!" 
Before the evening came to a close, Mr. and Mrs. Singer shared one private last dance to Chris Stappleton's "Tennessee Whiskey". The ballroom was filled with sparklers as Drew spun Lacey around. The Singers exited in a tunnel of rose petals before heading off in their getaway car. 
Wishing Lacey & Drew a lifetime of love and happiness! Congratulations Mr. & Mrs. Singer!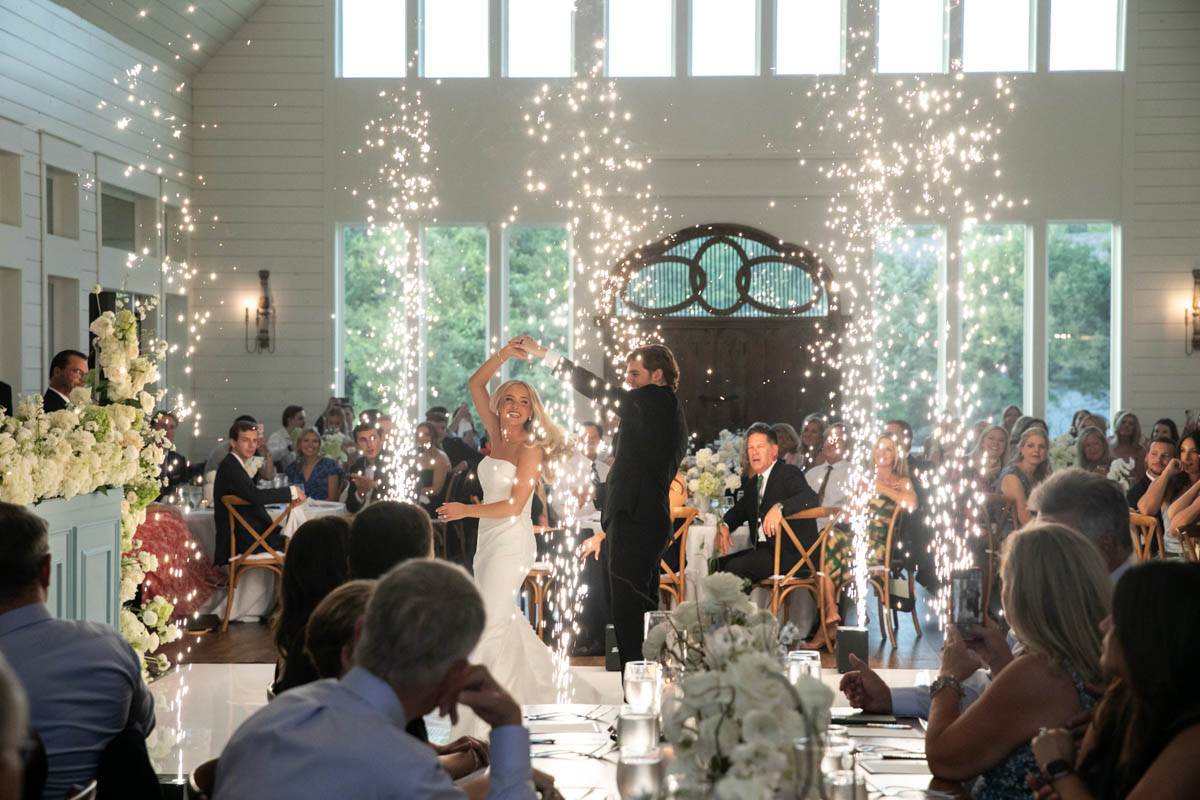 Credits
Planner

Honey & Co. Weddings

Ceremony Venue

French Farmhouse

Reception Venue

French Farmhouse

Hair

Etoilly Artistry

Makeup

Etoilly Artistry

Floral Designer

Alba Dahlia

Cake

Unrefined Bakery

Stationer

Vim and Venture

Rentals

Perch Decor

Reception Entertainment

Entertainment Alliance group
Reader Interactions