A personal note from John: 
Weddings are a family affair. Shreveport is an extension of home to me because it is where my mother is from, and where for all of my growing up years we went to be with family. I remember when my cousins were born, and spent many holidays (including Mardis Gras) in Shreveport. My brothers and I were in my Aunt Polly's wedding as children, so to have my own kids in Martha's wedding was very, very special. This feature however is in celebration of Martha and Mark, and I wanted to send a heartfelt thank you to them and my Aunt Polly and Mom for allowing us to play a small part of what was a very special and memorable weekend. 
"Mark and I met in August of 2019. I was packing up my apartment with my family on my graduation weekend from physician assistant school when I got a text from my best friend, Paylor, who told me that she had a medical school classmate that I "had to go on a date with." They were sitting at dinner with other classmates when she asked me! The funny part of the story in hindsight is that this is the first time she and Mark had spent any significant time together, so I guess my friends know a good thing when they see one.  We soon went on our first date after that, and the rest is history!"
Martha and Mark were married on June 18, 2022 in Shreveport, Louisiana, Martha's hometown. She spent the morning getting ready in her parent's home, the house she grew up in. "From the beginning, I knew that I wanted to get ready in a place that was held so near and dear to my heart. It was so special for John to photograph our wedding as he has many memories at my parents' house from before I was even born. It was so sweet to have so many of my dearest friends, from childhood to young adulthood, that got to gather in one place that holds so much significance to me." Martha got ready with the help of Avalon Salon and Tamara Lamb from Merle Norman Studio in Shreveport. After hair and makeup, she got into her dress with the help of her mom. She descended the same stairs she walked growing up for a first look in her dress with her mom and dad. Martha then went out on the porch of her home for portraits with her bridesmaids and family before leaving for the ceremony at St. John Berchmans by trolley.
"I grew up in Shreveport and went to high school in the area. On Wednesdays, we went to the Cathedral of St. John Berchmans for weekly Mass. Coincidentally, before I met Mark, he had been attending Mass and serving at St. John's as well. Since we've been dating, Mark and I have attended weekly Mass. While the location was significant to us, the most important part of the ceremony was that we felt like our two denominations were represented. From the beginning, Mark and I had the most opinions about the ceremony since we both saw that as the central focus of the day. We wanted to ensure that every reading, song, and story shared held religious meaning to us and was Christ-edifying."
Martha's and Mark's wedding party was incredibly special to them. "One of the top 3 most meaningful parts of our day would be being able to include Callie and John (John's two oldest children), and Ben and Michael (Jim – John's oldest brother's two youngest children) to be in our wedding party. This wedding was very special to my family as I am the only grand-daughter of my late maternal grandmother's 6 grandchildren. While she was not able to be there in person, we know that she was most certainly there in spirit. We knew that we wanted to make our wedding as family focused as we could, so when discussing the wedding party, I knew with full certainty that I wanted to have Callie, John, Michael, and Ben be a part of our wedding party. Additionally, I really wanted John to be able to photograph it especially considering his children would be participating in the ceremony. I could never imagine anyone else photographing our special day. John has photographed our extended family for as long as I can remember – taking pictures at Thanksgiving while he was in high school / college still figuring out how to navigate a camera. Just the other day, I was admiring the 2013 high school senior photo he took of me that still sits in the family room in my parents home. In hindsight, it truly was the most special occasion to have my family play such a monumental part in our special day."
The reception was held at East Ridge Country Club. The interior was transformed by the addition of flowers covering what seemed to be every corner. Martha didn't have a certain type of flower she was set on using, so she gave her florist Kyle, with the Colony House, creative freedom. "We LOVE our florist. One of his most admirable qualities is his attention to detail. We made a "vision board" for inspiration and he totally knocked it out of the park. We didn't have any particular flowers we wanted to use, but we knew that we wanted to have bright pinks, greens, etc. He truly appreciates the element of surprise, and he was not big on giving away any hints beforehand. Needless to say, We were totally blown away on the day of by our vision coming to life! Our expectations were certainly more than exceeded." Pink peonies, roses and hydrangeas filled blue and white ceramic vases. At one end of the ballroom stood an impressive five tier cake with flowers filling the space between each tier.  " I loved the duogram we used on our save the dates, so I knew that I wanted to incorporate that somehow into the cake. I also wanted to incorporate our bright flowers and some of the lace pattern from my dress onto the cake too. I gave Jeannie, at Sweetie Cakes, all of these ideas and she absolutely knocked it out of the park!" Mark's groom's cake, also created by Sweetie Cakes, was inspired by the traditional water meter covers in his New Orleans. "Mark is from Metairie, Louisiana which is just outside of New Orleans. New Orleans culture has always been very important to him, so he wanted to have a fun groom's cake to symbolize it." 
Martha and Mark's wedding was a beautiful celebration spent with family and friends. Each detail was so well thought out and held significance to them. "There are so many people to thank that helped make our day special, but a few special shoutouts include my bridal party, my family, and most importantly, my mom. I truly have the most thoughtful and selfless friends. As for my family, I am so grateful for the way that everyone sacrificed both their time and resources to help celebrate our special day. Lastly, I'd like to thank my mom who spent the last 15 months tirelessly planning such an outstanding wedding. It truly was the best day!"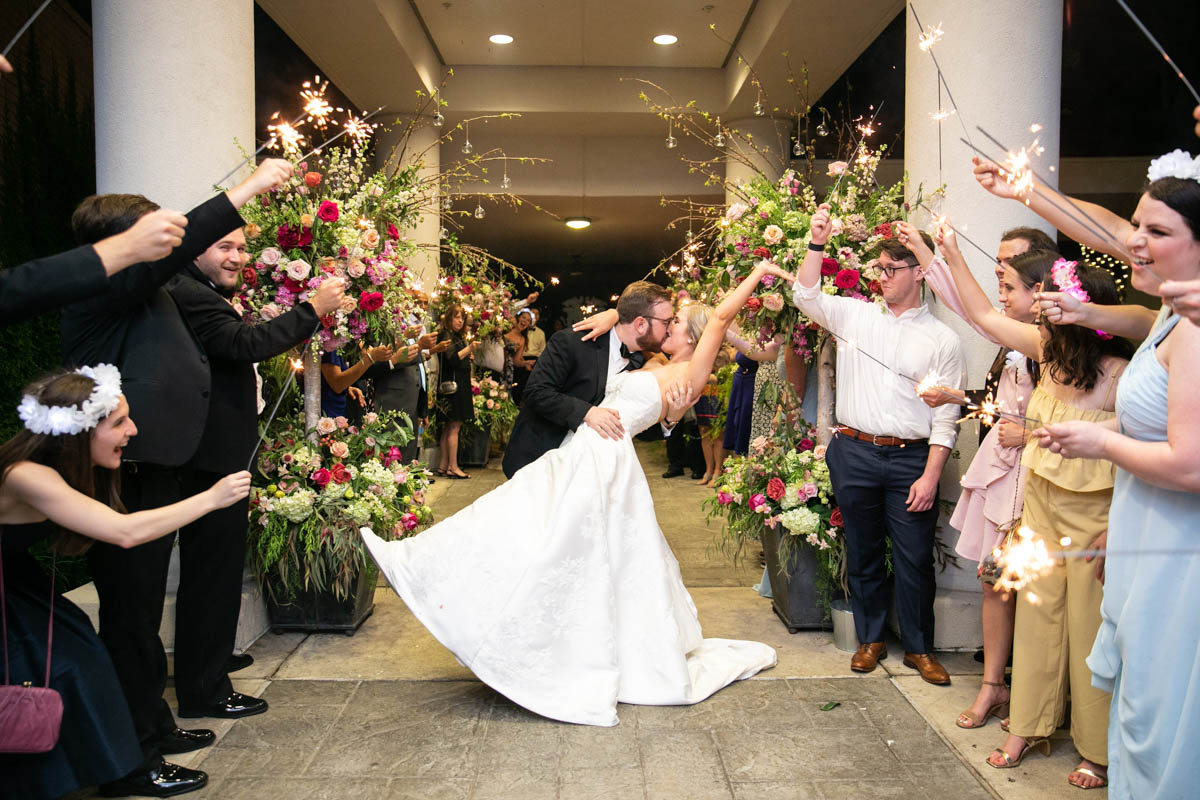 Credits
Wedding Planner

Hannah Lamb Events

Ceremony + Reception Venue

The Cathedral of St. John Berchmans, East Ridge Country Club

Floral Designer

The Colony House

Bridal Gown Retailer

Happily Ever After Bridal

Hair + Makeup

Avalon Hair Salon, Merle Norman Studio

Reception Entertainment

Compozitionz of Jackson, MS

Stationer

The Paper Tulip

Cake

Sweetie Cakes
Reader Interactions