Gabby and Ben met in third grade at Bradfield Elementary school. "We were one another's crushes. Even though we went to the same school growing up, we never really talked or overlapped in our classes – somehow our schedules were always opposite even though we had many of the same teachers. It wasn't until post-college that Ben reached out to see how I was doing & we ended up going on a bike ride & walk when I was back in Denver for a few weeks during early COVID." 
In December of 2021, Ben got down on one knee at the Meyerson Symphony Center. "Accompanied by overwhelmingly kind notes & discussions, a surprise concert, and questions of readiness for this next step of life, met by encouragement from all sides, Ben & Gabby got engaged on December 28th!" 
On the 27th of August, Gabby and Ben were married at Beaver Creek Chapel. The location holds special significance to this outdoor loving couple. "Ben & I have LOVED both living in Colorado with amazing friends & the ability to enjoy the outdoors. The Vail area is special because Ben grew up coming every summer to watch his dad play concerts at the outdoor amphitheater, and at a little restaurant in Vail, Ben asked me to be his "girlfriend" and I said yes for the first time. Beaver Creek has been one of our favorite ski locations". After a beautiful and joy-filled ceremony, Gabby and ben were pronounced husband and wife. 
The reception was held in a stunning tent out on the lawn of the Ritz Carlton. The color palette chosen for the decor is meaningful to both Gabby and Ben. "I have always loved the color combination of orange and blue, and this combo felt like the perfect way to symbolize me in the sunny orange & my alma mater of UT Austin with the calm blue of Ben & his alma mater of Univ. of North Carolina (go heels!)" The colors were exemplified in the beautiful flowers that decorated the space. Hanging from the top of the tent were cloud-like bunches of baby's-breath. The space was transformed into a radiant and colorful indoor garden. 
A spectacular energy overtook the reception. Friends and family laughed, danced and celebrated Mr. and Mrs. Walzel. Partygoers wore ski masks and crowd surfing ensued. It was an unforgettable evening celebrating these newlyweds! Congratulations Gabby and Ben!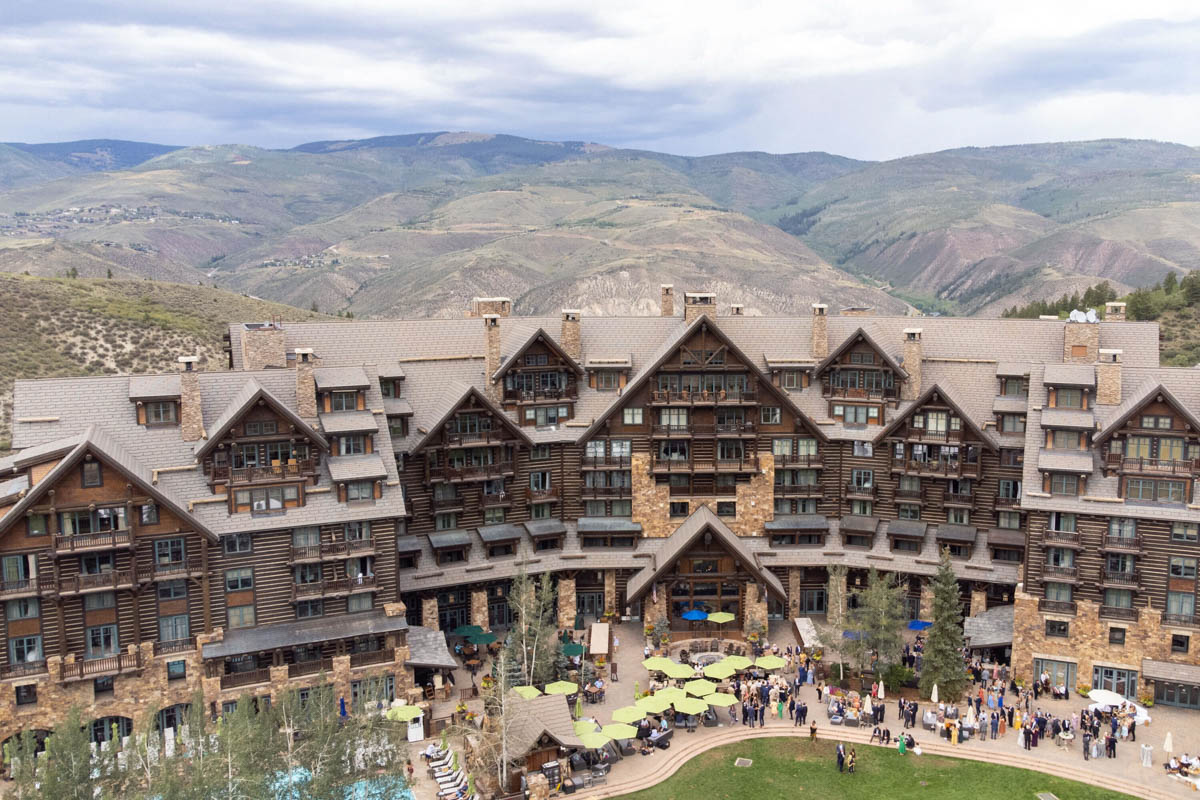 Credits
Wedding Planner

Milk Glass Productions

Ceremony Venue

Beaver Creek Chapel

Reception Venue

Ritz Carlton Bachelor Gulch

Bridal Gown Designer

Lela Rose

Hair + Makeup

Hair Artistry By Hilary + Alluring Canvas Skin Studio

Floral Designer

Lace + Lilies

Cake

Ritz Carlton Bachelor Gulch

Stationer

Paper Affair, Dallas

Reception Entertainment

(Cocktail Hour) Will Swindler [Sax], Ben Markley [Piano], Seth Lewis [Bass], Alejandro Castano [Drums]; -- (Dance Hour) KC Flo
Reader Interactions