Lovely in lavender and lilac! Frances and Blake's wedding weekend was held in Houston, Texas. The inspiration for the decor was all things whimsical, classic and floral. "I love flowers and for a springtime garden wedding, it just reflected the beauty of the McGovern Centennial Gardens" Frances shared. The Berry's decision to get married at the gardens stemmed from the history they have with the venue. "Blake lived right near the McGovern Centennial Gardens so we would walk through it probably 2-3 times a week for over two years! We loved it and had so many meaningful conversations and fun moments on our walks through it. We always knew we'd get married there." 
Frances' wedding day began getting ready in her home in the Heights. She had hair and makeup done by Etoilly Artistry alongside her bridesmaid before getting into her dress. She wore a beautiful square neck A-line gown designed by Anne Barge. Frances' bridesmaids chose a variety of blue gowns, each reflecting their own personality. "I always loved the idea of mismatched bridesmaid dresses – I think it gives the bridesmaids more opportunity to show their own unique style and increases the likelihood they'll wear the dress again in the future! Since I had four bridesmaids too I thought it would be a fun moment and still make them stand out. As a self-proclaimed "dress girl" I loved helping them pick out their dresses- the only guidelines I gave them were to find something floor length, and a blue floral pattern."
The ceremony took place on the lawn of the McGovern Centennial Gardens. The altar was set and a trail of lilac and white rose petals led down the aisle. Frances was accompanied by her father as she walked down the aisle. "My favorite moment from the ceremony was seeing Blake as I walked towards him!! He was such a cutie and teared up. I was so nervous to stand up in front of so many people but knowing I had Blake up there with me made it so perfect." After being pronounced Mr. and Mrs. Berry, Frances and Blake recessed down the aisle hand in hand with elated grins. 
The Berry's reception was held in a nearby tent in the gardens. Frances coordinated all of the decor for her reception, with each detail being as important as the next. "I knew I wanted a mix of wood tables and tablecloth covered tables – I thought this created visual interest and mixed it up. I also knew I wanted a black and white checkered dance floor – because who doesn't! I also placed a lot of emphasis on my head table – I had custom Sasha Nichols china with our wedding monogram as well as Mrs. Alice chargers, placemats, and monogrammed napkins. I loved incorporating blue and white wherever I could – and the head table was a fun place to mix and match blue and white vases for the florals. I also knew I had to have a perch decor stage facade lined with flowers, I loved it!" 
A highlight of the evening was when Taylor Swift's "Karma" was played by the band. "Blake and I love Taylor Swift and I love this song so I had requested it. However they surprised us by making us "perform" it and dance alone on the dance floor!! We were so confused at first, but we were having so much fun dancing and singing along we didn't even notice! It was such a random unplanned moment that actually created great memories." The reception was filled with love and laughter in honor of the newlyweds. Congratulations to the Berrys! Wishing you love and happiness.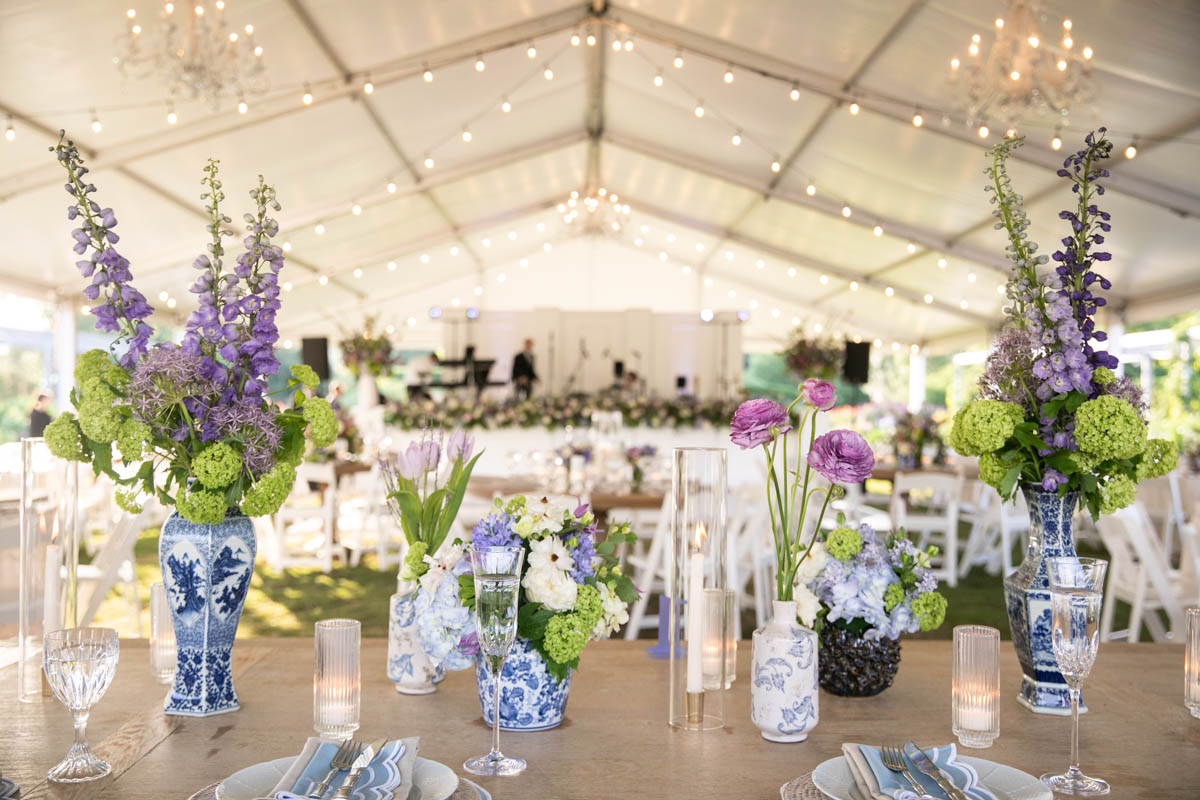 Credits
Ceremony Venue

McGovern Centennial Gardens

Reception Venue

McGovern Centennial Gardens

Hair + Makeup

Etoilly Artistry

Floral Designer

Bergner & Johnson

Cake

Three Brothers Bakery

Ceremony Music

ECHO Orchestra

Reception Entertainment

The Moment Band

Stationer

Elmwood Paperie

Rentals

Perch Decor
Reader Interactions