Ryan and Kate first met back in November 2017 at Friendsgiving in Dallas. Kate remembers sitting across from him at the table. Ryan remembers Kate's homemade apple pie. Fast-forward to their mutual friend's  wedding in January 2019, Ryan asked Kate to dance on the dance floor. Kate was asked by a friend if she would like to go on a date with their friend, Ryan. Kate knew exactly who it was, and said, "yes!". Ryan reached out to Kate and the rest is history! 
In June of 2022, Ryan proposed to Kate. Kate recalled the day and said "the couple that had set us up wanted to do a double date in Lake Highlands. And Ryan picked me up at my apartment and he was driving me over and I had a suspicion. I was wondering why he was acting so calm and chill and wearing what he normally wears. So, I was like, "Oh no, it's probably not going to happen." They arrived in the middle of a beautiful wide open meadow, where Ryan got down on one knee and asked Kate to marry him. "Afterwards we went to his parents' house and  had dinner with just our close families to celebrate. The next day, we had a party with friends in the Design District!"
In preparation for their wedding, Kate and Ryan chose to work with planner Eden Harkins. Kate's brother and sister-in-law worked with Eden for their wedding, so Kate said it was an easy yes since they had a well established relationship and knew she could execute their vision. When recalling her planning experience, Kate said "Eden was just so thoughtful, went above and beyond. She managed everything so well, very organized."
On the morning of her wedding day, Kate got ready with her bridesmaids at her family friend's house. "I love getting ready at houses because it feels very cozy, very like Father of the Bride." A highlight from Kate's wedding day was spending time with her bridesmaids. "They made it so fun – I'm so thankful for such amazing friends!!!"
The Grieges were pronounced husband and wife at Park Cities Presbyterian Church. Right before Kate walked down the aisle, her nephew, the ring bearer, requested to watch her walk down the aisle. He stood right next to the pastor, making for a hilarious photo as he peered down the aisle at Kate. A shared favorite moment between Kate and Ryan was her walk down the aisle. Ryan recalled the moment saying "It's something no one can prepare you for."
Kate always knew she wanted a winter wedding and it was special to her to be able to celebrate during Christmas time at the Adolphus on their 110th anniversary. She describes her wedding as "Classic, Christmas, charming." Kate worked with Fancy Cakes by Lauren to create an elegant and elevated Christmas themed wedding cake. "So, my invitations had that gold acorn on the RSVP card, and so when I brought my invitations in with my meeting with her, she was like, "Oh, I love this." And she and I collaborated on making the cake and incorporating that little gold acorn in it." 
Post ceremony celebrations were held at the Adolphus where guests spent the evening dancing with Jordan Kahn's Manhattan band. "They were phenomenal and they kept the energy going. And a lot of people after were like, "Who are those people? What is that band?" They brought so much joy! They let us, and the bridesmaids get on stage."
After an evening of celebration, Mr. and Mrs. Greige said goodbye to their loved ones and took off in a getaway car. Congratulations Ryan and Kate!!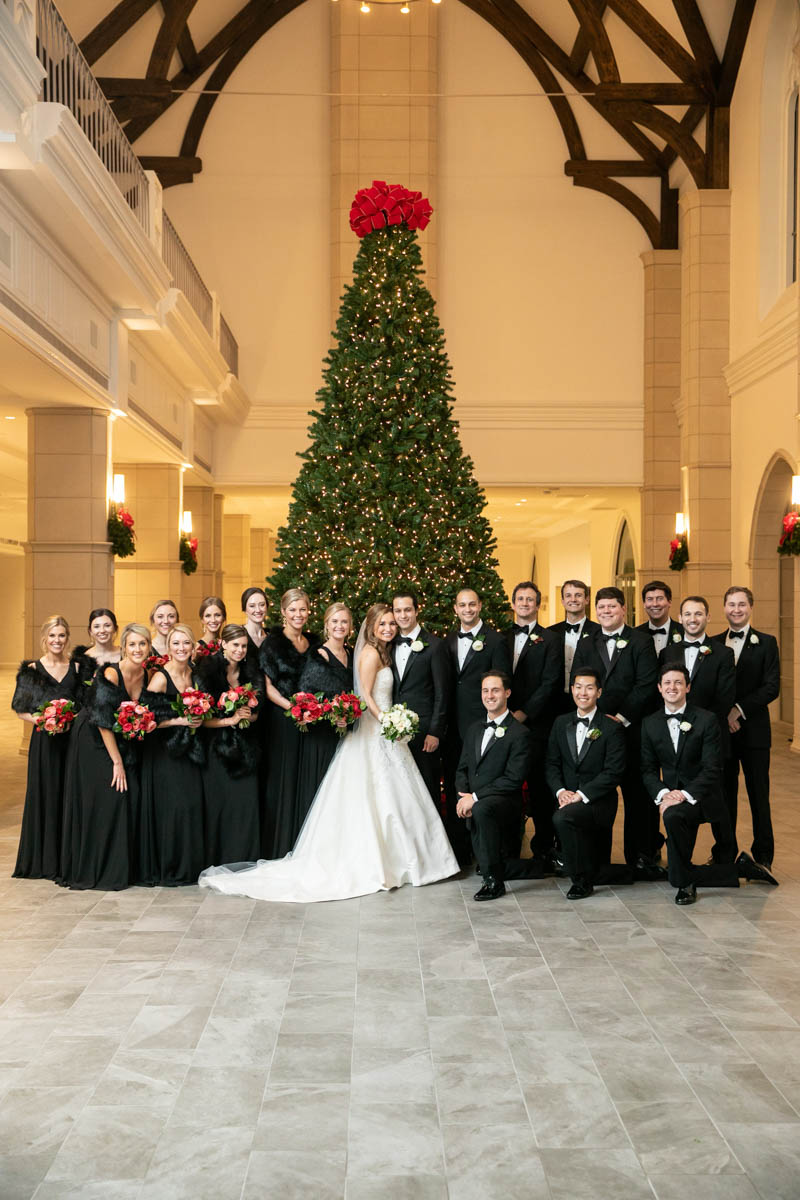 Credits
Wedding Planner

Eden Harkins Events

Floral Designer

Three Branches Floral

Hair + Makeup

Maitee Miles Team

Rentals

Perch Event Decor

Stationer

The Write Choice

Ceremony Venue

Park Cities Presbyterian Church

Reception Venue

The Adolphus

Reception Entertainment

Jordan Kahn Music Company's Manhattan

Bridal Salon

Carolina Herrera

Cake

Fancy Cakes by Lauren

Calligrapher

Laurie Harper
Reader Interactions