On the edge of Horseshoe Bay, Nicole and Hunter became Mr. and Mrs. Redman surrounded by their loved ones. Their love story dates back ten years prior. The first time Hunter ever saw Nicole was at Horseshoe Bay. "We were both at the lake with our families and we lived in different towns at the time, but he found a way to track down my number through mutual friends and things took off from there!" They began dating in high school, and attended different colleges for their freshman year. Nicole was cheering at Texas Tech and Hunter was off to Austin to play baseball at The University of Texas. Hunter transferred to Texas Tech to continue playing baseball where he would spend the next few years making memories in college with Nicole. After college, Hunter was drafted to play professional baseball on the opposite side of the country, which led to them spending time apart. "For Hunter, during those years apart… he always knew something was missing and that something was Nicole.  Which is where "It was always you" stems from. There has never been something more spot on than those 4 words."
It was a mid-spring day, and the breeze from the gulf swooped in creating the perfect weather for their wedding day. A grand pavilion made of wood stood near the water adorned with flowers of pink, pale orange and white. Nicole describes her wedding as tropical, airy meets modern, clean elegance. "The resort itself has such a beautiful footprint it really was the inspiration we designed from. We then incorporated our personal touches like my favorite color, gold.  We merged the greenery and tropical airy feel with some modern touches. A monochromatic color scheme, geometric patterns in the décor and details of lucite. The invitations were a gold Lucite that foreshadowed the dance floor."
Before the ceremony, Nicole got ready at Horseshoe Bay Resort with her bridesmaids and parents. After hair and makeup, Nicole got into her dress with the help of her mom. Nicole wore Sohil Mistry for her wedding day. "I was lucky enough to meet east coast designer Sohil Mistry of Enaura wedding gowns when I was dress shopping. I fell in love with several of his designs and he was able to create a custom dress for me that was a combination of my favorites!  It was a strapless hand beaded fitted bodice with a draped silhouette statement slit leg skirt."
Nicole's father joined her and her mother for a first-look to which he got very emotional about. She gave him cuff links and her mother a handkerchief embroidered with a heartfelt note. Nicole and her father practiced their dance for later on in the evening one last time before he gave his daughter away. 
Guests gathered on the lawn as the ceremony was about to begin. Nicole and Hunter elected to forgo a first-look, making her walk down the aisle all the more meaningful. "Seeing each other for the first time will forever be a memory we will not forget." She looked radiant as she entered arm-in-arm with her father. "Prior to the wedding, our officiant had us separately write down and send to him what we loved and admired about each other and our goals for this marriage.  Hearing each other's words for the first time during the ceremony was such a special moment of intentionality and solidarity. Standing there in front of hundreds of people it felt like it was just the three of us. It was truly the most incredible feeling."
In a unique twist on the ceremony, both the bride and groom's family met in a huddle to share a moment coming together as one before Nicole and Hunter were pronounced husband and wife. One of my favorite parts of looking through these photos was seeing how strong their family bond is. Nicole and Hunter's vows were a truly special unifying of families that share a close relationship. Cheering ensued as Nicole and Hunter kissed and made it official!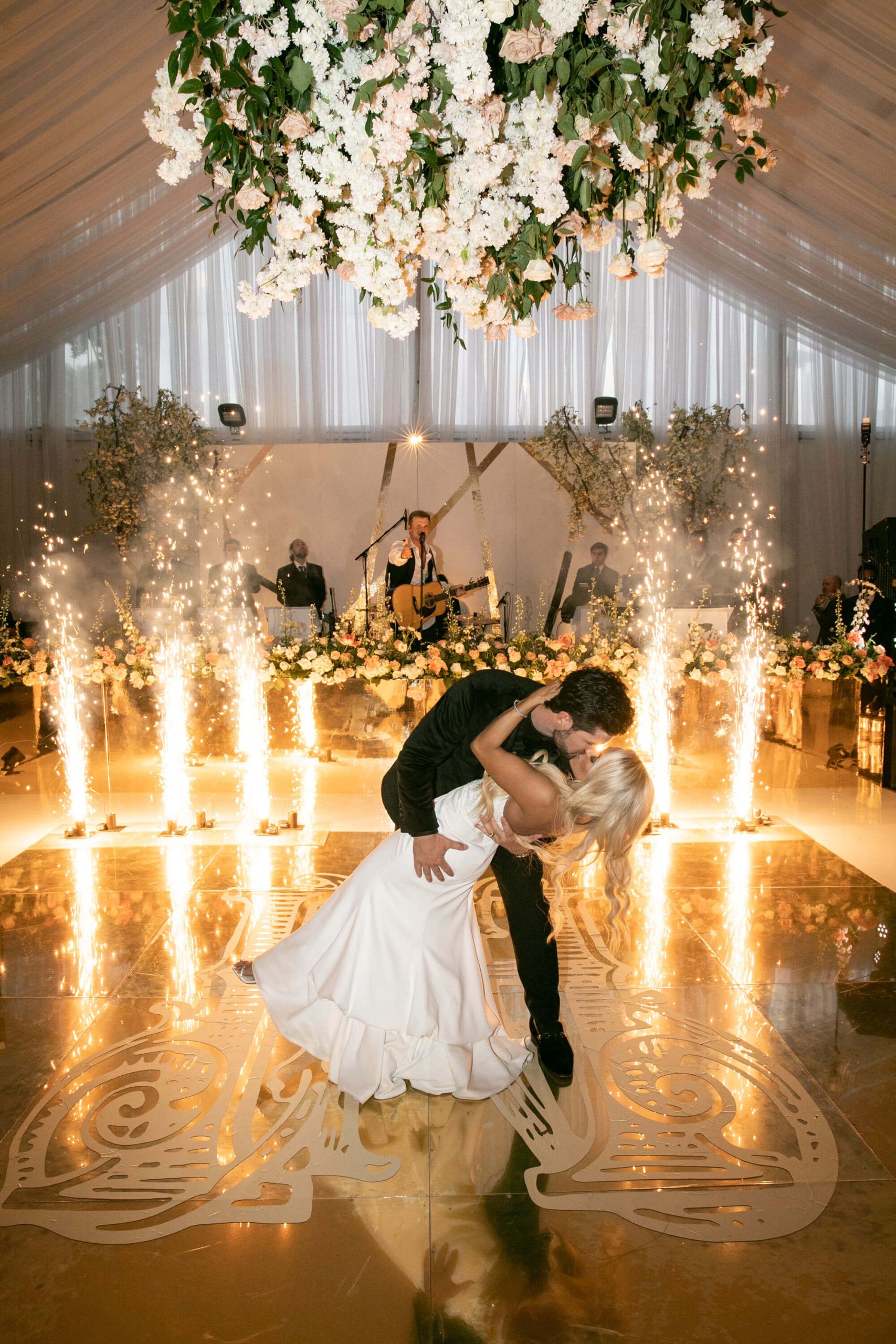 Off to the after party! Mr. and Mrs. Redman entered their reception under a tunnel of flowers. The ceiling and walls were covered with beautiful blooming flowers and glasses of champagne for guests to grab as they walked in. Inside, an eye-catching gold, metallic dance floor laid at one end of the tent, under a chandelier of hanging flowers. The stage facade glittered with the same gold as the dance floor. Behind the stage stood tall blossoming trees that decorated the rest of the tent. Candles of various heights and flower arrangements were placed on each table. Near the stage, the cake, a six tier masterpiece, was set in front of a neon sign reading "It was always you" in reference to their love story. Nearby, champagne glasses stacked high for post-cake cutting toasts. It was all very Great Gatsby-esque. The cocktail of the hour was Hunter's espresso martini served from an ice sculpture etched with their wedding crest.
For their first dance, Hunter had a special surprise for Nicole. "Hunter surprised me with our first dance being a song written and performed live by one of the groomsmen, Parker McCollum.  They worked together to create a song that reflected our story and the first time I heard it was in the middle of the dance floor on our wedding day! I was absolutely blown away. It couldn't have been more perfect!" Sparklers were ablaze as the song ended and Hunter picked Nicole up and spun her around. The energy on the dance floor was electric all night long and increased even more when Nicole returned in an outfit change. She grabbed the mic and joined the party on stage with the band. Confetti fell as Hunter held Nicole atop his shoulder with guests dancing around them. The night came to a close with loved ones cheering Nicole and Hunter on with Red Raider pom poms as they made their way to their getaway car. They took off in a vintage car amidst a tunnel of sparklers. 
Congratulations to the newlywed Mr. and Mrs. Redman!
Credits
Wedding Planner

Hannah Kohler

Floral Designer

Emily Clarke Events

Bridal Gown Retailer

Neiman Marcus

Hair + Makeup

Styling Stewardess

Ceremony + Reception Venue

Horseshoe Bay Resort

Stationer

K.Laine Design

Cake

Sweet Treats Bakery Austin
Reader Interactions