Margaret Smith and Jonathan Vadiee first met their freshman year at the University of Texas on bid night. The next morning after bid night, they were pleasantly surprised to see each other in a calculus class. After learning where Margaret's next class was, Jonathan told her he would walk with her as his next class was in the same building. This was Jonathan's little white lie so that every Monday, Wednesday, and Friday he could spend some extra time with Margaret. By December of Freshman year, the two were a couple. We joined them June 1, 2019 to capture their wedding day!
"One of my favorite memories was during Margaret's bridal portraits at Perkins Chapel. Right after we set up in front of the chapel, and Margaret was surrounded by tulips, the sprinklers kicked on. She didn't panic or get upset. She laughed in the undeniable, intoxicating way Margaret laughs and we carried on without any damange to the dress or anyone's good time," Matt told us reflecting on wedding memories. This story reflects Margaret's joyful demeanor, matched perfectly with Jonathan's lively spirit, which we witnessed when Margaret and Jonathan took their vows at Perkins Chapel and danced all night at Brook Hollow Golf Club.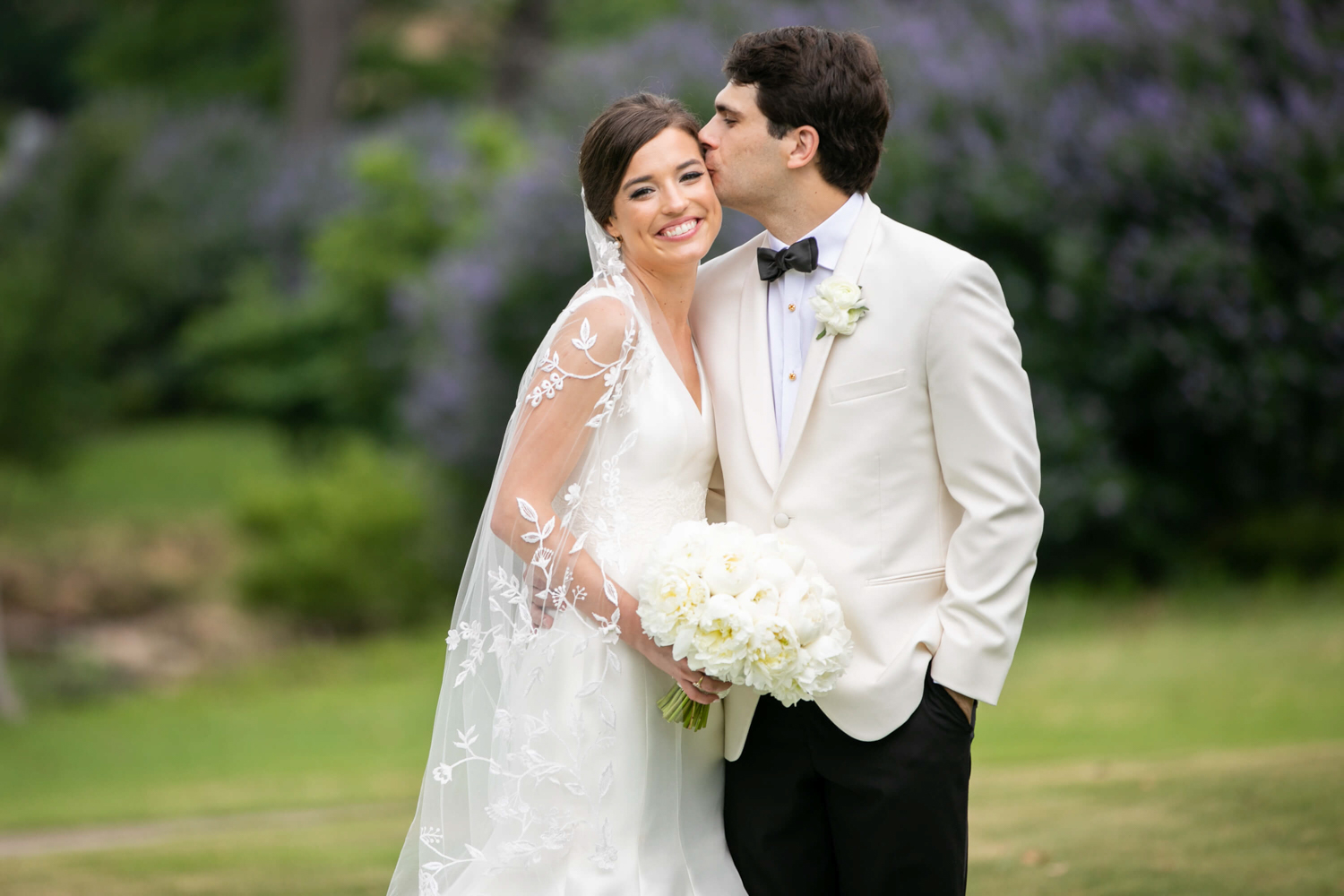 Margaret is all smiles and she truly radiated wedding morning as she got ready with her mother, sisters, and bridesmaids at Brook Hollow. She wore a Sareh Nouri gown and beautiful hand-painted veil which delicately floated over her shoulders. Her bridesmaids wore blue, and the groomsmen wore white dinner jackets, but the groom threw on a navy tuxedo jacket for the party. Jonathan joined Margaret outside Perkins Chapel, right where Margaret took her bridal portraits, for portraits together. Matt captured the couple and seconds later rain poured from the sky! Margaret and Jonathan (and their planner Haylie Jackson) took cover with big smiles on their faces before heading inside for the ceremony.
The green and white Brook Hollow wallpaper palette was carried into the ballroom for a classic aesthetic. Tall green and white floral arrangements floated high on tables and boxwood walls and a "Vadiee" scripted sign were placed behind the stage where most of the evening would be spent. The new couple was announced into the ballroom and immediately led to their first dance to "Coming Home" by Leon Bridges. The groom and his family are from New Orleans and this influence was seen all throughout the reception. Boas and customized mardi gras beads reflecting the couple's interests were tossed throughout the party and beignets were served to guests as an ode the 'Big Easy'. The guests and newlyweds danced the night away before a final farewell and grand exit in a white vintage Rolls Royce.
This joyful affair was one year ago today—we wish Margaret and Jonathan the happiest one year anniversary!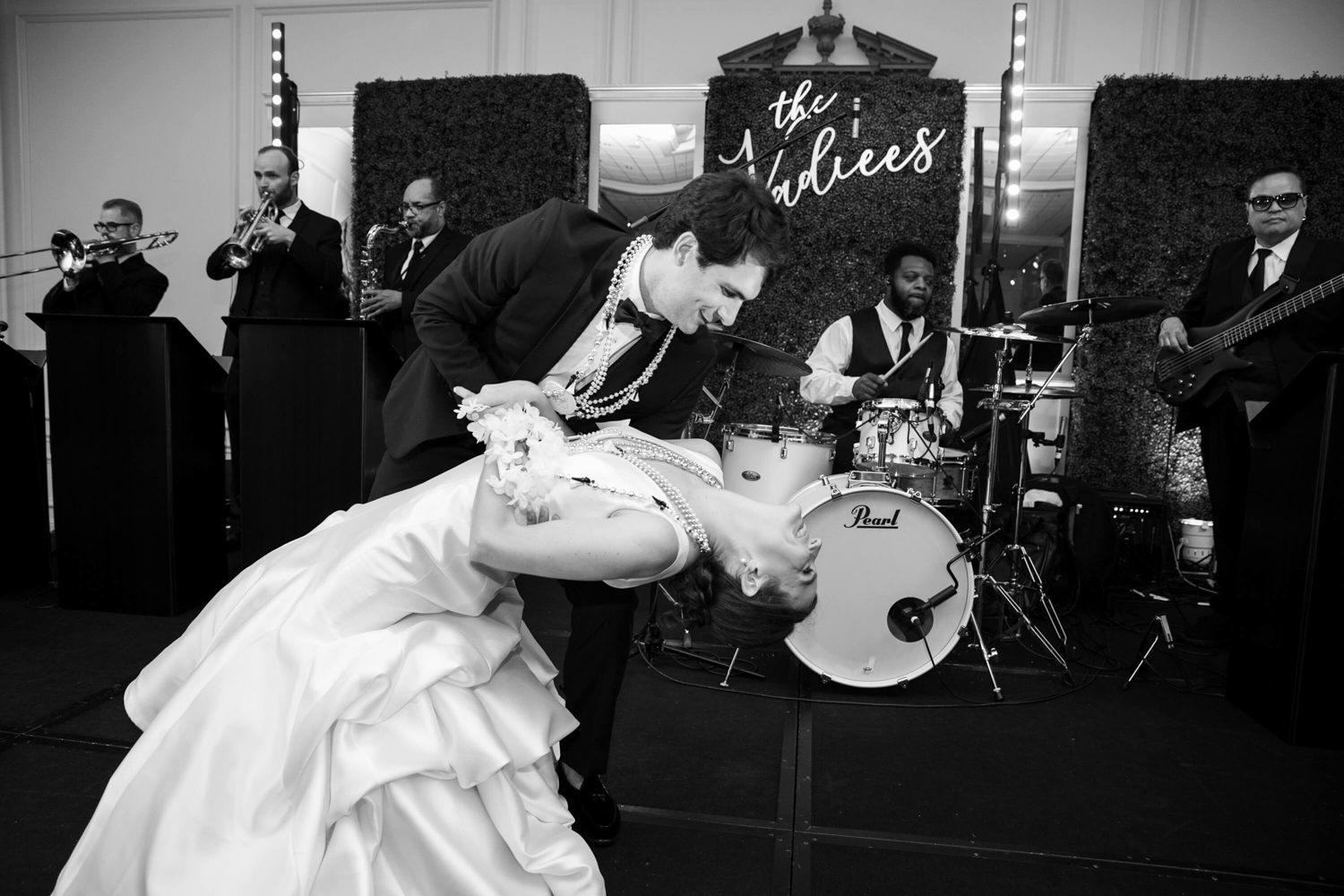 Credits
Wedding Planner

Haylie Paige Events

Bridal Gown

Reception Venue

Brook Hollow Golf Club

Photographer

John Cain Photography

Bridesmaid Gowns

Bella Bridesmaids

Florist

Garden Gate Floral

Ceremony Venue

Perkins Chapel

Hair and Makeup

Tricia Guilkers

Rentals

Perch Event Decor

Band

Name Goeshere