Caroline and Jack met during their time at Texas Christian University (Go Frogs!) They lived in the same freshman dorm, and Caroline remembers seeing him in the lobby, but they wouldn't meet until a year later. Caroline was introduced to Jack on her sorority formal. Her best friend brought Jack, so she was able to get to know him better. After meeting, Caroline and Jack stayed friends for the rest of college but never dated. When they graduated in 2017, Caroline moved to Georgia for grad school, but Jack never left her mind. "We ended up communicating almost daily, which turned into long distance dating in january of 2019". Caroline made her way back to Texas for work, which closed the gap between their two cities. The rest is history! 
The two were engaged in 2021, and married on May 21st, 2021! We had the pleasure of celebrating the newlyweds in Asheville, North Carolina. Up in the Blue Ridge Mountains, Caroline and Jack were married at Arden Presbyterian church in a traditional ceremony. 
For her wedding day, Caroline wore a natural white strapless ball gown made of silk shantaug taffeta and accented with covered buttons to the end of the train with a detachable bow. Caroline got ready with the help of Beauty Bar Salon and Ren Makeup.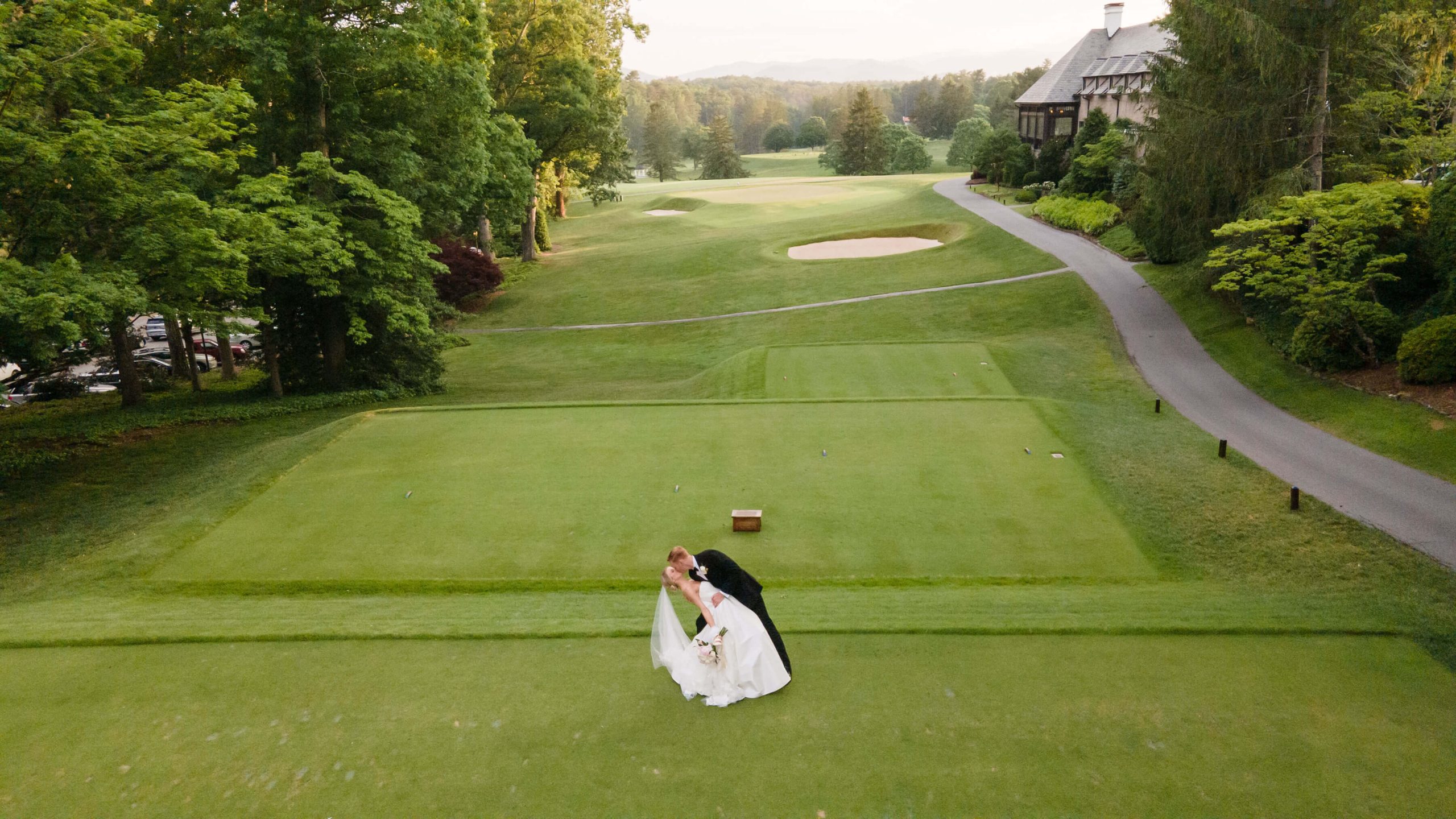 The reception took place at the Biltmore Forest Country Club. Before joining their guests, Caroline and Jack took portraits out on the course. The grass was perfectly manicured and the mountains made for a picturesque backdrop. Following photos, Mr. and Mrs. Thompson met their loved ones in the ballroom for dinner and drinks. The club hosted many round tables and a long stretch table down the center of the room. Candles ran down the middle of the long table, the flames flickering and producing a subtle glow in the dining room. Large crystal candelabras stood at either end of the table with rows of roses trailing in between.
Outside in the tented portion of the reception was a draped ceiling adorned with gold lantern chandeliers. Velvet sofas in a dusty rose pink were set up by the bar for guests to relax in between dancing. Large planters of roses, hydrangea and greenery stood atop tables inside the tent. Caroline and Jack were announced Mr. and Mrs. Thompson upon their arrival to their tented reception party. They took the floor for a first dance to "Hallelujah, I Love Her So" by Ray Charles. As Jack spun her around, her dress magnificently twirled as she moved. After their first dance, Caroline danced with her father to "Sweet Caroline", which was only fitting for this sweet bride. They took a break from dancing to eat with their loved ones. After dinner it was time for dessert! The Horned Frog fans had a TCU themed cake in honor of their alma mater and where they first met. After a champagne toast, it was time to resume the party! Back out on the dance floor, Caroline and Jack took the stage with their band. Arms in the air and glow sticks in their hands, the energy was electric! The mother of the bride even got on stage to join the fun with her daughter! To close the evening, Mr. and Mrs. Thompson shared a private last dance before exiting in silver streamers. 
What a party, Caroline and Jack! Congratulations to Mr. and Mrs. Thompson.
Credits
Wedding Planner

Liz Kimberly

Floral Designer

Flower Gallery

Hair + Makeup

Beauty Bar Salon + Ren Makeup

Ceremony + Reception Venue

Arden Presbyterian Church +

Rentals

Professional Party Rentals
Reader Interactions