Steam rose from the floor and Molly (our German shorthaired pointer pup) looked over my shoulder startled by the pressure-sound each time the iron released the vapor. Did you catch that? The floor? What was I thinking?! Ironing linens on our new hardwood floors, it wasn't until I repositioned the perfectly pressed linen into the morning eastern light coming through our windows that I saw white triangles left by the iron. They almost looked like white horseshoes stamped into the studio floor. Thankfully, Google and Home Depot saved the day.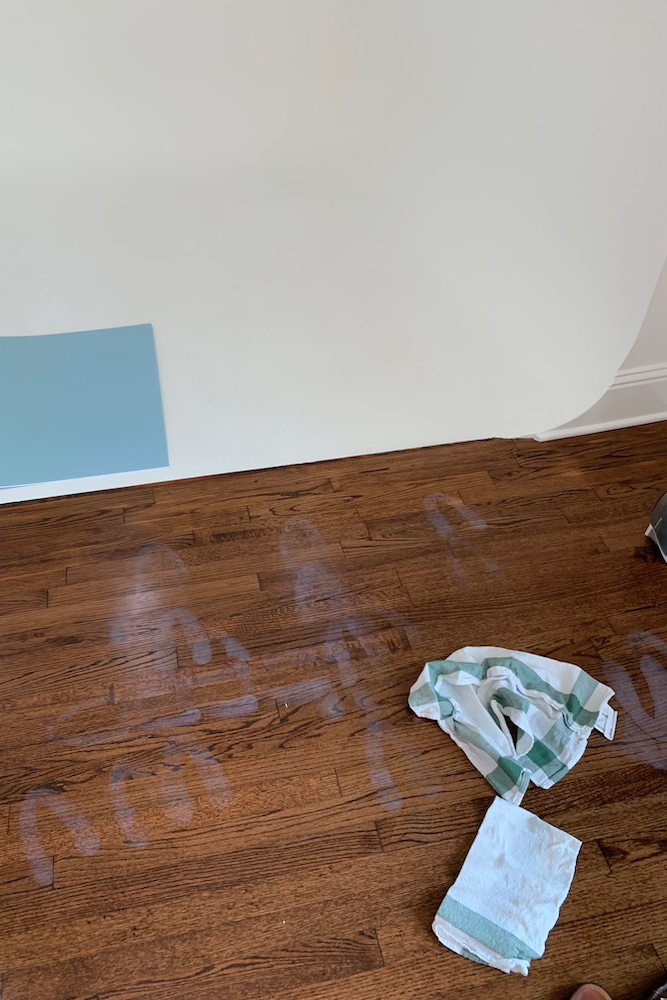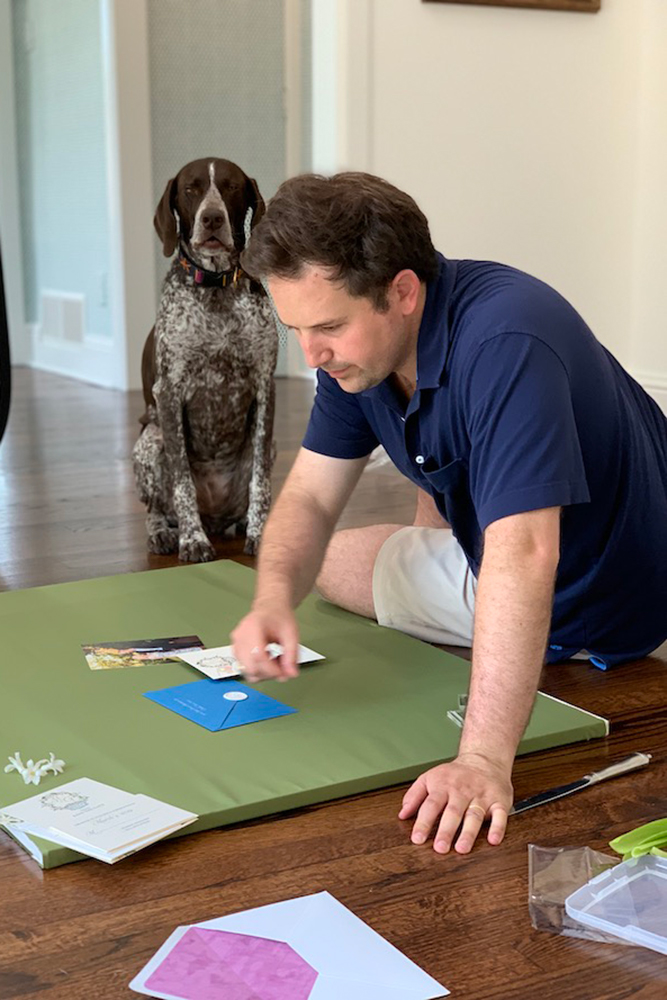 In addition to hardwood restoration supplies, I bought an ironing board. You see, before we can painstakingly perfect each 1/8 of an inch of an invitation's positioning, the linen behind the invitation suite has to be pressed and the background made crisp so that wrinkles don't distract from styled suite above it.
Has "picture-perfect" been replaced, or even outdone by "Pinterest-perfect?" Quite possibly, but I love when we're afforded the opportunity to create beautifully styled details to add to the collection of photos our clients receive from their wedding. We much prefer the ability to create these before the wedding day, so when you are with your nearest & dearest, we are more focused on those moments instead of whether or not there's an extra scripted envelope to complete the invitation layout.
Also, doing these well takes time. We recently had the opportunity to work with the venerable Shira Savada, former real weddings editor for Martha Stewart, as the stylist on a destination wedding in Marco Island with Anna Lucia Events. Nearly six hours of work resulted in six key shots laying out the finest details that were created by the Idea Emporium. They appear deceivingly effortless, and that is what makes them SO good!
I have a confession. In the spirit of being "behind the scenes" here, I can only put my palm to my forehead when I'm handed an invitation suite by a wedding planner at 10PM during the middle of a reception and expected to photograph it that night or later (though I would never let you know it.) And worse, when what's handed to me is the invitation card with a crushed corner and face scuffed from handling exposed to other items.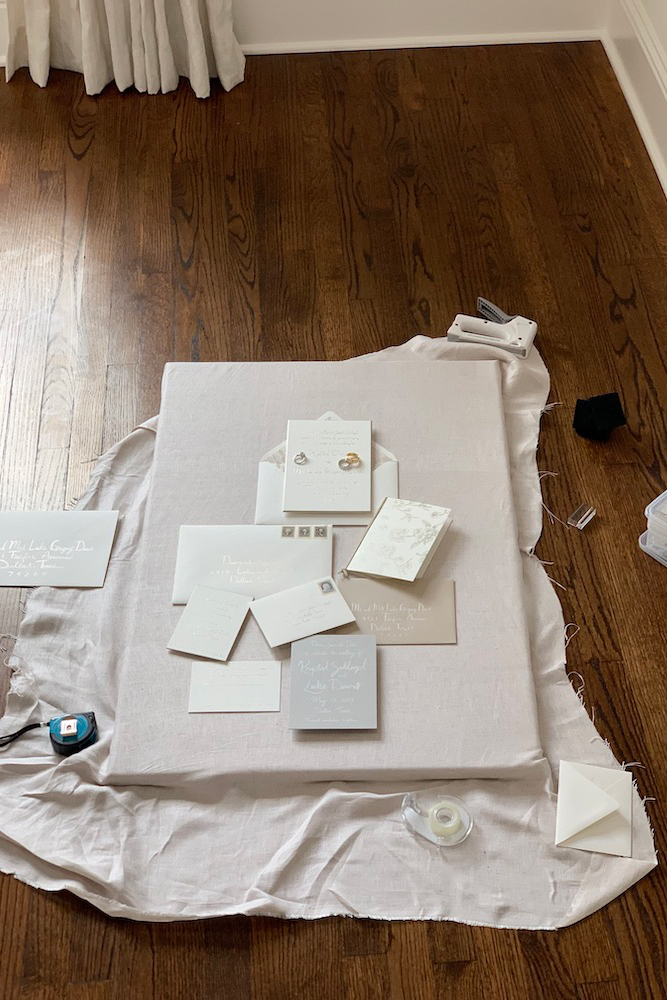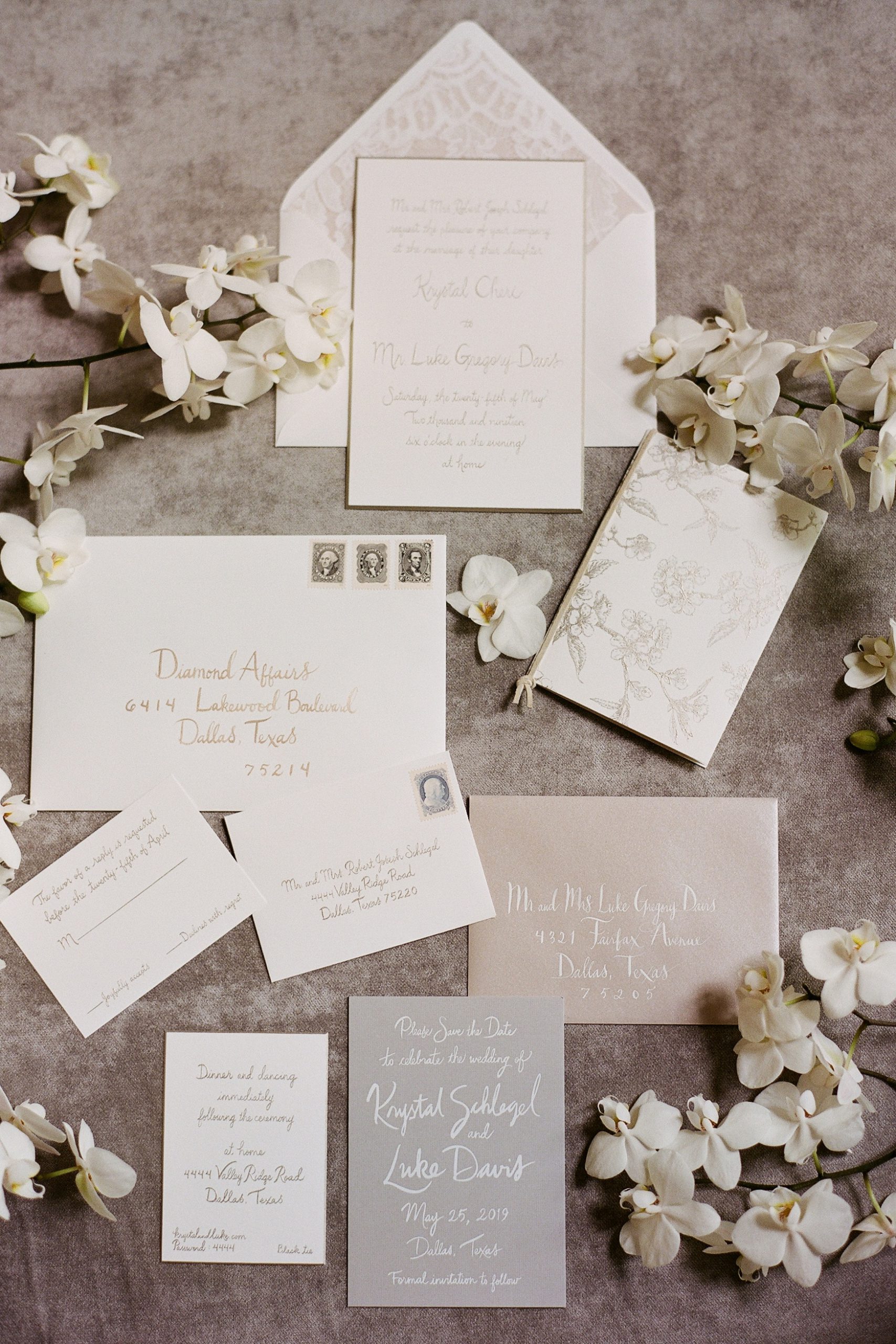 A FEW TIPS FOR DOCUMENTING YOUR WEDDING DAY DETAILS:
Tip #1
If your photographer will be photographing wedding day details on the day of the wedding, make sure you've included enough time to do this. Remember, it can take time to be done well. Anyone can photograph an invitation on the floor, but chances are you won't want to remember the tile or carpet of your venue. If you appreciate the power of a wrinkle-free linen, discuss with the photographer and planner how, when, and where this setup could be prepared for on the wedding day.
Tip #2
Do either (or both) of the envelopes in your suite have a liner? Be sure to provide two envelopes so that the addressed front and inside liner can both be shown in shot!
Tip #3
Have your calligrapher script your outer envelope however you would like photographed, in whatever way you would find most meaningful. For personal use, you might fondly remember your first home address together as a married couple. If you are concerned with your personal address being visible on social media or online, you could use the address of either your ceremony or reception location instead, though still have the addressee line read "Bride and Groom" or Mr. & Mrs. __________.
Tip #4
If at all possible, use a linen or texture from your wedding as the background. This creates visual consistency with the reception décor, but definitely creates some logistical complexities if they're not being delivered to the venue until the Thursday or Friday before the wedding. Else, you can always use these linens as inspiration to get a fabric from a local craft store like Joanne's.
Tip #5
Gather ALL desired details for these styled images. In addition to the invitation and other paper goods we've seen the wedding bands + engagement ring, monogrammed linens, jewelry, heirloom family items, shoes, letters, etc. included in this shoot!
Tip #6
When thinking about styling elements, match the aesthetic to the wedding. Most brides wouldn't wear a ballgown on the beach. In the same vein, if your wedding is modern and crisp, then I wouldn't suggest styling your details with loose romantic velvet ribbon. Likewise, if your wedding is classic, traditional, and elegant, then a marble dish wouldn't make much sense. The beauty of these images is truly how highly specific they are to the event and the couple. If possible to use your wedding flowers for these photos-DO!
I hope you found these helpful! The whole process is very collaborative and some photographers, stylists, designers, and stationers work very differently from each other. While we are happy to wear the hats, we love it even more when another creative contributes to the process. It's a dream when a stylist/designer has laid out the shot! Even more appreciated when that shot is remarkably consistent with the rest of the wedding story. It enhances the editorial nature of our work that we love!
Reader Interactions