In mid August, Yagmur and Will became Mr. and Mrs. Griffin in a charming ceremony at Vail Chapel. An arch of pastel flowers decorated the entrance to the chapel that Yagmur and her father stood under arm-in-arm. As they walked down the aisle, Will stood at the altar with an elated grin. After exchanging vows, Mr. and Mrs. Griffin recessed down the aisle and out of the church as rain drops drizzled outside, proving to be good luck! "My favorite moment from the ceremony was our exit with the umbrellas and the petal toss! I had been super stressed all week about the weather, but it ended up beautiful. Will jokes that he knew it was always going to rain since my name actually means "rain.""
The sky cleared, making way to sunshine as the bridal party joined Yagmur and Will at the base of the mountain for portraits. A rainbow painted the sky, creating a beautiful backdrop for photos. Following portraits, it was off to the reception to celebrate the newlyweds.
The reception was held in a gorgeous transparent tent at the base of Vail mountain. The inside was transformed into a beautiful coastal European garden party. "I have always loved visiting the coast of Italy and am a huge fan of Parisian decor. Having our friends and family be able to attend the wedding was important, so I decided to try to give our wedding the European garden party feel without traveling abroad." Colorful flowers decorated the venue and an incredible suspended ceiling made of white tulips hung above the dance floor. "Tulips are one of my favorite flowers and usually when they're included in larger bouquets or bunches they don't get the attention they deserve. I definitely wanted a floral statement above the dancefloor so I thought this would be the perfect way to incorporate tulips and let them stand out!"
After toasts and dances, it was time to celebrate! Guests grabbed cocktails and hit the dance floor for fun with the Griffins. "My favorite moment from the reception was the last song + encore. It made Will and I's night seeing all of our friends and family on the dance floor and enjoying themselves to the point where they were screaming for one last song. The confetti cannon definitely helped build the excitement too!" 
The party continued on with a parade to Bart + Yeti's bar. For this portion of the evening, Yagmur changed into a high neck sequin dress from Retrofête. A saxophonist and trumpeter led the way with Mr. and Mrs. Griffin to the next party stop. It was such a FUN and incredible evening celebrating the Griffins! Congratulations Yagmur and Will!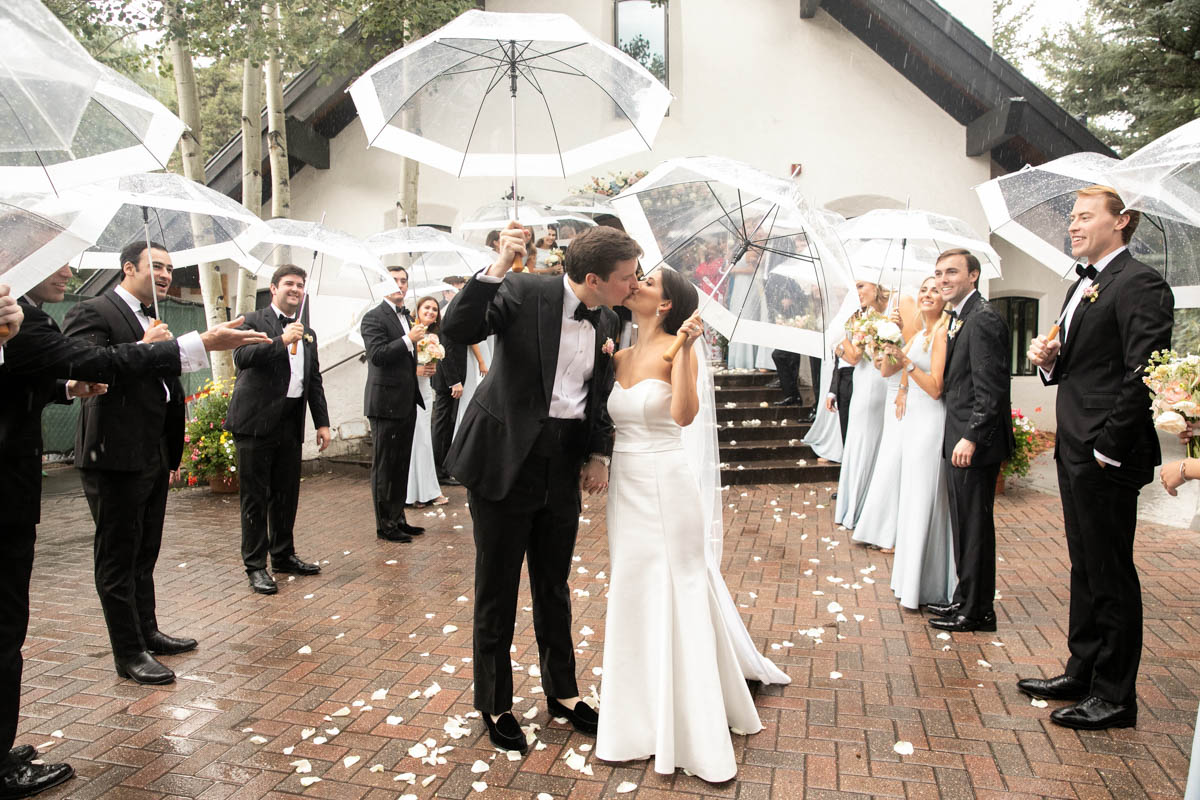 Credits
Wedding Planner

Ivory & Vine Event Co.

Ceremony Venue

Vail Wedding Chapel

Reception Venue

Vail Resorts

Bridal Gown Retailler

Casa de Novia

Hair + Makeup

Divine Beauty Artists

Floral Designer

Moss Floral

Cake

A Cake Come True

Stationer

Pink Champagne Paper

Reception Entertainment

Manhattan Band
Reader Interactions