Gabriela and Benton's story started when they both attended SMU for college. Although the two were one year apart in school and went to similar social events, they never recalled meeting. Gabriela and Benton even have photos at the same party, but it wasn't until a friend's wedding in Laguna beach that their paths crossed. Four years after meeting, Gabriela and Benton celebrated their own wedding in Zihuatanejo, Mexico. Gabriela's parents vacationed there when they started dating, and their family has been going there ever since, so it was a full circle moment for her to tie the knot there. The beach where the reception was held is particularly meaningful to Gabriela because that is where they spent most of her time on family trips. 
To start her wedding day, Gabriela spent time getting ready with her closest family members. Gabriela's gown had a form fitting silhouette with a plunging neckline covered in lace, which she paired with Jimmy Choos covered in pearls. Her veil, by Mark Ingram, was trimmed with stunning lace detailing. She finished accessorizing with the help of her mother and sister before her father escorted them all to the chapel. 
The chapel was elegantly decorated with palm leaves, greens and whites florals, and floating votives at the aisle and altar. After exchanging vows, Gabriela and Benton left the chapel in a flurry of petals with a look of absolute joy. A callejoneada dressed in pink waited outside the church to play music upon their exit. The lively performance gave guests a glimpse of the evening of dancing ahead!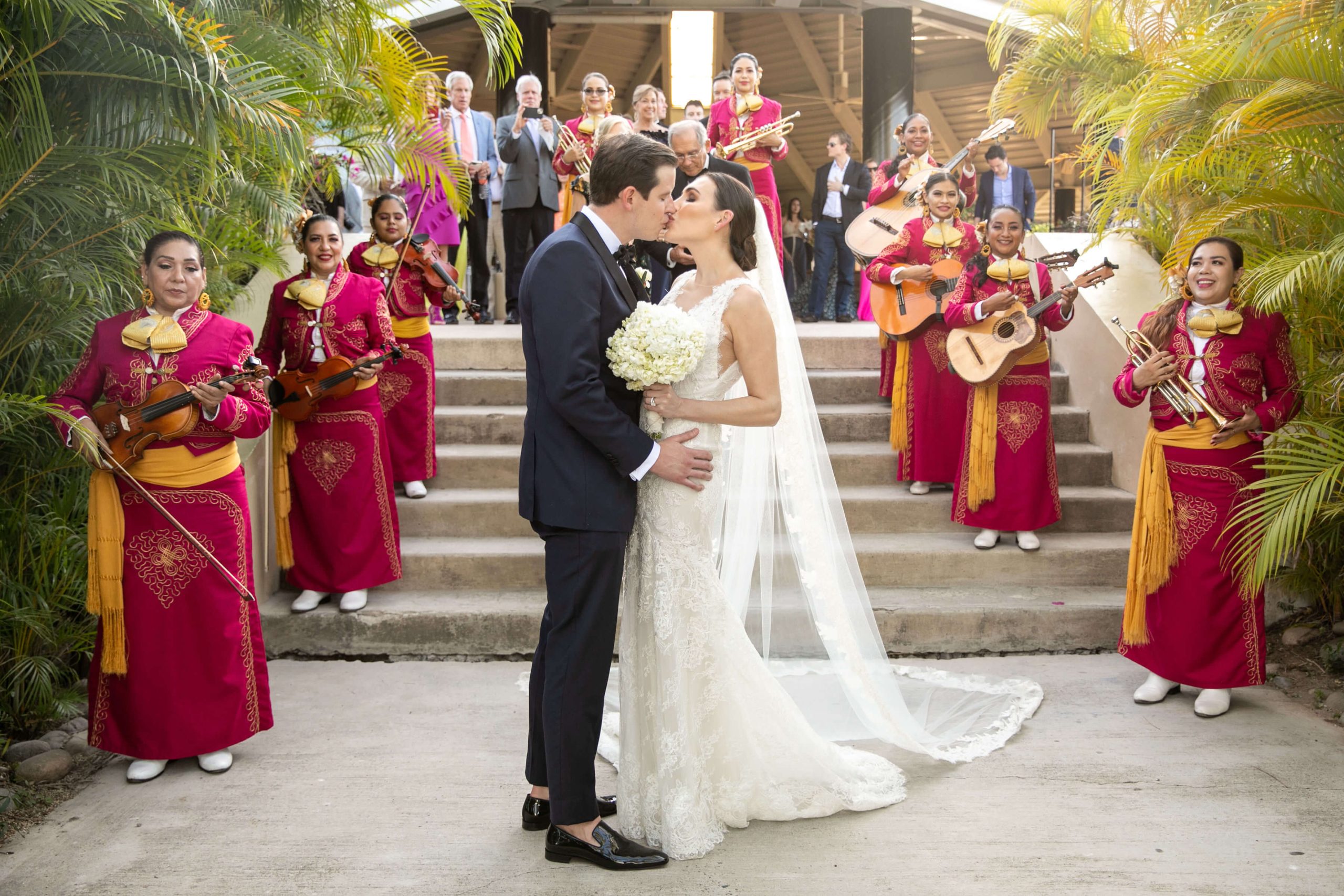 Following the ceremony, it was off to the Thompson Zihuatanejo Beach Resort for the real party to begin. The beach venue was beautifully decorated with hanging lights, puebla stoneware and a floral arch behind the head table. The canopy hanging above the dance floor was INCREDIBLE. It was perfectly suited for celebrations to come that evening. Covered in palm leaves, florals and greenery, the canopy stood high above the floor. Disco Balls hung from the ceiling, reflecting light across the reception space.
After heartfelt speeches and laughs shared amongst loved ones, the party moved to the ocean's edge for an incredible fireworks display over Zihuatanejo Bay.
The energy was high following the fireworks show, and it was time to hit the bar! Benton's wish for the wedding was a Don Julio 1942 bar for guests to enjoy. Once the Don tequila was flowing, the dance floor was in full swing. Guests got in line for a Don Julio conga line. I think this is my preferred method of drinking tequila from now on! 
Congratulations to Benton and Gabriela! You sure know how to throw a party!
Credits
Wedding Planner

Valentina Corro

Floral Designer

Felipe Peralta

Bridal Gown Designer

Marchesa

Bridal Gown Retailer

Mark Ingram Atelier

Hair + Makeup

Lisa Pelayo

Ceremony + Reception Venue

Capilla Cerro del Vigía + Thompson Zihuatanejo

Rentals

Felipe Peralta

Stationer

Mesh by Alex
Reader Interactions