A family trip to Lake Como in the summer of 2017 inspired Abby Lindsey's dream for her wedding day to Chandler Sease on July 17, 2023. Abby did not always envision herself as a destination bride, but following her trip to various spots around Italy, she was sold. "The summer after I graduated from college, we took a long trip all around Italy and one of our destinations was Lake Como. I have traveled quite a bit and been to many beautiful places but when I saw the lake for the first time driving in from Milan my breath was taken away and that had never happened to me before! We did a boat trip around the lake one day and I saw a bride taking pictures and I said to my parents "I'm going to get married here one day" and I think their exact words were "yeah right" Oddly enough… that boat trip was on July 21, 2017 so I think I manifested it for sure!" Abby shared. She first saw her wedding venue, Villa Pliniana, on her trip and absolutely fell in love. Recalling the experience she shared, "What's not to love?! It was an easy decision!"
For her wedding day, Abby wore a stunning Anne Barge gown with lace details from top to bottom. Her hair and makeup were perfectly executed by Kelly Dawn Bridal and Andrada Rusu. 
Abby wanted her wedding day to feel classic and romantic, with each event feeling more formal as the day went on. Mr. and Mrs. Sease worked with The Lake Como Wedding Planner to make their dreams become a reality. "For the ceremony… I wanted the flowers to look like they belonged in the garden and were complimenting the lake, not competing with it. Larry Walshe and our wedding planning team executed that vision flawlessly." Leading into the ceremony at Villa Pliniana, gates towered high above and were completely covered in lilac hydrangeas, bunches of greenery and baskets of blue flowers. Abby and Chandler exchanged vows on the lake's edge before recessing down the aisle and hopping into a boat for a sunset cruise. As they made their way around the lake, Abby's veil billowed in the wind. Mr. and Mrs. Sease soaked in their first few moments as newlyweds on the water before heading back to Villa Pliniana to celebrate!
"For the reception… I wanted this to feel "dressier" than the ceremony and similarly did not want the furniture to compete with the villa, just compliment it! The view of the lake from the terrace is breathtaking and I wanted to use the lake as the focal point for the entire day!" Out on the terrace, long stretch tables covered in pastel florals awaited guests to take their seat for dinner to begin. Loved ones shared stories and laughs as the sun fell on Villa Pliniana. A highlight of the evening was the performance of "Con te Partirò" by three tenors as guests watched in awe and appreciation. After a fantastic dinner of truffle risotto, Abby and Chandler cut their cake as fireworks filled the sky behind them.
The evening wasn't over quite yet. Mr. and Mrs. Sease hosted a 1920s themed after party at the Villa featuring disco ball dancers, a saxophonist and a dj. It was the perfect way to end the evening of celebration!
We will forever be in awe of Abby and Chandler's wedding in Lake Como and we feel so grateful to have taken part in it. Cheers to you, Mr. and Mrs. Sease!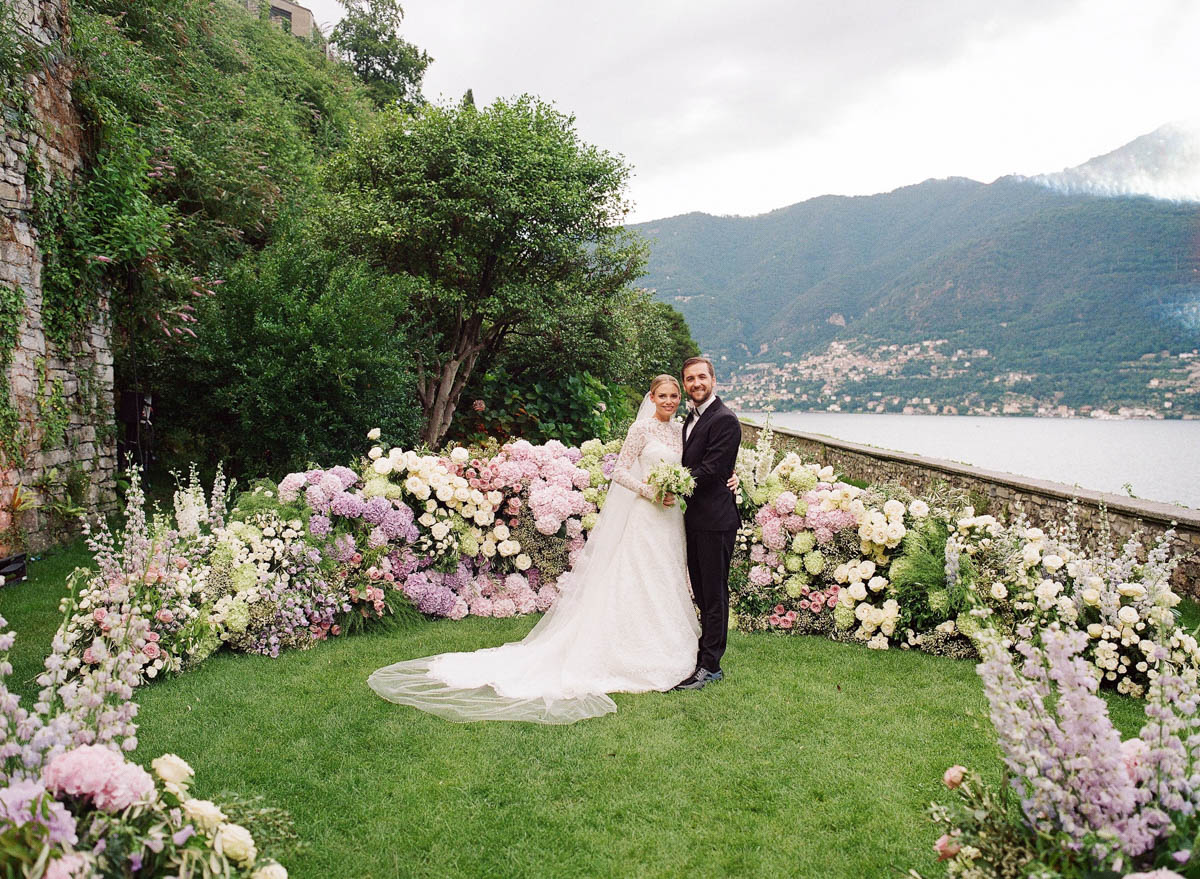 Credits
Planner

The Lake Como Wedding Planner

Venue

Villa Pliniana

Bridal Gown Designer

Anne Barge

Hair + Makeup

Kelly Dawn Bridal + Andrada Rusu

Floral Designer

Larry Walshe Studios

Ceremony + Reception Music

Elan Artists

Cake

Il Sereno Hotel

Groom's Formalwear

Vera Wang
Reader Interactions