An initial run-in at their college apartment building led to a love story for Morgan and Luke. The pair first met at Baylor University where they lived in the same apartment complex. "​​We had a few mutual friends and he was one of the first people I met when I transferred to Baylor. Once I joined a sorority, I knew he was the guy I wanted to invite to my first date party! We had a blast but were only friends for a few months. Once final exams ended and I left to study abroad in England for the summer, we began texting back and forth. We got to know each other so well via text and FaceTime that summer, that we decided to go back to Waco early and see if we had a real connection in person. Turns out we did, and we've been together ever since!" Morgan shared.
In June of 2022, Morgan and Luke took the next step in their relationship by getting engaged. Luke planned a thoughtful proposal that Morgan recalls as the favorite part of the wedding planning process. "He told me we were meeting friends for a drink at a rooftop bar in downtown Dallas. When we got to the bar, he asked the hostess to show us the way to the "Sunset Deck." I later found out that was his code-word to signal that we needed to go to the private balcony – the "Sunset Deck" doesn't exist. We get out to this private balcony, and all I see is a small table set for two with a bottle of champagne in an ice bucket. I was so clueless, I actually said, "Aw, that's sweet, someone's getting engaged!" It all started to click when he took me by the hand and walked me over toward the table, and then got down on one knee at the edge of the balcony. I was so stunned and so excited – it's all a blur! The next thing I knew, our parents were out on the balcony with us. We enjoyed champagne on the rooftop while the sun was setting. Then, my parents suggested we drive over to my grandparents house to surprise them with the news. When we got to their house, my grandparents welcomed me in, and inside were all of our closest friends and family members – a surprise engagement party!" The entire evening of surprises are memories that Morgan and Luke will cherish for a lifetime.
On the morning of July 22nd, Morgan got ready for her wedding day with her closest friends and family at her grandmother's home in Dallas. "It was such a relaxed, easy day, and all the girls made it so fun and special. We enjoyed lunch and champagne in matching sage-green Eberjey pajamas and fuzzy slippers, and all the girls got ready at the dining room table. It felt like a big sleepover and made me so excited for the rest of the day!"
Leading up to their wedding day, Morgan and Luke worked with planner Kirstin Godat to bring their vision to life. Morgan was inspired by the French countryside for her decor. "When I envisioned our ceremony, I knew I wanted it to feel bespoke and intimate. Kirstin was so instrumental in helping me bring in that "French garden" feel into the DCC. The boxwood borders along the walls, the lush florals, and the warm candlelight made for such an intimate and special setting. I also loved that our guests were so close to us during the ceremony, because we really felt everyone's energy and excitement for us."
Following a gorgeous candlelit ceremony at the Dallas Country Club, guests gathered in the ballroom to celebrate Mr. and Mrs. Richard. The reception space was transformed into a garden of flowers, with pink and red roses covering the room. Looking back on the highlights of the decor, Morgan shared that hands down, the most important thing about the decor at the wedding was the flowers. "I wanted to feel like we were outside in a garden, even though we were in a ballroom. I think the florals that Three Branches created for us made the wedding feel so intimate, fresh, and inviting. We had all the beauty and charm of an outdoor wedding with all the comfort of AC in July." 
While it is hard for Morgan to pick just one favorite moment from her reception, she looks back on her private last dance as one of the most special. "It was incredible to have a moment alone in the gorgeous reception space. Being able to talk and dance and prepare for our exit was the absolute best. I would recommend a private last dance to everyone!"
Mr. and Mrs. Richard made quite a memorable exit from the DCC when they hopped into their vintage getaway car! "The funniest moment of the wedding happened as we *attempted* to drive away in our getaway car. Luke's dad brought his prized red 1960 Corvette all the way from Lexington, Kentucky. It had been running fine, but as soon as we tried to drive away, the car died. At first, all the groomsmen rushed over and started pushing the car (we have some amazing photos of this)! Then Luke joined them as his dad got in the driver's seat to try to ease the car back on. It worked, and the car turned back on, but Luke's dad ended up driving away with me still in the passenger seat! I never imagined I'd leave my wedding with just my father-in-law! We did a loop around the DCC parking lot, and he brought me back to the circle drive to try again with Luke. Everyone was still lined up, laughing and cheering us on. Luke got back in the driver's seat and we successfully did our own loop around the parking lot to meet our driver who took us to The Mansion. It was so funny and so memorable!"
We had such an amazing time celebrating Mr. and Mrs. Richard! Wishing you a huge congratulations!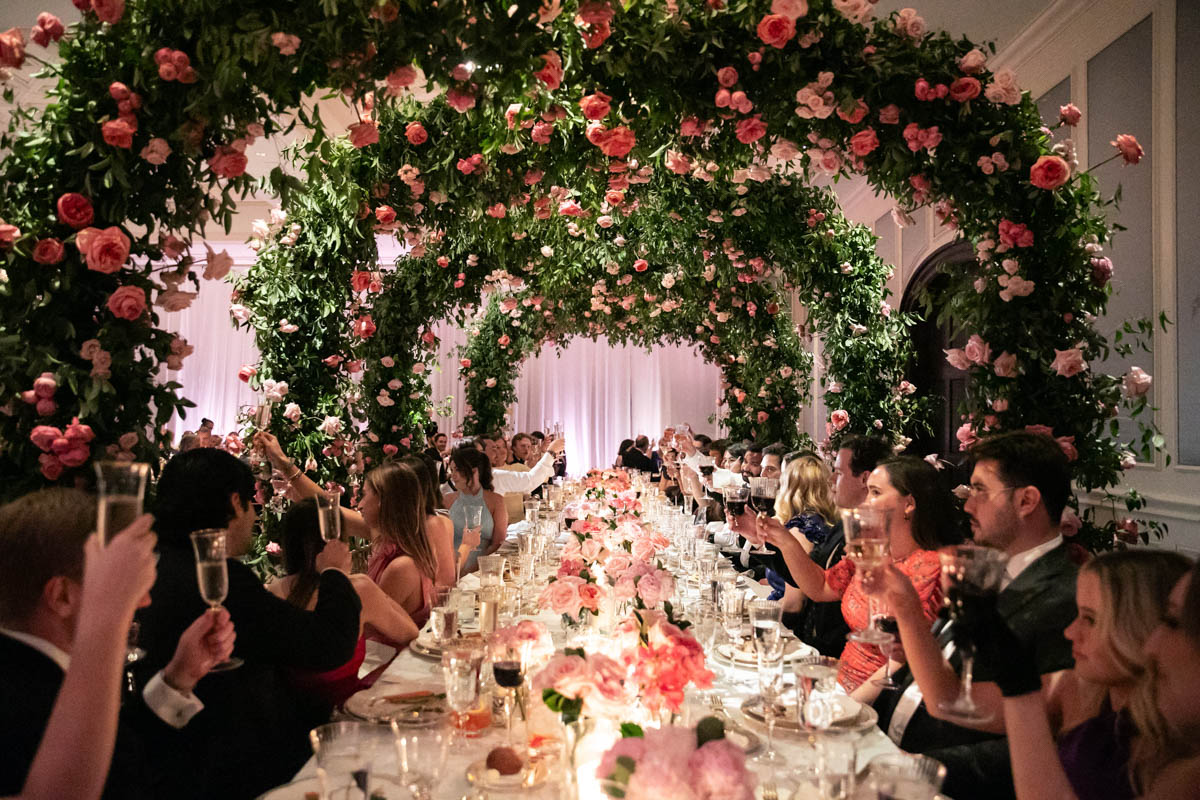 Credits
Planner

Kirstin Godat

Ceremony Venue

Dallas Country Club

Reception Venue

Dallas Country Club

Hair + Makeup

LB Rosser

Floral Designer

Three Branches

Cake

Panini, Cade's Cakes

Reception Entertainment

DJ Patricia Romiq

Stationer

Ellis Hill

Bridal Gown Retailler

Neiman Marcus
Reader Interactions