Kathryn and Bubba's paths crossed for the first time their sophomore year of college at the University of Arizona. "I used to live behind his fraternity during our sophomore year at the University of Arizona. I would always park in their parking lot so my car wouldn't get towed on the street. We met through a mutual friend in the parking lot one day and talked for over an hour. Immediately we both knew there was something between us." 
In June of 2021, Kathryn and Bubba took a trip to one of her favorite spots, the Beverly Hills Hotel. "We were in LA celebrating my birthday a couple of weeks late at the Beverly Hills Hotel. He kept saying he had a surprise for me that night. We went back to our hotel room to get ready for dinner and there was a note from the hotel saying 'Happy Birthday!' Please join us in the garden for complimentary drinks before dinner'. I still didn't really suspect anything at all. We went to the garden and there were no drinks, but we sat down and he proposed! After, we went into the restaurant for dinner and the hostess said she had a special table for us – and we walked outside to the patio and both our entire families were there!"
On November 5th, 2022 Kathryn and Bubba were married at Arlington Hall in Dallas, Texas. Kathryn began her wedding day by getting ready with her bridesmaids at the Rosewood Mansion at Turtle Creek. For her wedding, Kathryn wore a strapless Sareh Nouri gown with lace details.
The ceremony took place in an incredible tent at Arlington Hall. One of Kathryn's favorite memories was having one of their best friends officiate their wedding. "It was so special to my husband and I that he was the one that got to marry us. Before we had started dating, Bubba told our officiant that one day he would marry me." 
Following the ceremony, the tent was transformed into the perfect pink, green and white wedding celebration for Kathryn and Bubba. Grandiose flower arrangements, created by Bella Flora, composed of white roses, hydrangeas and greenery towered above the tables. Suspended by glass vases, the flowers looked as though they were floating mid-air. Crystal chandeliers hung above overhead and each entrance was decorated with a beautiful white floral arch. As a nod to one of Los Angeles's favorite spots, and the place where Bubba proposed, Kathryn worked with Fabulous Fete to design a custom Beverly Hills Hotel themed bar with palm leaves, pink and white. Guests were greeted at cocktail hour by a stunning floral printed bar wall holding shelves of champagne. Creme de la Creme Cake company created a magnificent life-like cake modeled after Mr. and Mrs. Childs' dog Hudson.
After toasts were given, Kathryn changed into a mini dress detailed with sparkles and trimmed with feathers to dance in the rest of the evening. In-N-Out themed trucker hats reading "Kat-&-Bubba" were passed out for guests to wear. "Our first date was at In-N-Out and Bubba is from California, as well as most of our guests, so it was the perfect late night food to have for us!" Confetti rained down on the crowd signaling an end to an unforgettable party with Mr. and Mrs. Childs. Congratulations Kathryn and Bubba! We loved celebrating with you!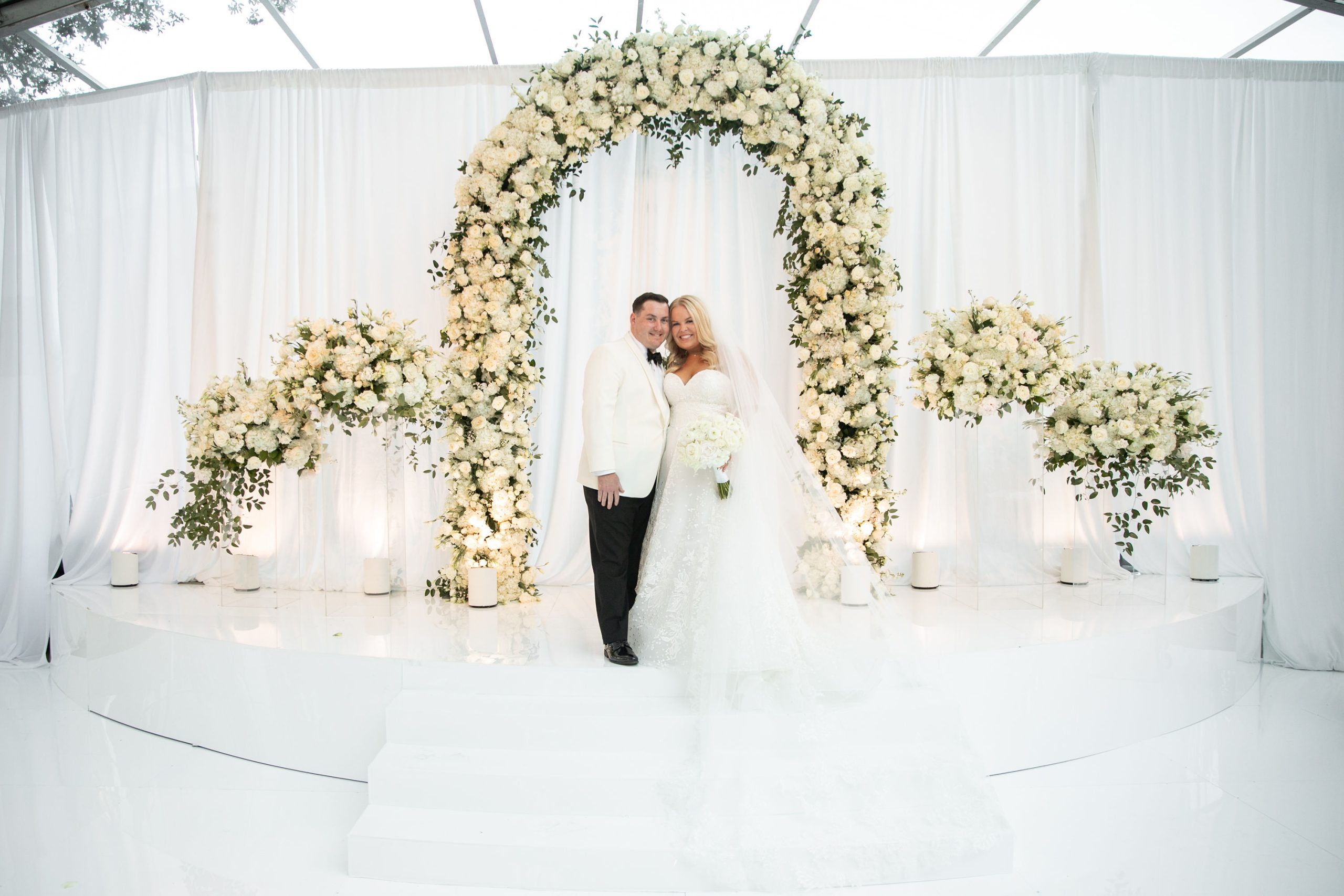 Credits
Wedding Planner

Fabulous Fete

Ceremony Venue

Arlington Hall

Reception Venue

Arlington Hall

Hair + Makeup

My Fabulous Faces

Floral Designer

Bella Flora

Cake

Creme de la Creme

Reception Entertainment

Emerald City Management

Stationer

Southern Fried Paper
Reader Interactions