Kathryn and Barton met in Kindergarten at Hyer Elementary. "We grew up two blocks away from each other. We always "knew" each other, but it wasn't until high school that we became best friends. We spent almost every day together, walking between our two houses, working on homework (Barton attempting to teach me calculus), and spending time with our close knit group of friends. We went to senior year homecoming together as best friends and have some adorable and hilarious photos to prove it! We both decided to go to The University of Texas at Austin where we remained best friends, constantly hanging around each other, making friends together, and enjoying UT. Finally, we realized there was something more to this person that each of us clearly couldn't live without. We started dating our sophomore year of college and each knew from that moment that we had found the person we wanted to spend the rest of our lives with." Kathryn says that Barton vividly remembers her saying at 19  "If we start dating, we're getting married because I can't lose my best friend." 
Barton proposed to Kathryn last summer when they went on a six week road trip around the western United States. They spent the trip hiking and visiting beautiful parks around the country. One of the spots Kathryn was most excited to visit was Sonoma, California. "Leading up to it, Barton told me all of the details about our wine tour in Sonoma. He told me about our private tour guide, the great food we would eat, the amazing wine we would drink, and he only left out one minor detail … we would be getting engaged that day! The whole day felt magical." As Kathryn and Barton strolled around the winery, he turned her around and asked her to marry him. "It really was the best day of my life. Barton and I have been best friends for years, and it's the joy of a lifetime that we get to spend forever together."
Kathryn and Barton chose to say 'I do' in Colorado because of their mutual love for the outdoors and hiking. "Crested Butte is our happy place, and we really wanted to share it with our friends and family on the happiest day of our lives." 
On the morning of her wedding day, Kathryn got ready surrounded by her best friends and family. "Barton and I have the most incredible community of supporters. Family means so much to both of us, and I was so grateful to have my sisters, Rachel and Rebecca, as well as his sisters, Meg and Charlotte, get ready with me before the wedding." Kathryn's favorite moment from getting ready is her first-look with her dad. "My mom and sisters helped me get into the dress, I looked into the mirror, and it really hit me – I was getting married!!!" Her dad entered the room and saw Kathryn for the first time surrounded by her mother and sisters. "It was really cool to have a quiet, happy moment with just the 5 of us on such a busy and exciting day."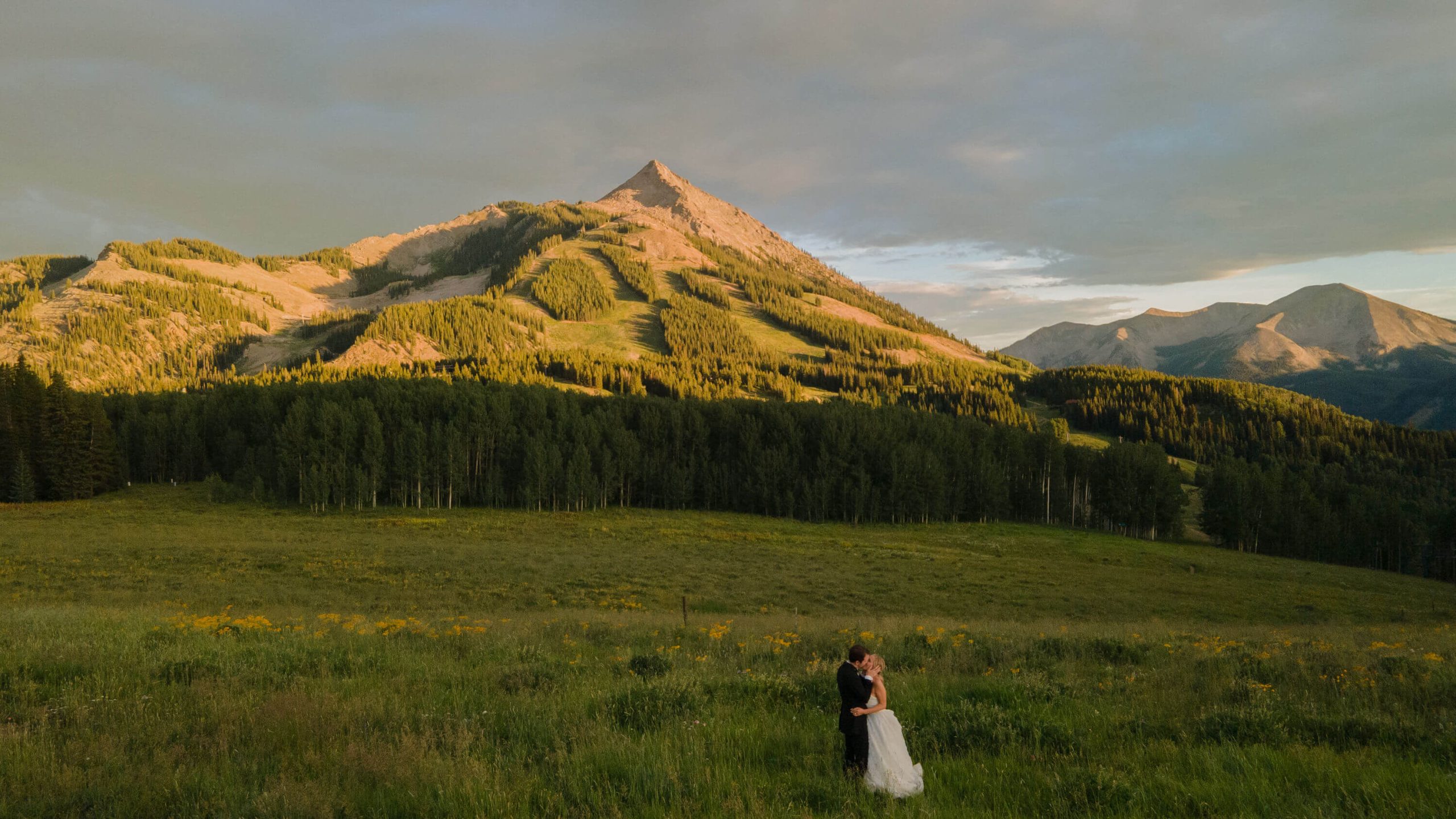 The ceremony was set at Ten Peaks. "We have hiked and skied the exact path where we stood to become husband and wife. The venue was familiar, yet special, and we are so grateful we got to get married in such a meaningful place. We were lucky enough to have both our moms there to tour with us, and we all agreed the views and the feel of the venue were perfect for us." Their ceremony was officiated by one of their best friends, making it especially meaningful. After a breathtaking ceremony during sunset on the mountain, Kathryn and Barton were officially Mr. and Mrs. Showalter!
Following sunset portraits, Kathryn and Barton joined their guests in a tented reception. They spent the night laughing, dancing and toasting with their friends and family. "My parents, maid of honor, and best man all gave the most heartfelt, kind, funny, and incredible speeches. It made our 160 person wedding feel so small, intimate, and the whole room hung on their words. They all mean so much to us, and it was an honor to have them speak at our wedding."
Congratulations to the recently wed Mr. and Mrs. Showalter!
Credits
Wedding Planner

Stephanie Prater

Ceremony Venue

Ten Peaks

Reception Venue

Ten Peaks

Bridal Gown Designer

Lea Ann Butler

Bridal Gown Retailer

Lewisville Bridal Boutique

Hair + Makeup

Natalie Duke Beauty

Floral Designer

Fin + Ally

Cake

Crumb de la Crumb

Stationer

Minted

Reception Entertainment

Tyler Hnasen + DJ Red
Reader Interactions