Happily married at the Hoffman Haus! On June 10th, 2023, Elena and Trent were married in Fredericksburg, Texas. Elena's decision to be married at the Hoffman Haus stemmed from the significance the venue holds to her family. "Hoffman Haus has always been a special place for my family. Years ago, my Aunt Leslie purchased it and over the years has renovated and expanded it while keeping its history intact. Our family has spent a lot of time at Hoffman Haus, and we have a bank of memories from this sweet spot – including family reunions, vacations, and weddings. Back in 2020, Trent and I took our first trip there as a couple, and Trent immediately loved it as much as I did. So, when deciding on our wedding venue, we both agreed that Hoffman Haus would be the perfect place." The relaxed vibe and the ability to work with her family on the wedding was a selling factor for Elena. 
For her wedding, Elena wanted the decor to feel bright, airy and filled with florals. Elena and Trent worked together to highlight the beauty of the Hoffman Haus while also adding elegant touches of their own. "I had so much fun getting to blend the rustic nature of Fredericksburg with classic and traditionally beautiful elements. For our reception, I knew I wanted to have a tented dinner outside and was thrilled when Hoffman Haus could accommodate it. In the end, Trent and I got the best of both worlds – an outdoor ceremony, steps from the Great Hall where we had our first dance, and an elegant dinner underneath the tent to follow."
The ceremony was outdoors tucked in a courtyard of the Hoffman Haus. Elena's favorite moment from the ceremony was turning the corner to walk down the aisle and seeing Trent for the first time that day. "We both felt a sense of calm and relief to see one another. Although we had done a first touch and prayer before the ceremony, we had not seen each other since the night before. So, the moment we had been waiting for was finally happening, and we both in our heads were thinking, "there is my person!" From then on, the ceremony felt like it flashed by, and before we knew it we were walking down the aisle as husband and wife."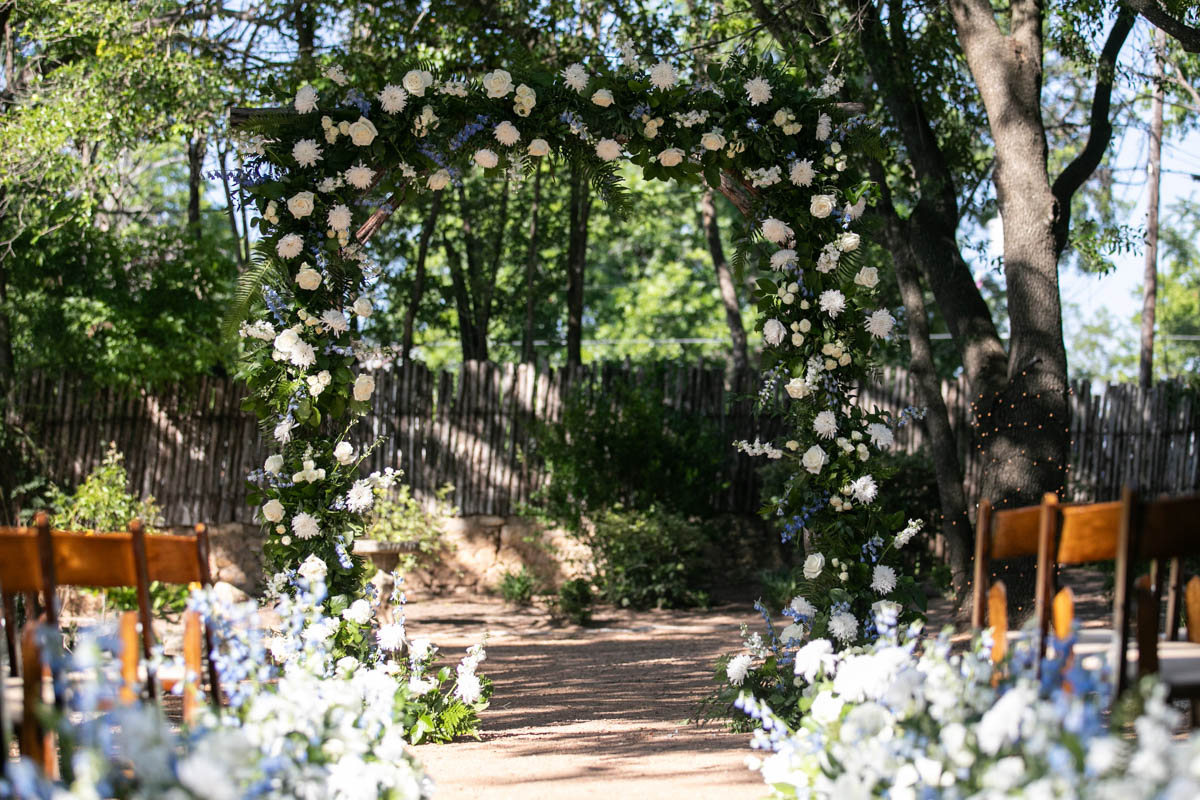 Post ceremony portraits took place in a very important place to Mr. and Mrs. Trammell. "The log cabin, which we took some of our wedding photos in front of, is the same cabin that we stayed in that very first time Trent and I stayed at Hoffman Haus in 2020." Personal elements of their relationship milestones were woven into the details of their wedding day. Elena was gifted a handkerchief as a gift by her fourth grade teacher that she brought along with her on her wedding day. "It was passed down in her family and hand sewn. It came across the Atlantic Ocean with my teacher's great great grandmother generations ago when they immigrated to the United States. Now that I am a teacher myself, I think it is one of the most thoughtful gifts I have ever received and such a sweet reminder of how you never really forget your students."
A highlight of the evening for the Trammells was their reception dinner. When Elena and Trent were first engaged, they were given a piece of advice from a close friend of theirs. "She told us that the day and night goes by so fast, so make sure to take a moment to look around – all of these people are all here, in the same space, at the same time, for you. That moment truly hit us when we were seated for dinner and were surrounded by our wedding party, family, and friends. We were so grateful to our friends and family who gave us the space to really enjoy our dinner, with an occasional family member or friend coming up to give a hug, but we really loved having dinner and getting to witness all of the love in that space and how grateful we were that they had all come to celebrate with us."
It was a beautiful evening celebrating Elena & Trent's love! Wishing the Trammells all the love and happiness!
Credits
Planner

Hill Country Bride

Ceremony Venue

Hoffman Haus

Reception Venue

Hoffman Haus

Hair + Makeup

LoLa Beauty

Floral Designer

Veridian

Cake

Dawn Makes Cakes

Reception Entertainment

Uptown Drive

Stationer

Ellis Hill

Rentals

Marquee
Reader Interactions