It was a beautiful spring day in Dallas when Emily and Tyler said "I do" at Park Cities Presbyterian Church!
Emily and Tyler's paths first crossed 13 years prior. "Tyler attended high school with my older brother and I was a cheerleader for the football team. I had always thought Tyler was cute, but he was two years older and I never got the chance to really get to know him" Emily shared. The pair reconnected over coffee at the end of the pandemic, which led to many more dates and a relationship. Emily excitedly recalls knowing that Tyler would be the man that she married.
On April 30th, 2022, Emily and Tyler took a trip to Tyler's family ranch in Cumby, Texas under the guise that they were going to celebrate Tyler's brother's recent graduation from law school. "We were getting ready for dinner that night and Tyler came in and asked me if we wanted to go see the dock his parents were building. Everyone else was still getting ready for dinner so I went. Tyler asked me to put boots on "because of the snakes" and I didn't think twice about it. We went outside and his dad was following us which I, again, didn't think twice about because he is the one who was building the dock. But when his dad got on a different four wheeler, something in my gut told me that it was getting ready to happen, and all of the week's events started playing back in my head. I had just gotten my hair done, my mom took me shopping for a new outfit and to get my nails done, Tyler had been missing for a few hours, and my sisters both happened to turn their location off." Emily and Tyler pulled up to a tree on the property where the proposal would soon take place. "What I didn't know then was that it is actually two trees whose roots have grown into each other to create an even bigger and stronger tree (such a sweet image of marriage and the step we were about to take). We walked around the tree and he had ordered my favorite flowers, peonies, and set up a sign! There was the most beautiful sunset and he was just smiling so big."
A year of engagement flew by and it was finally the day of Emily and Tyler's wedding. The morning of Emily's wedding was spent getting ready at her parent's home with her bridesmaids. It was a special full circle moment for Emily to add yet another memory to a collection spent in her childhood home. Emily and her bridesmaids shared memories and excitement for the day while Maitee Miles' team did hair and makeup. Emily incorporated a special Russian wedding tradition to the morning that she picked up while studying abroad in Russia in college. "I have studied Russian since I was nine years old and was given the opportunity to study abroad there in college. When I was over there, I purchased a bottle of Russian vodka that I was saving for my wedding day. I made all of my bridesmaids have some the morning of the wedding as a nod to an old Russian wedding tradition!"
After group pictures in pjs, Emily dressed in her wedding gown with the help of her mom and sisters. Emily wore an off the shoulder Lela Rose gown with lace detail and a satin bow. Her bridal look was complete with a little something blue, Loeffler Randall blue heels, and her mother's veil. Emily's father then joined the girls for a sweet first look moment before walking his daughter down the aisle. 
Emily and Tyler were officially pronounced Mr. and Mrs. Young following a beautiful ceremony with family and friends! Following nuptials, it was off to the Arts District Mansion to celebrate the newlyweds. The Youngs decided on their reception venue based on the wonderful experience they had on their site visit. "When I walked in, the team was so kind and helped us put together the perfect vision, just during our first visit! I loved that they were able to make it feel like a home and have our guests start in the historic side for cocktail hour before moving to the main room for the rest of the evening!"  Nestled near the heart of downtown Dallas, the venue was the perfect spot to host guests to an evening of dinner and dancing. Inside, cherry blossom trees filled the room, creating the perfect springtime ambiance coupled with vibrant flower arrangements on each table. Blue and white hydrangeas were a favorite element of design, lining the tables as well as the five tier cake topped with Emily's parent's wedding topper. When coordinating decor for her reception, Emily wanted something classic and timeless. She worked with her mom, who is an interior designer, to create a southern charm feel with light blues and green. "In my opinion, one of the most "southern" places is my parents' house, where you will never find an empty vase and the door is always open. I pulled inspiration from this, and from the seating to the linens, I wanted our reception to feel as welcoming as it does walking into my parents' home!" Emily worked with wedding planners Allison Baker and Laura Buchanan to execute her vision and Junior with Garden Gate Floral for floral design. 
Emily and Tyler incorporated multiple personal touches to their wedding day that were particularly meaningful to them. Emily pinned a small photo of her brother to her bridal bouquet to make sure he was standing up at the altar with her. "Tyler's cufflinks had our wedding date and a phrase we use together engraved on them. Instead of a guest book, we had a Bible out for people to sign next to a verse that they wanted to share with us!" Childhood photos of Emily and Tyler were placed around the Arts District Mansion to give it a home-y feel. 
Tyler's cake was a life-size replica of a Yeti cooler topped with actual Yuengling beers. Emily designed "stickers" to decorate the cooler, her favorite being the 2 german shepherds for his family dogs Max and Lily!
The Youngs took the dance floor for their first dance as newlyweds to "I Guess I'm in Love". It was a highlight of the reception for Emily who shared "I don't think I have ever smiled that much!  That moment made the whole day so real for me and I remember thinking, "Wow. This is my husband. And he's pretty great."'
Emily and Tyler's wedding was a beautiful display of love surrounded by their family and friends. Congratulations to the Youngs!!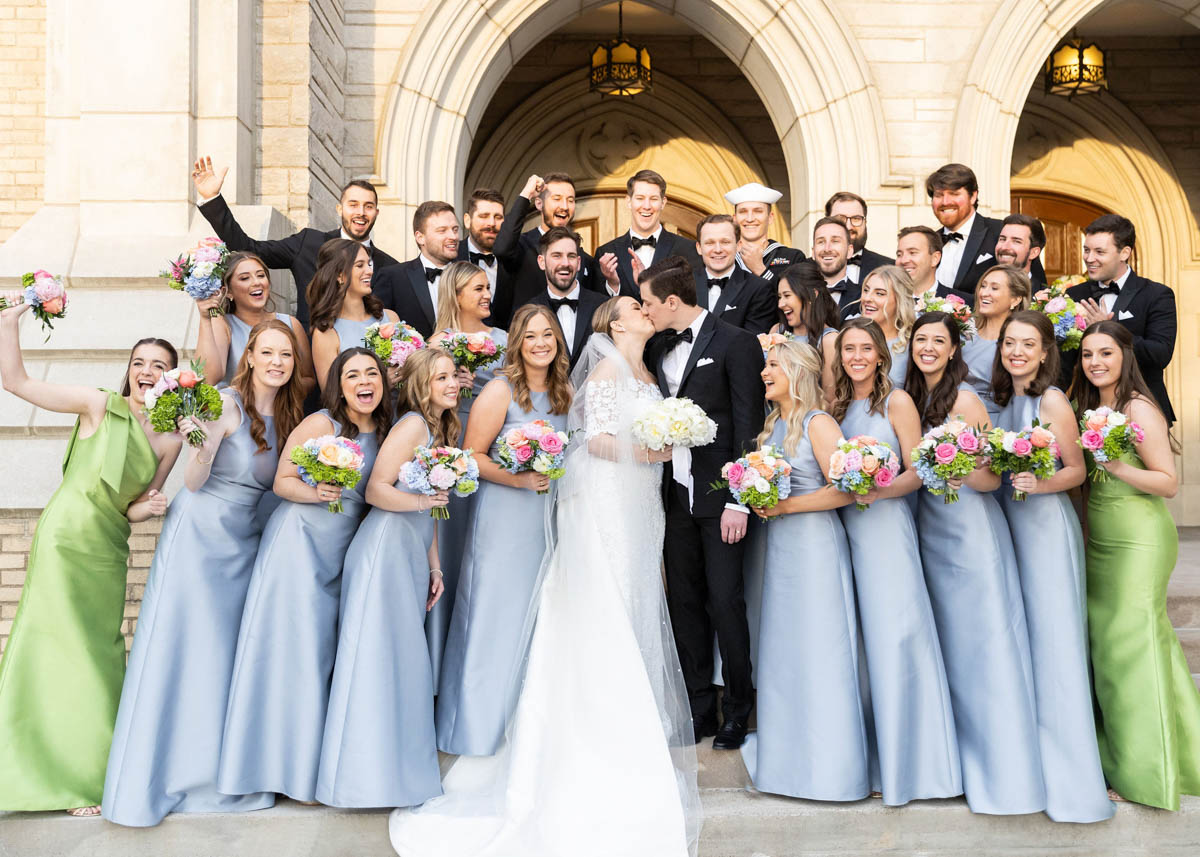 Credits
Planner

Alison Baker Events

Ceremony Venue

Park Cities Presbyterian Church

Reception Venue

Arts District Mansion

Hair + Makeup

Maitee Miles

Floral Designer

Garden Gate

Cake

Panini Bakery

Reception Entertainment

Taylor Pace Orchestra

Stationer

Needle in a Haystack

Rentals

Top Tier, Perch Decor, Imperial Floors, Party! Dallas
Reader Interactions