Thirty-five years after my parents wedding, their wedding photographer helped me in a wild goose chase. I asked him if by any slim chance his company still had their film negatives filed over the years. Would you believe they did?! They had storage units on storage units of file boxes full of film from decades of portraits and weddings. I cannot imagine how it was all catalogued, but they FOUND my parents' wedding!
I bought all of my parents' film from the photographer, scanned in the portraits, and gifted it to my parents as an anniversary present. It is a little surreal thinking about since I am now eight years into my own photography business. I wonder if I meet any of my clients' children in 35 years as grown adults?
My parents wedding photos inspire timelessness I still love seeing today. More than anything, I wish I had seen all of their images before Brittany and I got married.
I would have loved incorporating a few of my parents' wedding elements into my own wedding day—like my dad's lily of the valley boutonniere. I love that their wedding ceremony got the floral emphasis instead of the reception, which you see more often today. Speaking of their reception, nothing says "party" better than a big punch bowl.
I love the classic simplicity of my mother's wedding dress. It hardly appears out-dated and, arguably, completely relevant to current bridal looks that have been designed and showcased in New York recently. One element I never see anymore: the wardrobe change before the grand getaway. I wonder why my dad changed from a tuxedo to a full suit?
Regardless of decade, couples traditionally welcome guests to the reception with a display—a bridal portrait, welcome book, or escort cards creatively assigning guests to their dinner table seat. Forever my favorite reception welcome, however, is when couples display family wedding portraits of parents and grandparents framed in silver. I would have LOVED displaying one of my parent's wedding portraits at my own wedding.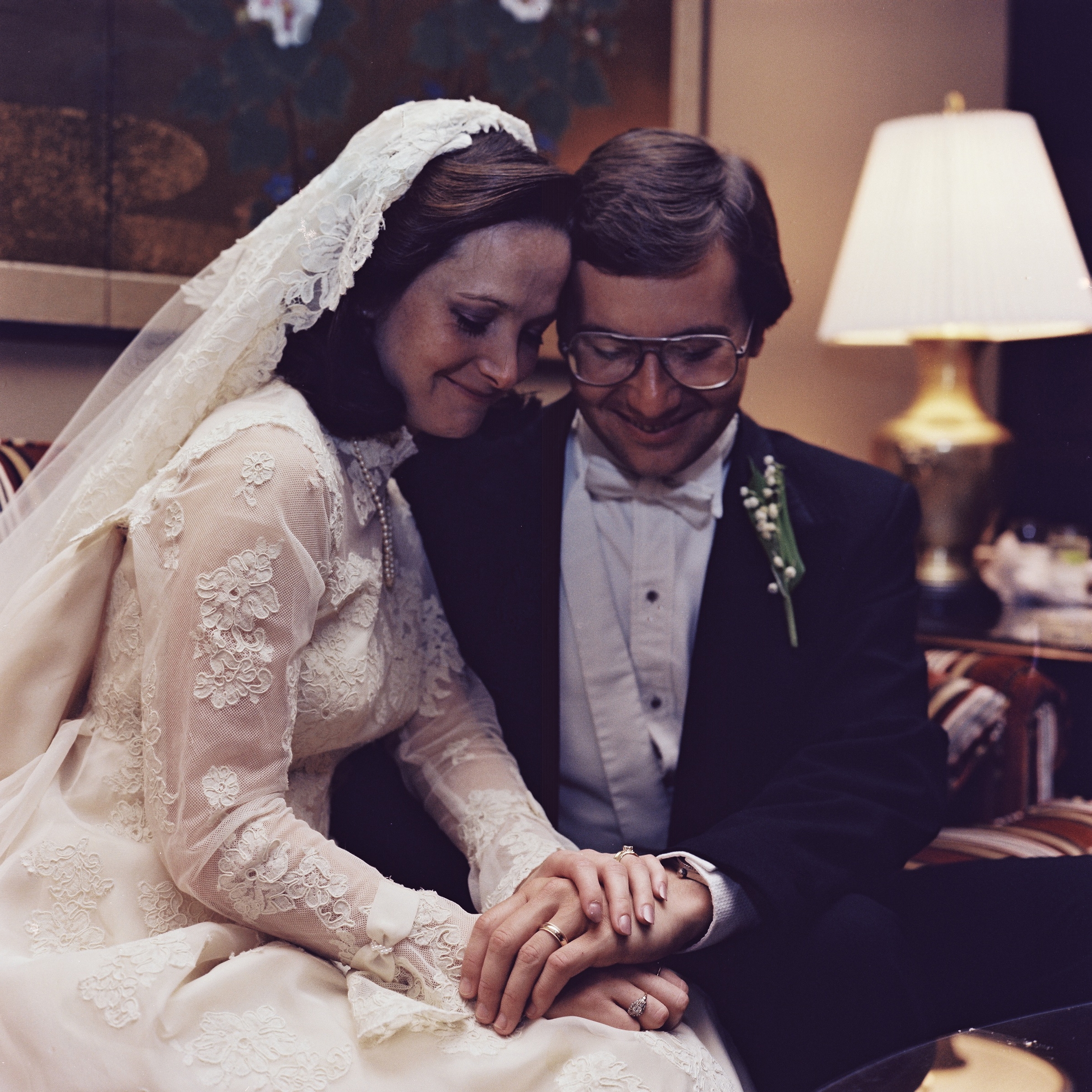 Reader Interactions