We have learned that people often place things they love on and around their mantel—a gathering space often the center of the room and home. Today, we are going "Above the Mantel" with Heath Alan Ray of Jackson Durham Events! Under Heath's creative direction, Jackson Durham executes timeless designs and effortless sophistication in weddings and beautiful parties. This year, Heath gave W. Lovers Lane the gift of a classic Christmas because there is nothing better than a twinkling Christmas tree bedecked in red ornaments!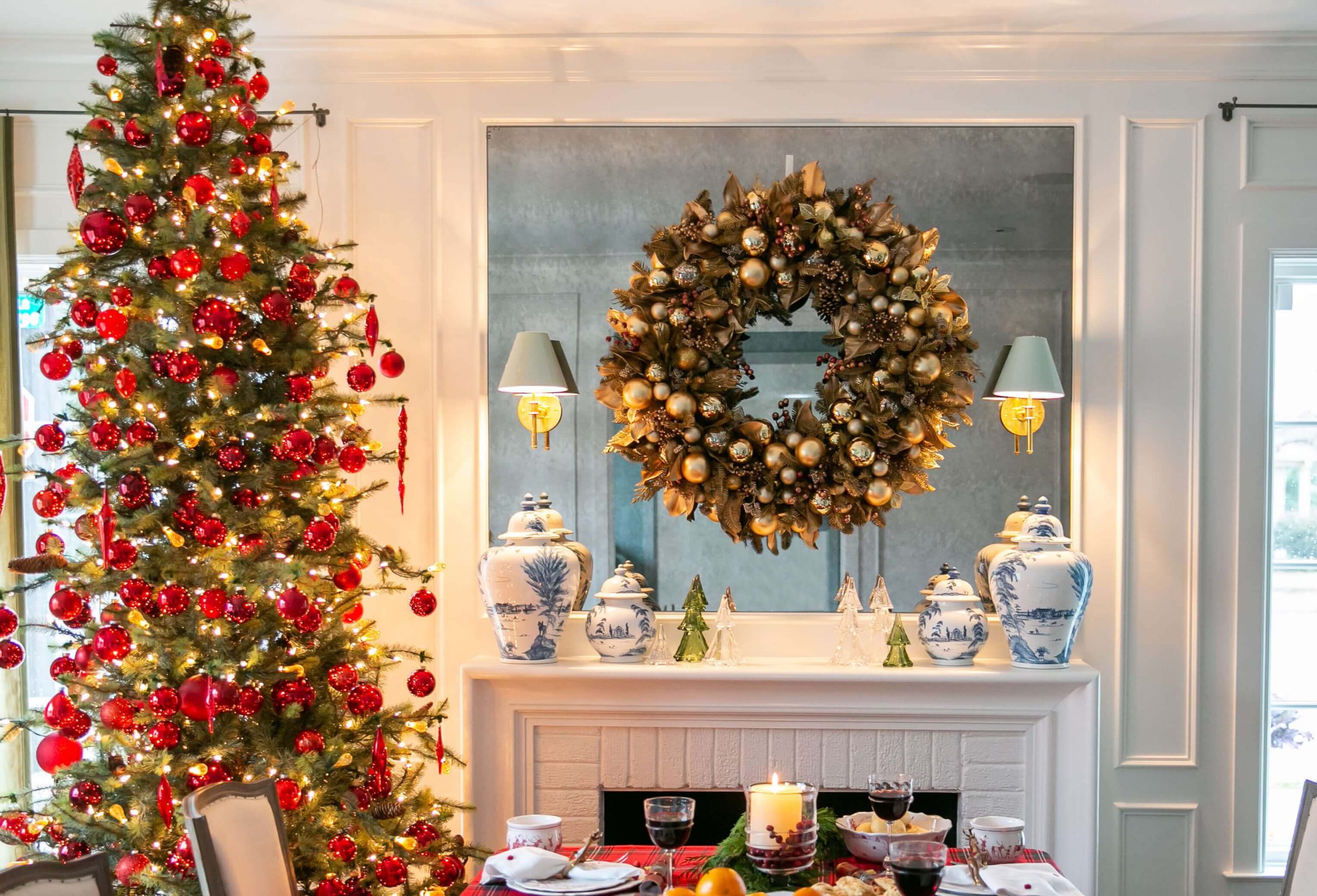 TELL US HOW YOUR JOURNEY WITH JACKSON DURHAM BEGAN AND WHERE IT'S HEADED:
I opened Jackson Durham in Atlanta in 2009 focused on destination event design. Over the next 3 years, we had the opportunity to work frequently in Texas. In 2012, we opened our office in Dallas and we could not be happier.  We are always sharpening our pencils and honing our tools in order to continue exceeding expectations. In terms of where we're headed, I say the sky is the limit. I may not be a native Texan, but I certainly know 'the stars at night are big and bright!'
WE MUTUALLY SHARE A PASSION FOR TIMELESS DESIGN. WHERE DO YOU SOURCE INSPIRATION?
Thank you, that's a huge compliment! Recently, I'm inspired by your celadon "Sister Parish" sitting room—it's a must see! I begin every project considering color and my go-to source for color is nature.  The seasons, what's blooming, the colors of the sky throughout the day, that's where I am inspired most. Of course, magazines, favored interiors, art, and travel play a huge role in the design process at Jackson Durham. Our timeless design aesthetic comes from a love of all things classic. I've fortunately worked in this industry for over 25 years and I've seen a variety of trends. I always consider "Will this stand the test of time?" when incorporating design ideas that are 'of the moment'.
WHAT ARE SOME OF YOUR FAVORITE FLORAL INSTALLATIONS TO DATE?
This is a very hard question! I'll say this: most of my favorite Jackson Durham events incorporate things I love most and are at the heart of my aesthetic—boxwoods, hydrangeas, ANYTHING citrus, Ming Blue and White porcelain, Tuscan terra cotta… THESE are a few of my favorite things.
YOU HAVE QUITE THE GREEN THUMB! WHERE DID YOU LEARN ALL YOU KNOW ABOUT HORTICULTURE? 
That's very nice of you to say!  I have only a limited knowledge of the world of botanicals, but what I do know comes from my love of citrus plants and trees and my very intimate relationship with Google.
IF YOU HAD TO CHOSE A SINGLE FAVORITE FLOWER WHAT WOULD IT BE?
Hands down, any garden rose.
WE LOVE THE RELATIONSHIP BETWEEN WEDDINGS AND INTERIORS. WHAT ARE YOUR FAVORITE FLORALS TO KEEP IN YOUR HOME OR ON YOUR TABLE?
Funny enough, I have bowls of pinecones and gold-leaf walnuts all over the house, but, generally speaking, I go outside. My husband and I have been working on our garden over the past year and we are always clipping away for vases. I love to go inside a home and see things clipped from the garden. It's just how it should be.
FOR A BRIDE AND GROOM, ANY TIPS FOR ENSURING AN EVENT HAS A UNIQUE AND AUTHENTIC PERSPECTIVE?
This is a great question I could write a book answering, but here are my top 5 topics for brides and grooms to consider when meeting with their event designer.
Consider the season you will wed for color palette, floral, lighting, etc.
Consider the compatibility of style of the venue with the style of your ideal wedding
Do you really want a seated dinner?
Color is the single most important design element to me—don't be afraid!
 This is your wedding so think about you as a couple, but don't forget to think about your guests' experience.
WHEN YOU NEED TO ESCAPE, WHERE DO YOU GO?
While I am fortunate to say that I can pretty much escape where ever I am, but I do have a list! My top three are:
Paris (anytime, any place, anywhere)
Zero George in Charleston, South Carolina
SPEAKING OF ESCAPE… DO YOU HAVE A FAVORITE HOTEL OR GARDEN IN THE WORLD?
You're asking all the hard questions! Jardin du Luxembourg in Paris.
LASTLY, DESCRIBE YOUR DREAM CHRISTMAS TREE AND HOW TO MAKE YOUR HOME CLASSIC AND FESTIVE THIS TIME OF YEAR.
I love a classic Christmas and I like a little Christmas in every room, but you don't want to over do it. My dream Christmas tree would be a fresh cut fraser fir filled with fresh orange clove pomanders, pinecones burnished and dusted gold, and tons of warm twinkle lights.  Around the house, orange clove pomanders piled high in a favorite bowl or platter are fragrant, beautiful, and a lot of fun to make with kids. Fresh garland gives an immediate blast of Christmas—I hang garlands with a wide double-faced red velvet ribbon tied in a shoe string bow. I also love lemon cypress, myrtle, or rosemary topiaries placed in an aged terra cotta pot. They look great on a cocktail table or bedside table for when you have guests. Paperwhites are another favorite and look beautiful in silver mint julep cups.
At Jackson Durham, we love Christmas and we love helping decorate for the season!
If you don't already, follow @jacksondurhamevents for a daily dose of floral beauty and check out their amazing work here. 
Credits
Design

Heath Alan Ray

Photographer

John Cain Photography

Floral

Jackson Durham Events
Reader Interactions