A long time LOVE story led to marriage in Dallas for Allie and John in mid August! The pair met in middle school when Allie attended Hockaday and John was at St. Marks, just down the road. "He was the cool QB and I was the new girl, so we didn't get to know each other until High School, where we were best friends before we started dating in January 2014. Luckily for us, we both ended up at Vanderbilt University, where we had the joy of spending four years together in Nashville, TN before I moved to Washington DC for work. John and I were long distance from Nashville to DC for several years (and spent many fun weekend adventures in both cities!) before I moved back to Nashville in July 2022 (a WEEK before he proposed!)" Allie enthusiastically shared.
After Allie moved back to Nashville, the pair took a trip to East Hampton. "While John and I grew up in Dallas, TX, my mom and her family (several generations back) are from East Hampton, New York – a special town that is near and dear to my heart! My parents, my grandparents, and great grandparents and generations before them all got married in East Hampton – either at Devon Yacht Club or Gurney's Resort. I grew up spending most of the summers in East Hampton visiting my grandmother and spending time with my cousins at the beach house our family renovated from a Lobster Factory (endearingly named the Lobster House)." Allie's love for this place inspired John's decision to propose to her there. "John knew I wanted to be tied to East Hampton somehow, and to my complete surprise, planned an incredibly emotional proposal at Gurney's on the beach in front of the ocean." The proposal wasn't the only surprise in store for Allie! "He also had flown in his parents to celebrate. I thought that was the last of the surprises – we headed back to the Lobster House to see the rest of my family, who kept trying to push me towards the deck outside. I was shocked to see all of my best friends (who had flown in from Dallas, Nashville, DC, and NYC) all together on the porch to surprise me! To say I sobbed is the understatement of the century – it was beyond my wildest imagination they'd be with me at my happy place to commemorate John and I's engagement, especially because I'd never been able to have them visit before." 
The remainder of the evening was spent along a beachside bonfire sharing stories and toasting to Allie and John's future together. Allie and John used the rest of the weekend to celebrate and show her best friends her favorite place on planet earth.
After an epic proposal, Allie and John got to wedding planning! They worked with Park Cities Events to orchestrate a beautiful weekend in their hometown of Dallas. Allie leaned into the theme of the Hamptons for her decor. She incorporated blue and white hydrangeas as a nod to the Hamptons, and added spicy margaritas for some Texas flair. Her favorite parts of the decor were the flowers, center bar, and dance floor. "I wanted a versatile space that drew people to the dancefloor and highlighted the gorgeous florals! The monogram on the dance floor turned out very beautifully." she shared. 
The ceremony was a long awaited moment for Allie and John. The Webbs opted out of doing a first look, which made the moment of walking down the aisle even more emotional for them both. An extra meaningful moment from the ceremony was when John's older brother and his wife performed the song "Yearn" by Shane and Shane. They performed this song at all three of John's older brother's weddings, which made this a full circle moment. After exchanging vows, Allie and John were officially pronounced Mr. and Mrs. Webb!
The Webbs were ready to party with their loved ones as everyone arrived at the DCC! The Manhattan band brought the energy to the celebration with amazing crowd interaction. "They kept jumping off stage and into the crowd to dance and sing alongside our guests, which our friends LOVED!" One of the themes Allie wanted to incorporate into her wedding day was Love, as a nod to her maiden name. Heart-themed favors such as light up heart glasses, necklaces, and cups were given to guests to sport out on the dance floor. "It was a true hit with guests and felt like a special nod to my family!" Allie shared.
To cap off the evening, Allie and John shared one private last dance to "My Girl" before they made their grand exit. Rose petals filled the air as Allie and John got into their vintage getaway car. As a surprise to Allie, her mom had fireworks to line their path as they left the DCC. "It was also incredibly sweet to drive through the Park Cities on the way back to the Mansion, through streets we had driven through together for over a decade but this time we were married!" 
Congratulations to Mr. and Mrs. Webb! We are honored to have been part of your wedding day!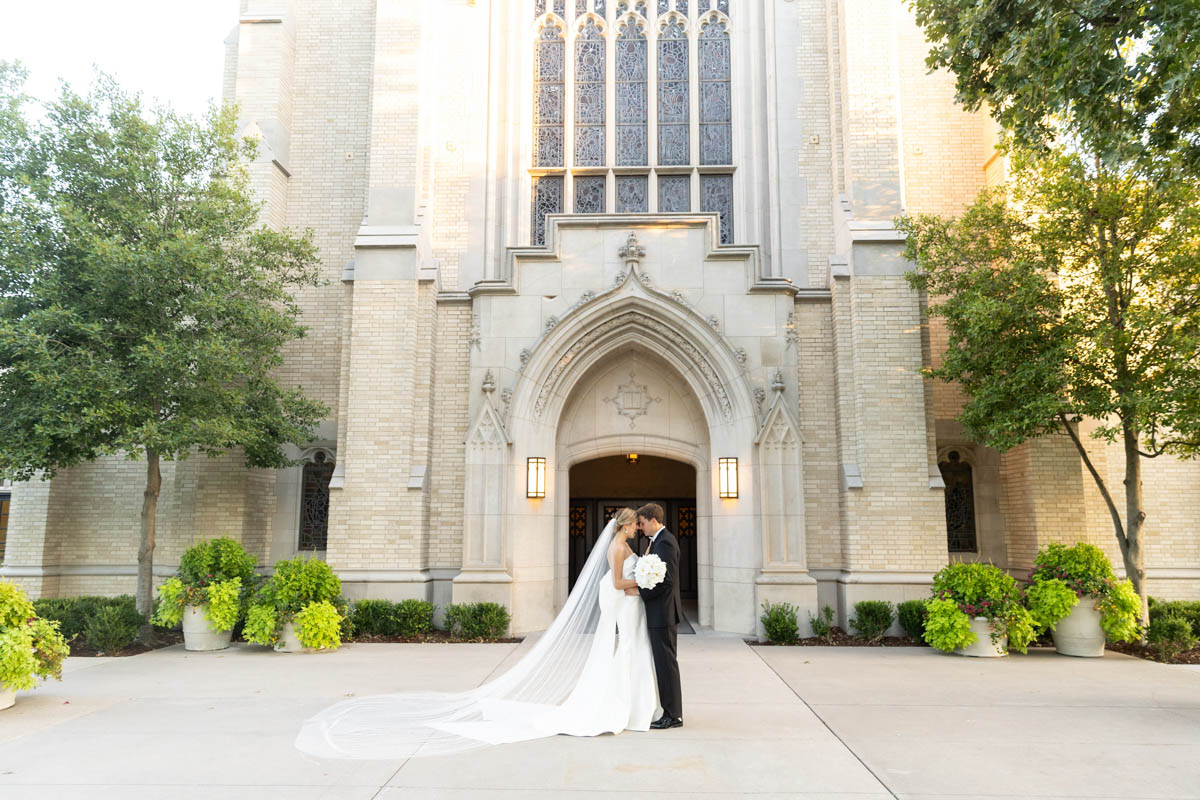 Credits
Planner

Park Cities Events

Ceremony Venue

Highland Park Presbyterian Church

Reception Venue

DCC

Hair + Makeup

Maitee Miles

Floral Designer

Garden Gate Floral

Cake

Dallas Affaires

Reception Entertainment

Manhattan Band

Stationer

Paper Affair

Linens

La Tavola/BBJ Linens

Rentals

Perch Event Decor
Reader Interactions