Why do we watch romantic comedies? It's always the same story with slight variations from movie to movie, but at the end of each one I'm wrapped up in the two main characters and cheering for them to finally get together.
Like at the end of You've Got Mail and Kathleen Kelly is waiting anxiously in the park to meet the mystery man she has been corresponding with for months now. And Joe Fox rounds the corner, a newfound confidant of hers who she recently has begun to take a liking to, knowing he's about to give her the surprise she's been waiting for. You can bet I'm reaching for the tissues every time she looks at him with such earnesty and tells him "I wanted it to be you. I wanted it to be you so badly."
February gives us the perfect excuse to make a list of these movies and spend each weekend of the month with rosé and popcorn in hand making our way through the list and eagerly anticipating the inevitable connection the couple will make, because at the end of the day, aren't we all in need of a good love story?
Here's our team's top 10 favorites in no particular order!
1. The Holiday, "Iris, if you were a melody… I used only the good notes." – Marlena
2. How to Lose a Guy in 10 Days, "True or False: All's fair in love and war." – John
3. Crazy Stupid Love, "I will never stop trying. Because when you find the one… you never give up." – Courtney & Sami
4. Sleepless in Seattle, "It was a million little things that when you added them all up, they knew we were meant to be together" –  John
5. You've Got Mail, "I wanted it to be you. I wanted it to be you so badly." – Marlena 
6. When Harry Met Sally, "I came here tonight because when you realize you want to spend the rest of your life with somebody, you want the rest of your life to start as soon as possible." – Stephanie
7. The Proposal, "Now, you could imagine my disappointment when it suddenly dawned on me that the woman I love is about to be kicked out of the country." – Sami & Britt
8. Notting Hill, "I'm also just a girl, standing in front of a boy, asking him to love her." – John
9. 10 Things I Hate About You, "But mostly I hate the way I don't hate you. Not even close, not even a little bit, not even at all." – Charlie & John
10. My Best Friend's Wedding, "If you love someone, you say it, you say it right there, out loud. Otherwise the moment just passes you by." – Anna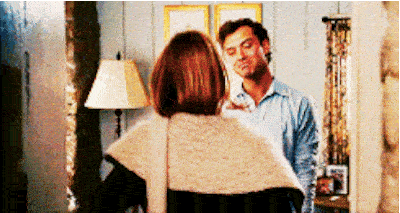 Reader Interactions