One week last summer, my husband, my in-laws, and I drove (yes, drove) across central Ireland experiencing the rolling countryside, Irish folk tunes which echoed through the stone streets, exquisite castles-turned 5-star hotels, challenging golf courses, and the laid-back charm Irish men and women quickly offer to all they encounter. The journey provided the perfect dosage of relaxation and adventure, surprisingly accompanied by delicious meals at every stop. It did not rain in Ireland for 45 days last summer, which they humorously referred to as a "horrible drought". We, unlike the Irish people, were thankful for sunny skies and slightly warmer temps during our stay.
We began and ended our trip in Dublin with stops in Galway, Cong (Ashford Castle), Doolin, Lahinch, and Adare (Adare Manor). While our stops in Dublin were enjoyable, my only adjustment would be to fly in and out of Shannon Airport because we most enjoyed the countryside over the city! My top recommendation is always accept Irish offers—many times, that is stopping mid-activity for a pint of Guiness at a pub.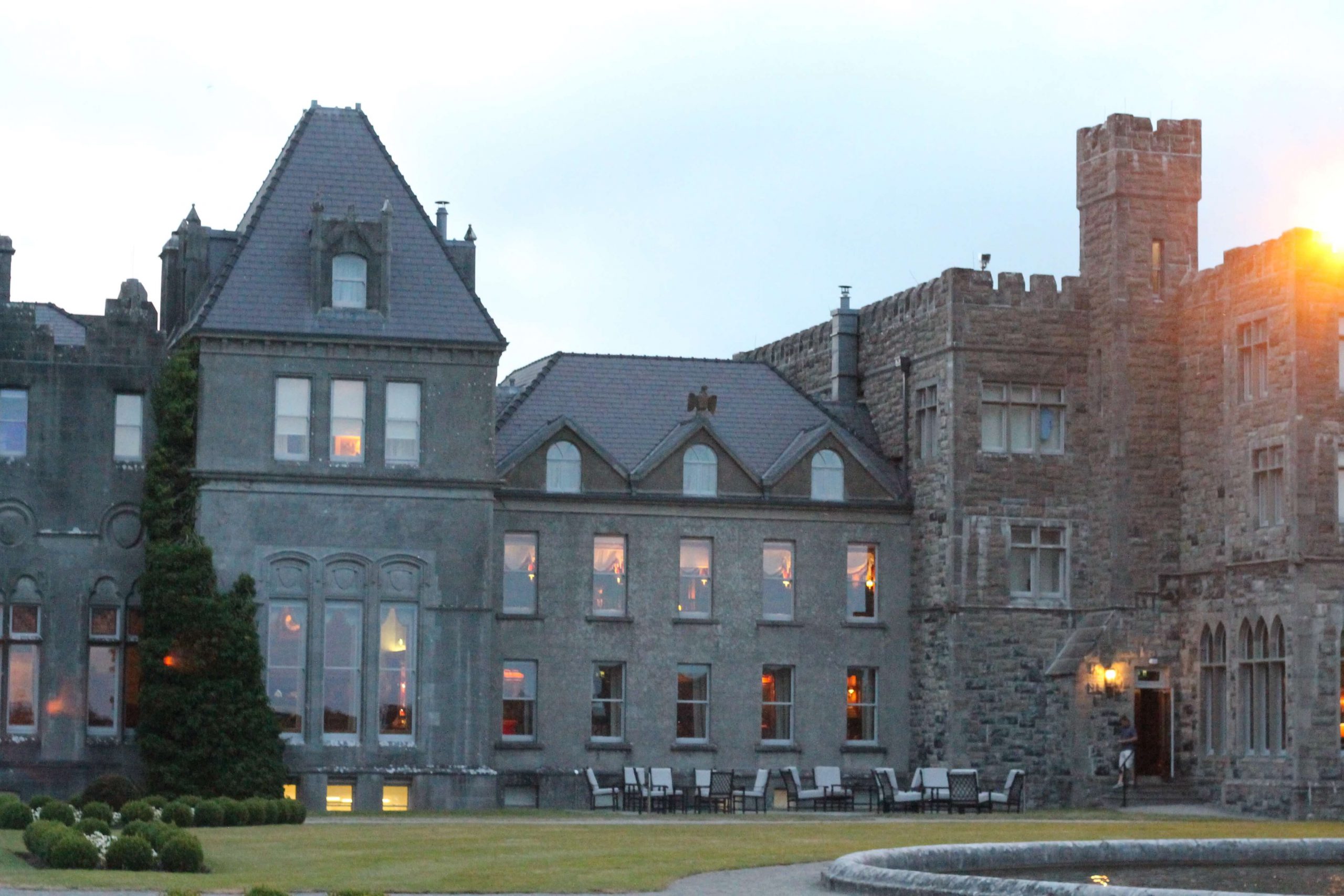 STAY
800-year old castle & former home of the Guiness family, the grounds, customer service, and furnishings are next level.
"It's prestige without pretense and magic without nonsense." That's what their website says, and I must agree!
TOWN OF DOOLIN
Here you experience the Ireland you read about—breathtaking countryside, folk tunes at every local pub, and hospitable spirits.
DINE
FOR AUTHENTIC FISH & CHIPS…
Leo Burdocks, Dublin
FOR A SPEAKEASY…
Vintage Cocktail Club, Dublin
FOR QUINTESSENTIAL IRISH TUNES…
Music at Temple Bar, Dublin
FOR HIGH TEA…
Connaught Room, Ashford Castle
FOR A NIGHT CAP…
Prince of Wales Bar, Ashford Castle
FOR LOCAL SEAFOOD…
Oscar's Seafood Bistro, Galway
FOR A TRUE IRISH PUB EXPERIENCE…
Gus O'Connors and McGann's Pub in Doolin
FOR THE BEST MEAL IN ALL OF IRELAND…
1826 Adare, Limerick
DO
FOR A HISTORIC OVERVIEW OF DUBLIN…
Pat Liddy's Private Walking Tour
FOR A ONCE-IN-A-LIFETIME EXPERIENCE…
Private Hawk Walk at Ashford Castle
FOR A CHALLENGING IRISH GOLF COURSE…
Lahinch Golf Club, known as the 'St. Andrews of Ireland'
FOR A BEAUTIFUL IRISH GOLF COURSE…
The Golf Course at Adare Manor, hosting the Ryder Cup in 2026
FOR THE BEST CLIFFS OF MOHER EXPERIENCE…
FOR QUAINT WINDOW SHOPPING…
Adare Village, known as the 'loveliest village in Ireland'
FOR FAMILY BONDING…
Drive a car! Those winding roads and Celtic street signs are sure to bring everyone together (eventually).
FOR THE SOUL…
Move at the Irish pace and always stop for a pint!
This trip was planned with love by my mother-in-law! Thank you Betsy <3 
Reader Interactions