We have learned that people often place things they love on and around their mantel—a gathering space often the center of the room and home. Today, we are going "Above the Mantel" with Christina Dandar of The Potted Boxwood! The Potted Boxwood continues to fill our Instagram feed with layered interiors, Southern door fronts, well-groomed landscapes, and all that is #ChicinDallas.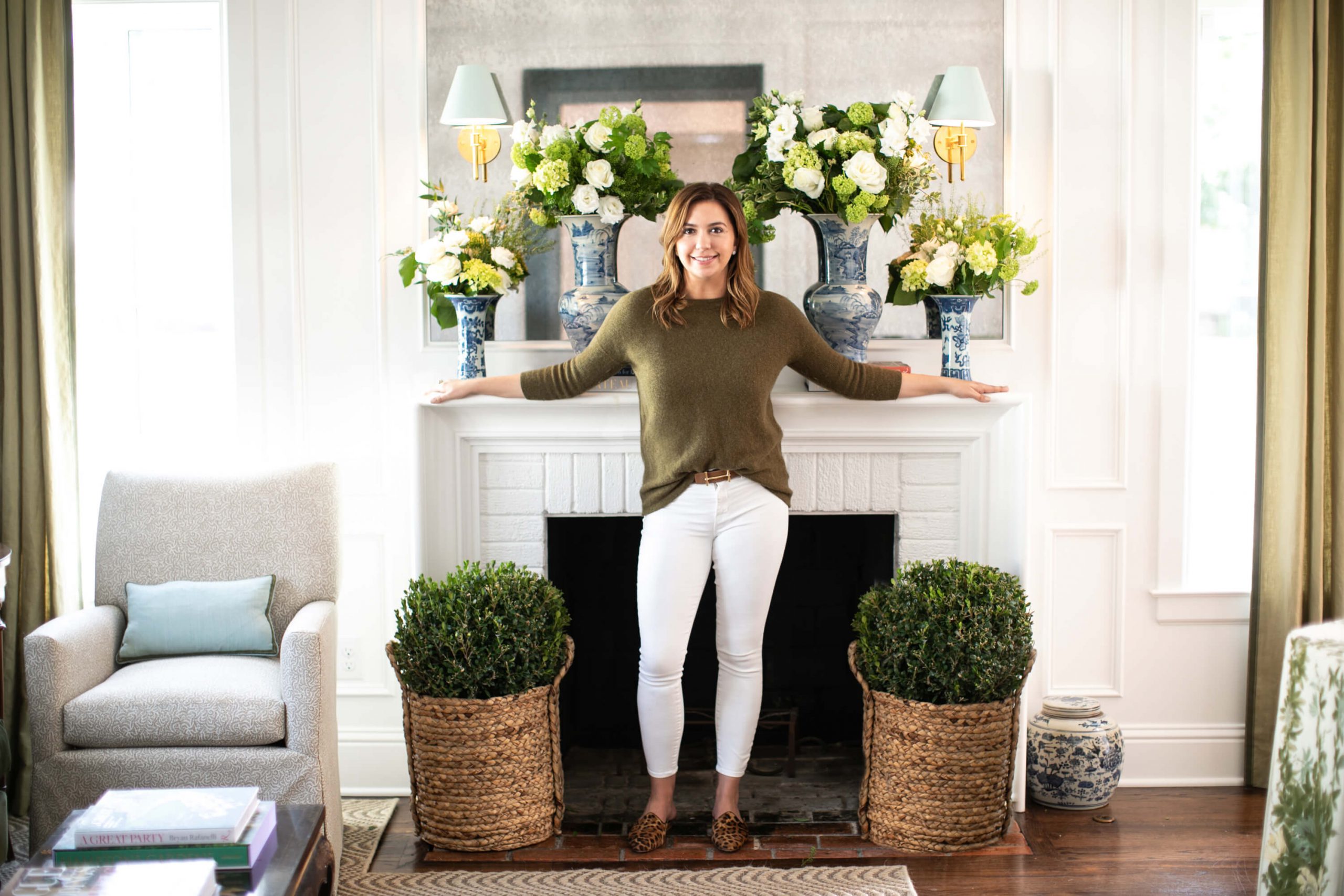 TELL US A BIT ABOUT THE EVOLUTION OF THE POTTED BOXWOOD AND WHERE IT'S HEADED.
The Potted Boxwood started as a passion project when I was getting my master's degree at SMU. I wanted to share my love of timeless design and the chic homes of Dallas with the world. 5 years later, it has taken on a life of its own! A big website refresh will take place this upcoming summer and the site will become my full time job.
WE MUTUALLY SHARE SO MANY DESIGN PASSIONS INCLUDING BLUE AND WHITE! WHERE DID YOU'RE APPRECIATION FOR BLUE AND WHITE DEVELOP?
My great-grandmother was such an influence on my love of blue and white. She had a beautiful checkerboard marble foyer filled with finds from her travels, including some beautiful pieces brought back from Asia.
LIVING  IN DALLAS, WHAT ARE SOME OF YOUR FAVORITE PLACES TO SOURCE INSPIRATION? BEYOND DALLAS?
In Dallas, I love Nicholson Hardie, Ceylon et Cie, Caitlin Wilson, and James showroom. Beyond Dallas, I find the most inspiration from visiting neighborhoods in new cities. I love seeing older homes, as well as the landscaping, curb appeal, and architectural trends.
WITH OR WITHOUT BLUE AND WHITE TOUCHES, WE ARE ALL ABOUT A WELL-SET TABLE! WHAT ARE A FEW OF YOUR FAVORITE BRANDS FOR PLACE SETTINGS AND ENTERTAINING? 
India Amory for stunning block-printed tablecloths and linens. I love Tory Burch's Lettuce Ware collection. Caspari always has new items that are fun for the table. Though there is nothing better than going through my grandmother's china cabinets.
BEYOND PLACE SETTINGS, FLORALS ABSOLUTELY MAKE THE TABLESCAPE. WHAT FLOWERS DO YOU ALWAYS HAVE ON YOUR TABLE OR AROUND YOUR HOME?
 Florals are so important! It honestly depends on the season for the type of flowers. I love putting together different shades of pinks and reds or green and white.  I think it makes it interesting to use vases with personality, like wicker or patterned porcelain.
FROM A DESIGN PERSPECTIVE, ANY TIPS FOR ENSURING AN EVENT HAS A UNIQUE AND AUTHENTIC PERSPECTIVE?
I think the more ambient light the better. Candles are a must for me! While I think the overall aesthetic of an event should be consistent, I also think it is important to add at least one element of surprise to party.
For example, I threw a baby shower for a friend who didn't want to play baby shower games, but I felt like just a luncheon could seem flat. I had my friend, Moore Ink, write the most beautiful place cards that included the name meaning under each guests name. It became a fun conversation starter behind everyone's name and the meaning!
IF YOU WERE A BRIDE TODAY, TELL US A FEW PIECES YOU WOULD NOT LEAVE OFF YOUR REGISTRY? HOSTING STAPLES, TIMELESS ACCESSORIES, A CHINA PATTERN YOU DEFINITELY WANT TO FOREVER COLLECT… ETC.
Always a bridesmaid (15 times to be exact), never a bride! That said, I have helped countless friends register. I love Herend and Anna Weatherly when it comes to my china. My friends always get more trays than they can imagine, so I may not even bother registering for them when the time comes. Beautiful glassware can also transform a table.
WE ARE ALWAYS LOOKING FOR THE NEXT BEST HOTEL FOR DESTINATION WEDDINGS AND HONEYMOON IDEAS. ANY FAVORITES FOR A DESIGN LOVER OR TIMELESS-STYLE AFICIONADO? 
The Rosewood Castillion del Bosco in Tuscany is a dream. It was Ferragamo's former country home. I also love the garden grounds of the Four Seasons in Florence. I recently stayed at Four Seasons The Biltmore in Santa Barbara and that was equally stunning this side of the pond.
LASTLY, WE ENTER INTO FALL AND THE GREAT PORCH DECORATING SEASON. HOW DO YOU PLAN TO DRESS YOUR ENTRY? OR DO YOU?
I love having fresh potted mums, as well as green & white pumpkins by the door! Simple, but effective.
FAVORITE INSTAGRAM ACCOUNTS TO FOLLOW?
To name a very select few- @moendres @mrsalice @serenacrawford @serenafresson@jennyroseinnes @indiaamory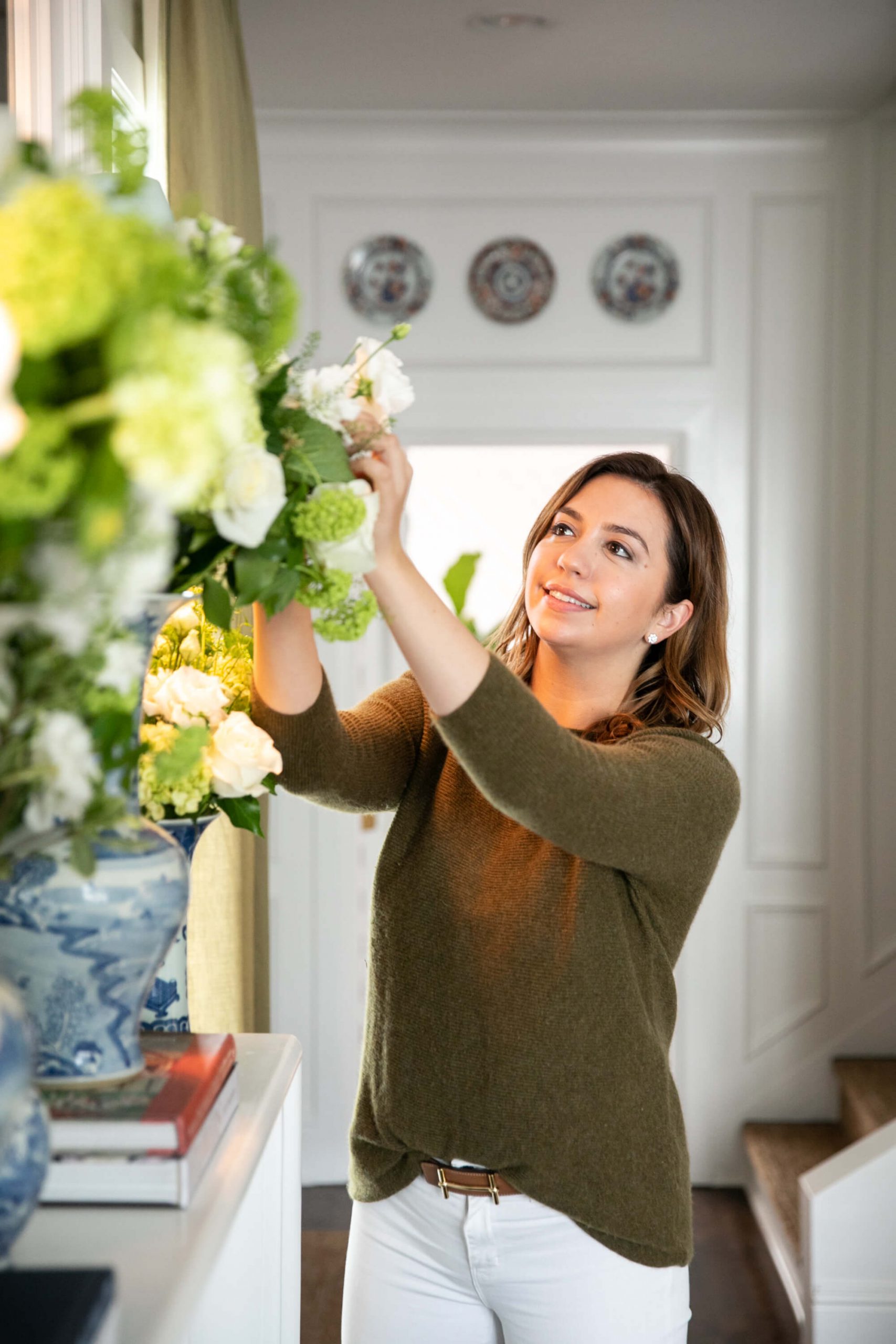 LIGHTNING ROUND…
Something you will never get rid of: My family's antique rugs. Rugs are expensive- keep the good ones!
Best self-care advice/product: Augustinus Bader- it has worked miracles on my skin!
How would you describe your dream wedding? Strictly candlelit, beautiful flowers, intimate long tables…somewhere in Italy.
Favorite wedding you have ever attended and where/why: I have been a bridesmaid in 15 weddings, so this could cause some drama! If I had to narrow it down:  My best friend, Ashley Anderson, just got married here in Dallas and it was beyond beautiful! The entire tent felt like a dream in shades of blue & white. My other friend got married in Napa at Meadowood and it was the best food, wine, and dancing I can remember.
Key to a successful event: Never an empty wine glass.
Libation of choice: Red wine, specifically Chateauneauf du Pape
When choosing a restaurant, menu or atmosphere? Menu
Favorite season? Summer
Define your style in 3 words: timeless, relaxed, and sophisticated.
Thank you, Christina! If you don't already follow her, check out @thepottedboxwoodfor all things #ChicinDallas!
Credits
Design

Christina Dandar of The Potted Boxwood

Photographer

John Cain Photography

Floral

Avant Garden
Reader Interactions